Some Abandoned Places In Gary Indiana People Have Explored
Gary, Indiana is home to thousands of abandoned buildings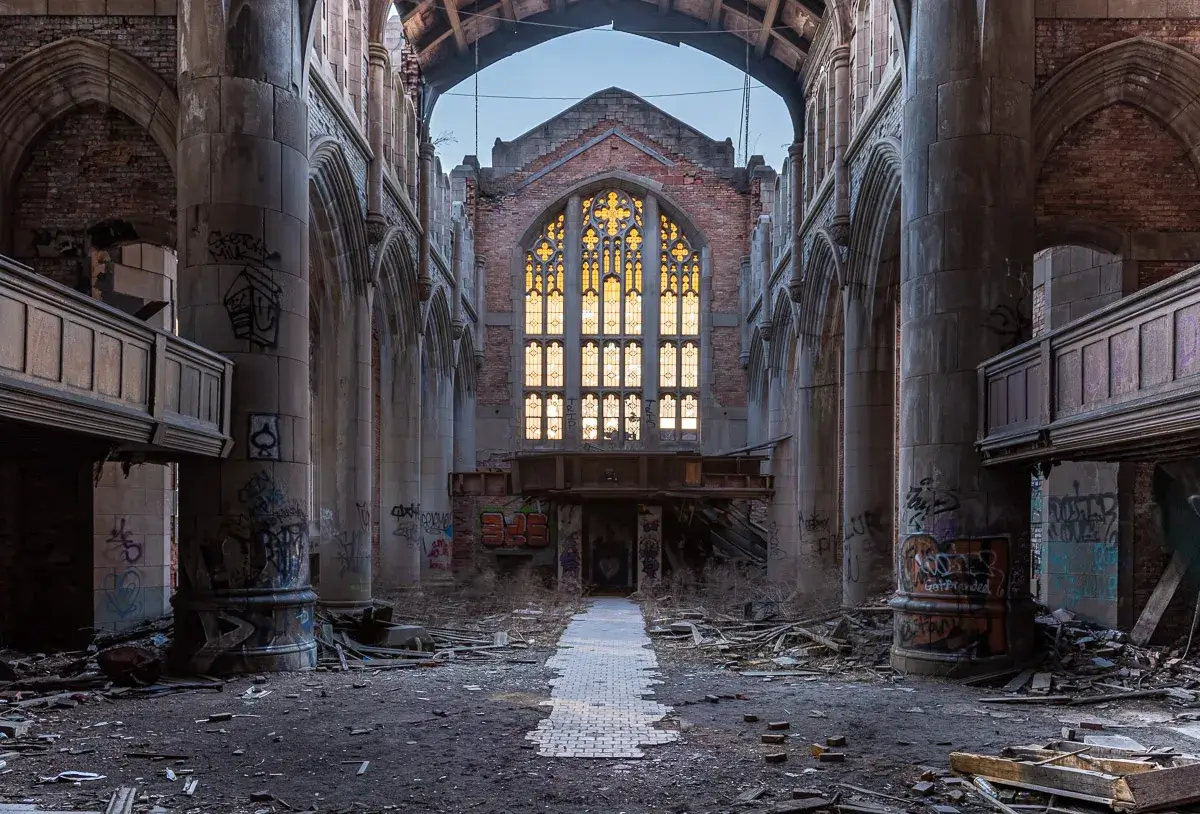 The city of Gary in the state of Indiana used to be a prosperous industrial mecca for the steel industry in the United States. It was once called the 'Magic City' in the mid-20th century as it was considered the next best city in America with lots of opportunities for anyone who arrived.
At one point well over 170,500 people lived in the now abandoned Gary Indiana city. But just like the steel industry built the city, it also destroyed it. In the second half of the century, the steel companies in Gary began restructuring their businesses and moving companies overseas for cheaper prices and labor.
As fewer jobs were available, people began leaving and the quick decline in population left many abandoned places in Gary Indiana. It is estimated that over a third of the places in the city are empty.
Among urban explorers and photographers, Gary Indiana is well known and loved. If you're wondering what the best-forgotten places are in the half-abandoned city, below are a few locations I think are quite interesting.
If you're looking to do some exploring outside of Gary, see our guide on the best abandoned places in Indiana.
List Of Abandoned Places In Gary Indiana
[lwptoc hideItems="0″ skipHeadingLevel="h2,h4″]
1. Dorie Miller Housing Projects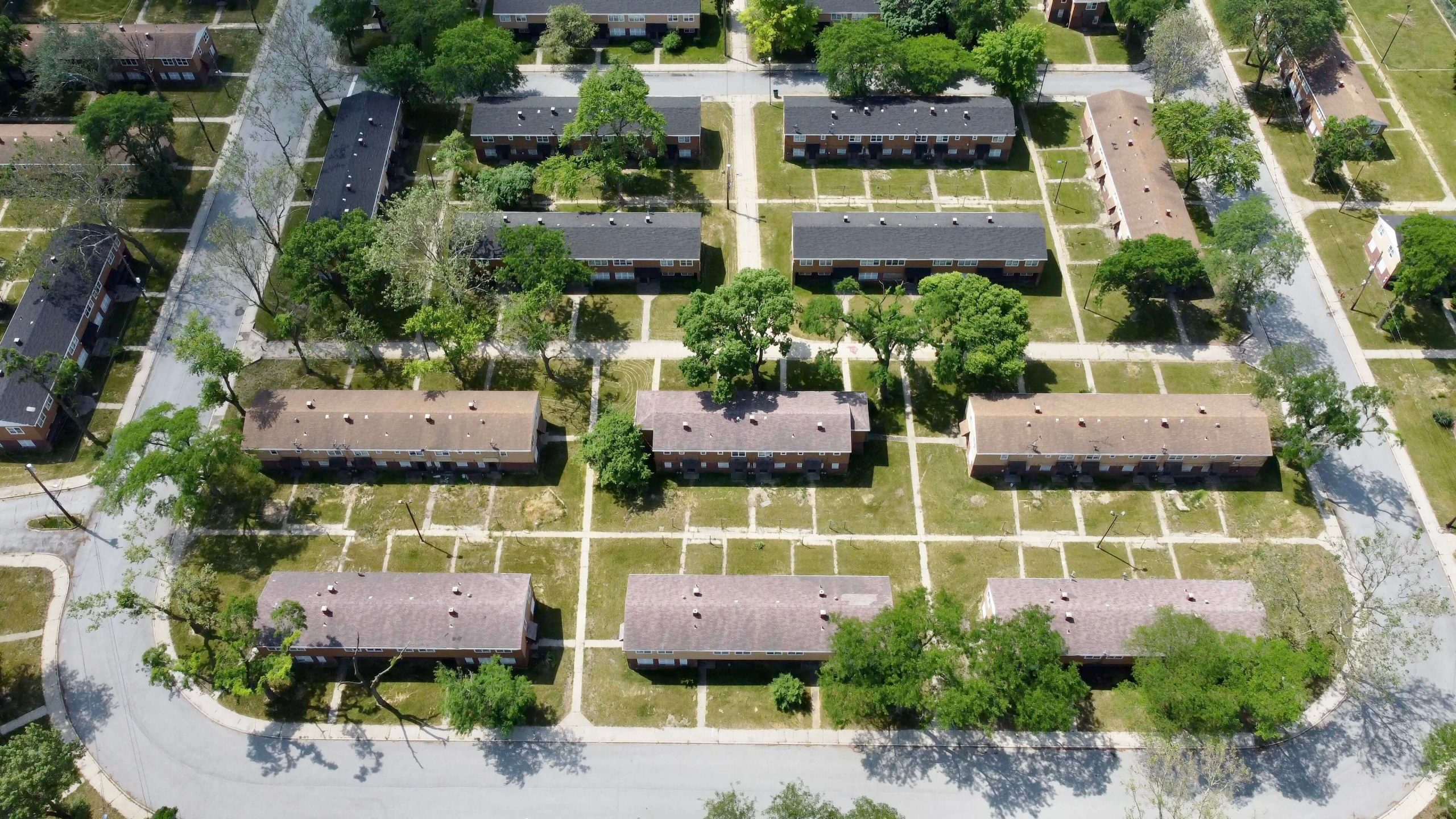 First on the list is the infamous Dorie Miller Housing Projects which is located at 1722 E. 21st Ave and is considered among the top abandoned places in Gary Indiana. It is named after famous African American Naval Serviceman Dorie Miller, who saved countless lives during the bombing of Pearl Harbor.
It opened as public housing for low-income and struggling families in the area and had 250 housing units. For a couple of years, the small housing community thrived and all units available were occupied by families.
As the downfall in the population of Gary kept happening the police department would gradually lose funding and be forced to lay off officers.
This resulted in a massive surge in crime making life in the Dorie Miller Projects very difficult. Fights would break out between rival gangs out in the streets, people would be robbed and beaten for their valuables, and homes would be vandalized often. Families living in the area reached a breaking point and began leaving in droves.
After some years the cost to keep the homes open for people who needed them would become too costly for the city of Gary and they would instead decide to shut the projects down. They evicted all the remaining families and completely abandoned the houses.
2. The Palace Theater
Considered among the most famous abandoned places in Gary Indiana, the Palace Theater has been lying in ruins for decades. It was built in 1925 and was used to feature live stage shows, motion pictures, and vaudeville acts for a live audience.
From day one of opening, the theater was a big hit bringing in more than 2,000 patrons to featured shows every weekend. It had a unique architectural design layout that resembled the famous European courtyard styles. For decades it was one of Gary's most popular entertainment venues.
But as the steel plants in the city went into a massive decline, so did the rest of the city. Fewer and fewer people were attending shows at the theater and crime in the area was becoming a big problem. The area where the Palace Theater was located developed a bad reputation as a place of violence.
With little to no tickets being sold for their shows, the theater made the difficult decision to shut down. The final live show was played out on Jan 3, 1972.
The following year several attempts were made by residents of Gary to revive the theater but none were successful. Today the theater lies in a severe state of decay that anyone who plans on exploring the place should be very cautious.
3. City United Methodist Church
Perhaps one of the most iconic abandoned places in Gary is the City United Methodist Church. It's been featured all over social media by popular urbex YouTubers and
explorers on Instagram
. The abandoned English Gothic church is the perfect backdrop for every urbex photographer.
Its sheer size and presence draw in the curious. That is why an urban explorer on YouTube who goes by the name Freaktography explored it. The church's history dates back to 1925 when it was first opened to the public. It cost a whopping 1 million dollars to build at the time, that's the equivalent to 7 million dollars today.
It was built as a place of worship for the growing city of Indiana. For years it offered sanctuary to parishioners in the area who wanted to pray in peace.  The architecture of the church was unlike what anyone from Gary had seen. For decades it drew in crowds numbering in the thousands.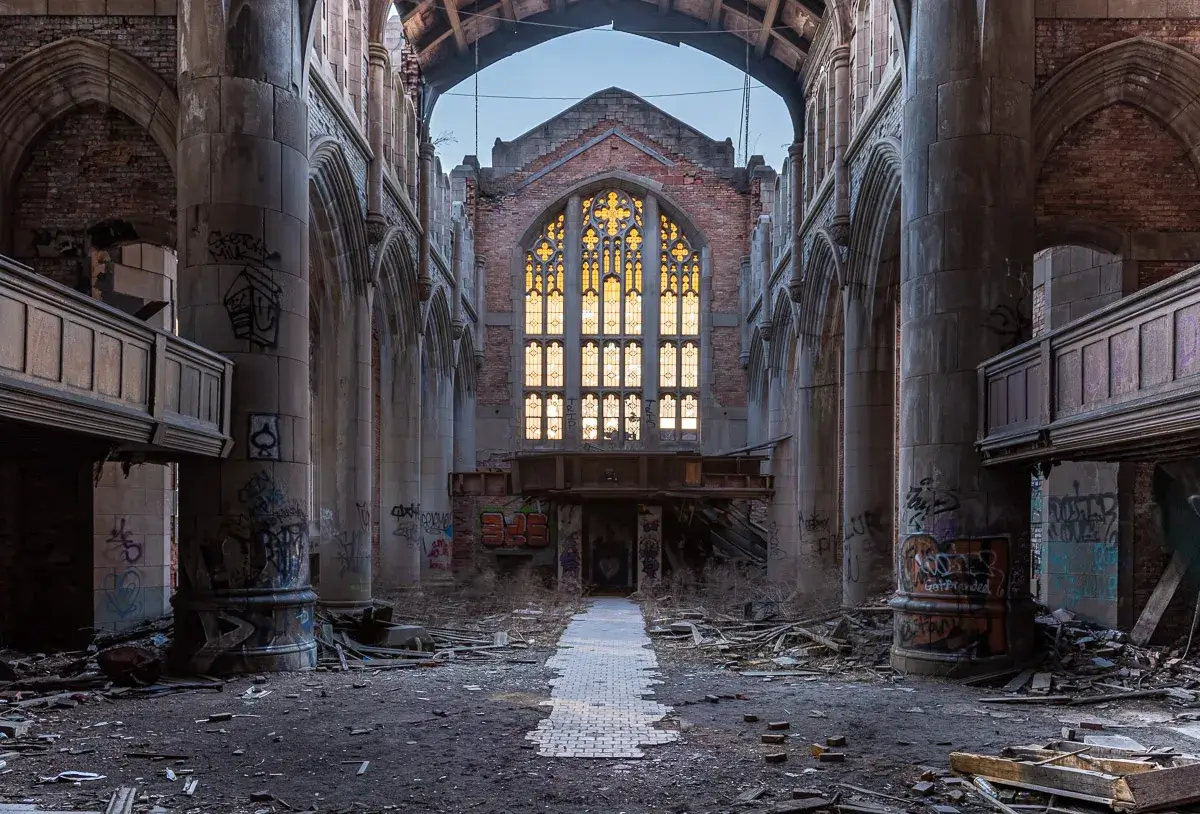 But the grandiose church lost its ability to make money as the city of Gary was sharply declining in population leading to fewer and fewer visitors. When Gary Indiana was experiencing mass layoffs from the steel companies, people had little to no choices of employment.
This led to residents leaving their homes and moving away from the city. The church had its last official visitor in 1975. But since being abandoned and not properly taken care of, it has fallen into severe disrepair.
Nowadays the only people it attracts are urban explorers wanting to take a peek inside the once grand church. The church is structurally in poor condition, so anyone in search of abandoned places in Gary Indiana that are inclined to visit should be very cautious.
4. Gilroy Stadium
Not all abandoned structures remain intact after 50 years. That's true of the abandoned Gilroy Stadium in Gary Indiana. Today the press box and bleachers are all that remain of this once ambitious project. It was never truly finished when it opened in 1956.
For such a large park like this one, you need a lot of empty space. That's why it was built on 30 acres of land and could seat over 10,000 spectators. It was set to be a part of the Gary High School track, and for public use after school hours. For years it was also used to hold musical and ceremonial events.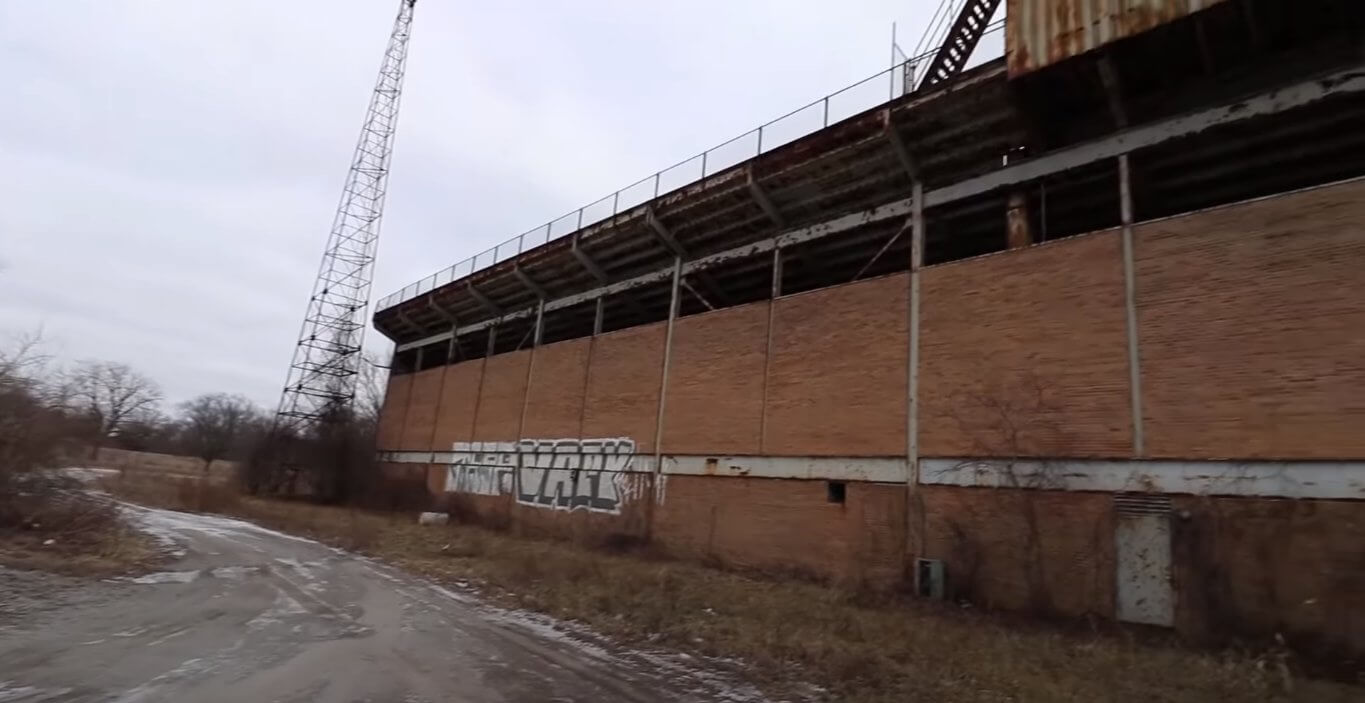 It had a lifespan of forty years but laid unused for half of that time. By the mid-1980s people stopped visiting due to safety reasons. Parts of the stadium were repurposed and today all that remains are the rusted bleachers, a couple of light towers, and everyone's favorite photo spot, the press box.
Where Is The Abandoned Gilroy Stadium?
The abandoned Gilroy Stadium is located between Harrison Boulevard and Jefferson Street in Gary, Indiana. You can find it on Google Maps.
5. The Lew Wallace High School
For some urban explorers, the bigger the abandoned place they explore, the bigger the thrill they get. This is why abandoned high schools such as Lew Wallace High School attract so many people.
When explorers on social media began posting their own pictures and videos of their explorations of the school, it quickly gained notoriety among the urbex community. People wanted to explore the school, and many did. They made their way inside to experience this slowly decaying building for themselves.
One urban explorer who entered the school documented his exploration and shared it on YouTube. He goes by the name Ruin Road (video above) and his video gives you a clear picture of what the decrepit school looks like from the inside after only eight short years of abandonment.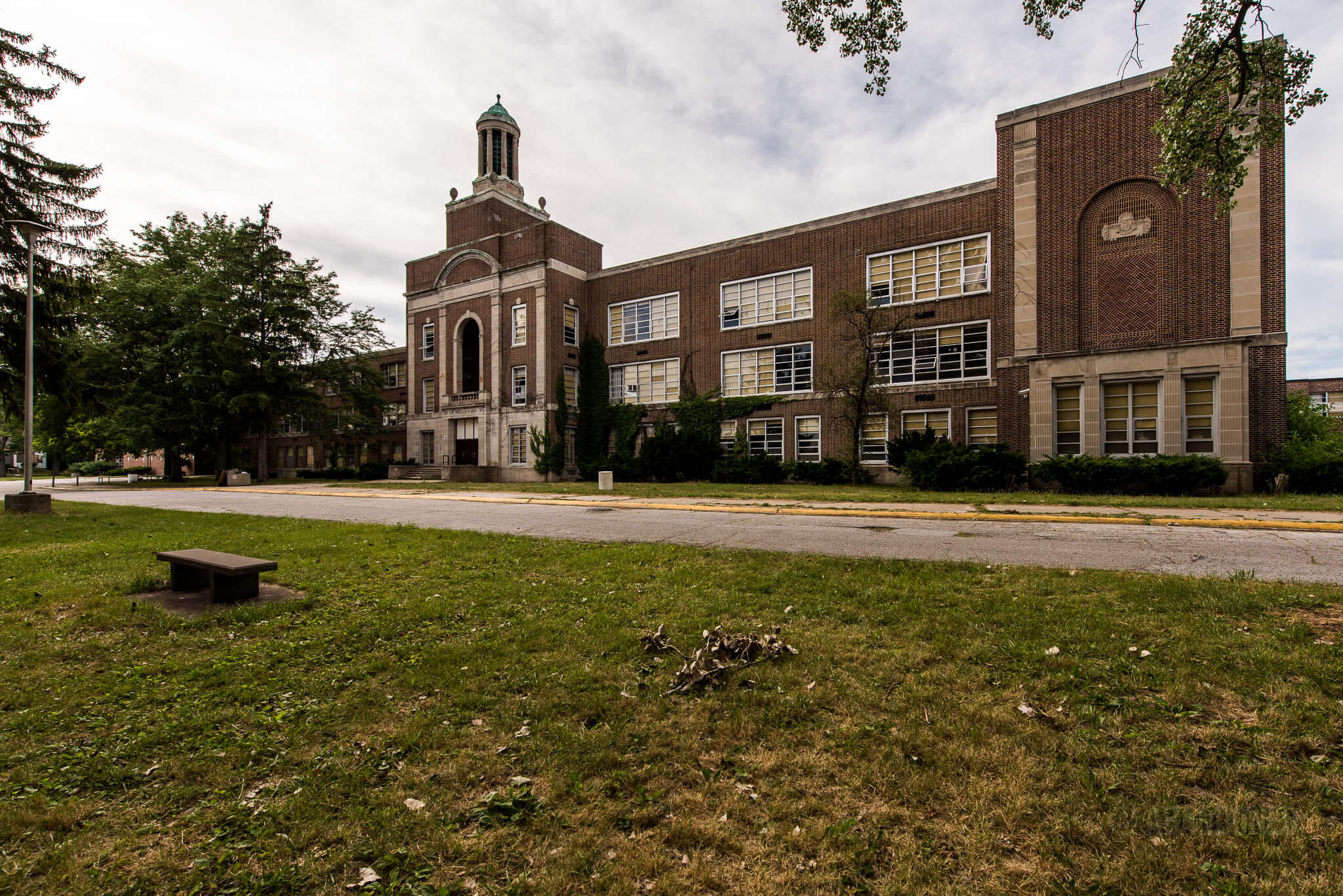 The school was built in 1926 and had a peak attendance of 2400 students in the mid-70s. Because of local economic decline, fewer and fewer students were showing up for classes. Some of the areas of the school were closed down while a small section continued to operate until 2014.
The school board officially closed it down due to rising costs and poor academic results. Since then it laid empty and seemingly forgotten. Photographers, urban explorers, and curious individuals have for years made their way in for a peek.
What happened to Gary Indiana?
It's difficult to say the exact issues that caused the once thriving city of Gary Indiana to collapse into an urban ruin. Some of its main problems included a declining economy, growing racial tension, and divided politics. It was a prosperous steel mill city built by an industry that cared only about profits.
After those steel companies began losing demand due to overseas steel competitors, they started laying off workers by the hundreds. Overnight thousands of people found themselves without a way to make a living to support themselves and their families.
This led to many residents leaving the city for better opportunities elsewhere. The peak population of Gary hit 170,000 residents in 1960. By 2014 only 70,000 people remained in the city.
With a shrinking population, businesses, institutions, restaurants, and everything else were closed down for good. Leaving behind thousands of buildings to rot and succumb to the elements.
How many abandoned places are in Gary Indiana?
Given the fact that over 100,000 people have left Gary since the 1980s, thousands and thousands of abandoned places are left behind. No one knows the exact number but it is estimated that somewhere between 15,000 to 20,000 houses and other buildings are abandoned.
Have You Explored Any Abandoned Places in Gary Indiana?
The city of Gary has gripped the attention of the urbex community for years. So many explorers and even urbex photographers have felt the desire to tour this urban jungle. Some do it for excitement, others for artistic motives. Whatever their reasons, there is an almost endless supply of abandoned buildings in Gary Indiana to choose from. Which one was your favorite?