Would You Explore These Abandoned Places Left Behind in Riverside CA
Tour the city through its abandoned buildings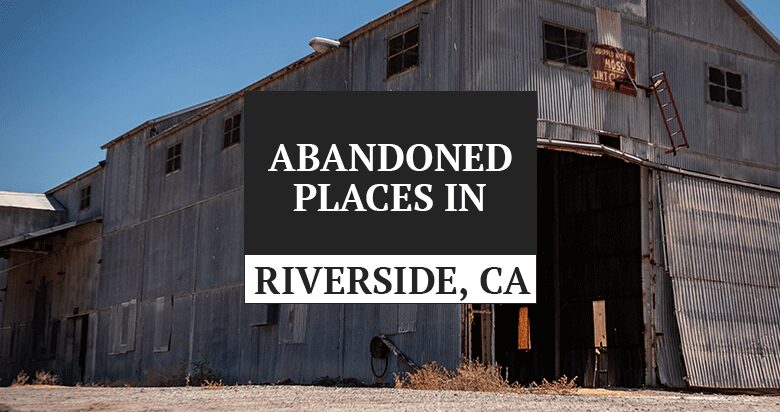 Have you ever wanted to explore abandoned places? If so, Riverside, California is the perfect place for you! There are countless amounts of abandoned buildings and locations that are perfect for urban exploration (or "urbex") in our city.
In this article, we'll give you a map of some of the best abandoned places in Riverside, California. We'll also tell you a bit about each location and what you can expect to find there today. So, if you're ready to explore, let's get started!
Also, if you'd like to explore more places in our state, check out our list of places to explore in California.
Abandoned Places in Riverside, CA
[lwptoc]
1. Seventh St. Apartments & Bungalows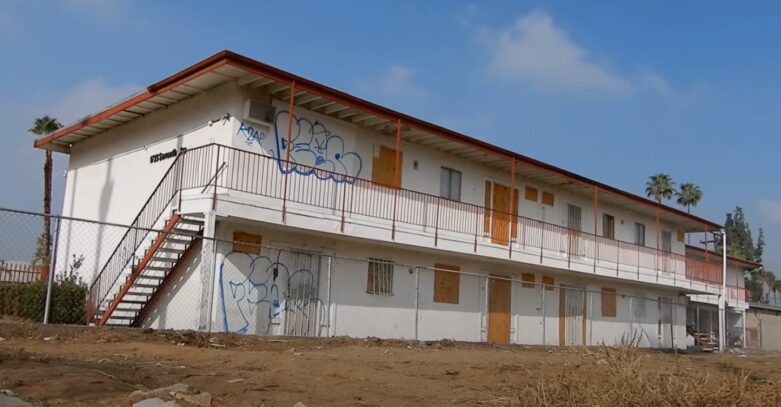 Located in downtown Riverside on the corner of Chicago and Seventh St. are the remains of this once lively apartment complex that is now abandoned and a haven for the homeless.
These apartments were once homes to many families but they now sit empty and forgotten. The windows are boarded up, the doors are locked, and the bungalows, which are located at the back, are slowly being consumed by nature as time goes on.
You can tell the abandoned buildings in Riverside CA have been used by the homeless for some time. When you're exploring the abandoned Seventh St. Apartments it will feel like stepping into a time capsule.
You'll come across remnants of people's lives and belongings they left behind out in the open. It's a fascinating and eerie glimpse into a place that is long gone and will likely never be used again.
2. Mount Rubidoux Tunnels
Mt. Rubidoux is a popular hiking spot in Riverside, California. The mountain (
map
) has a number of trails and is known for its beautiful views. But did you know that there are also a number of
secret tunnels on Mt. Rubidoux
?
The exact number of tunnels is not fully known. But the tunnels do exist. Also, the history of the tunnels is a bit hazy as some say they were built for smugglers during the prohibition era and others say they were made as an escape route for the rich and powerful.
The tunnels supposedly run from Mt. Rubidoux to the Mission Inn Hotel that's located a mile away from the mountain. Finding the entrance into the tunnels is not easy.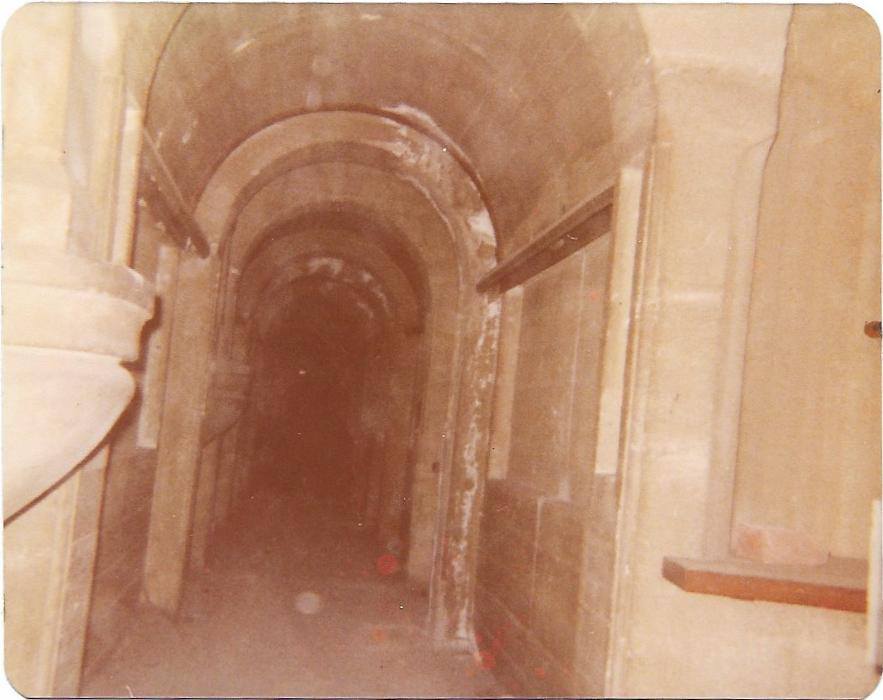 Some entrances have been blocked off on purpose over the years by the city because they were being visited often and also vandalized.
There are still other secret passageways into the tunnels but you have to find them yourself to gain entrance. The tunnels are a bit of a hidden gem on the Rubidoux Trail as not many people know about these abandoned places in Riverside.
If you decide to explore them, be sure to bring a flashlight as some of the tunnels can be quite dark.
3. Rice Brothers Studio
If you were to hike far out in the Mead Valley mountains, you'd come across this dilapidated house that once belonged to the brother of the legendary baseball player, Jim Rice.
It was built sometime in the early 90s and was supposed to be a house/studio where the Rice brothers could create music. On the north side of the property was a hacienda where the brothers lived and the studio was only a project that they ended up quitting on.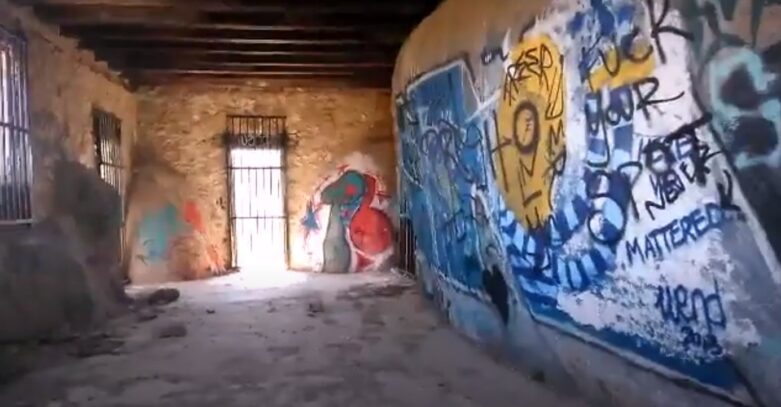 After the brother moved away, the house was abandoned and has been sitting empty since. For years, curious people passing by have stopped to explore the abandoned house in Riverside California.
When new owners purchased the property, they were fed up with people trespassing and placed metal bars on the windows and doors to deter anyone from going in. This sadly has not done much to stop anyone from going inside.
4. March Air Force Base Water Center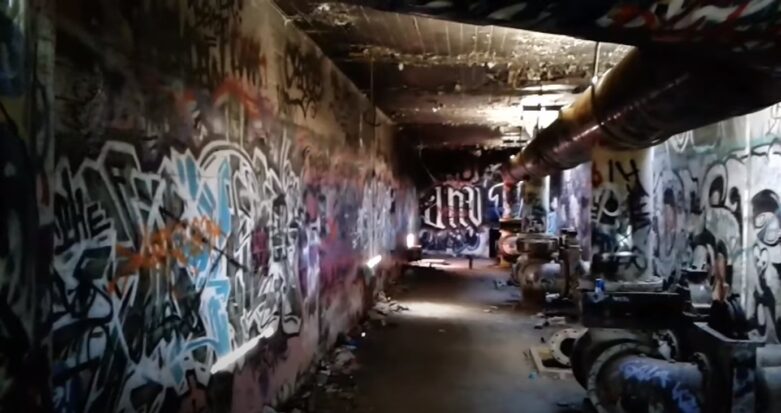 The March Air Force base in Riverside (map) underwent downsizing in 1996, resulting in the closure of several buildings – one of which was the water treatment center used to clean sewage water for reuse on the base.
The center was abandoned in 1996, and in the 15+ years since, it has been badly vandalized and often visited by urban explorers in the area. Even though the Air Force still owns the property the building is on, this hasn't stopped anyone from making their way in.
The March Air Force base dates back to the WWI era and has a long history in the region. In 1993 the base was converted to an air reserve station, and by 96′, thousands of people had left the city, leaving behind homes, businesses, and facilities like the water center.
If you were to visit the abandoned place in Riverside CA, you'd come across graffiti, decay, and probably the military police. They still patrol the area, so if you decide to visit, use caution.
Is There an Abandoned Hospital Near Riverside, CA?
Yes, it's located on Market Street across from a park with a train in front of it. The name is not known but it was once a retirement hospital as locals remember.
The hospital gained notoriety a few short years after being abandoned. It's said to be haunted by the ghost of patients who died there. It was closed down due to a series of mysterious deaths and has been empty ever since.
If you're brave enough to explore it, you might catch a glimpse of a ghostly figure roaming the halls. Remember to take a flashlight and some friends! Also, read up on your local laws regarding the legalities of exploring abandoned buildings.
Get Out There And Start Exploring!
That's the end of our list of abandoned places in Riverside, California. This list is incomplete though! We could never fill this page with every abandoned building in Riverside because there are too many to list.
To discover more you have to go out and find them. We wrote a guide that shows you how to find abandoned places near you to explore. Go read it if you're still looking for bandos.