Uncovering The Coolest Abandoned Places In Alabama
Explore these abandoned buildings in Alabama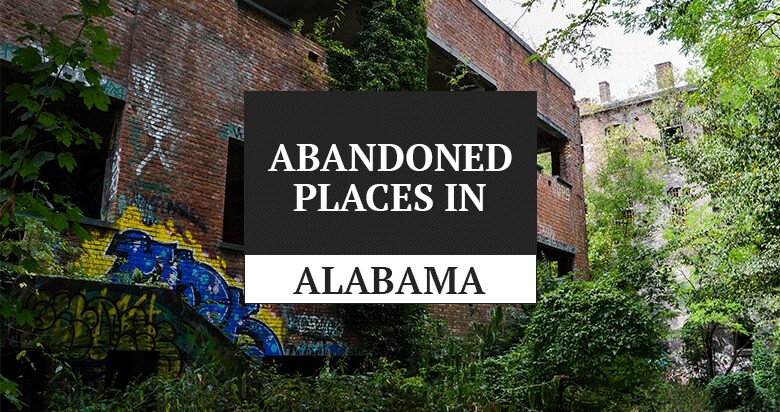 History is ever-present in the great state of Alabama, you don't need to travel far to find it. Our state is home to ghost towns, abandoned theme parks, deserted hospitals, empty schools, and much more.
You can find just about every type of abandoned building in the state of Alabama. Let's take a look at a few abandoned places in Alabama that would make for an interesting urbex trip.
List Of Abandoned Places In Alabama
[lwptoc hideItems="0″ skipHeadingLevel="h2,h4″]
1. Crossroads Funeral Home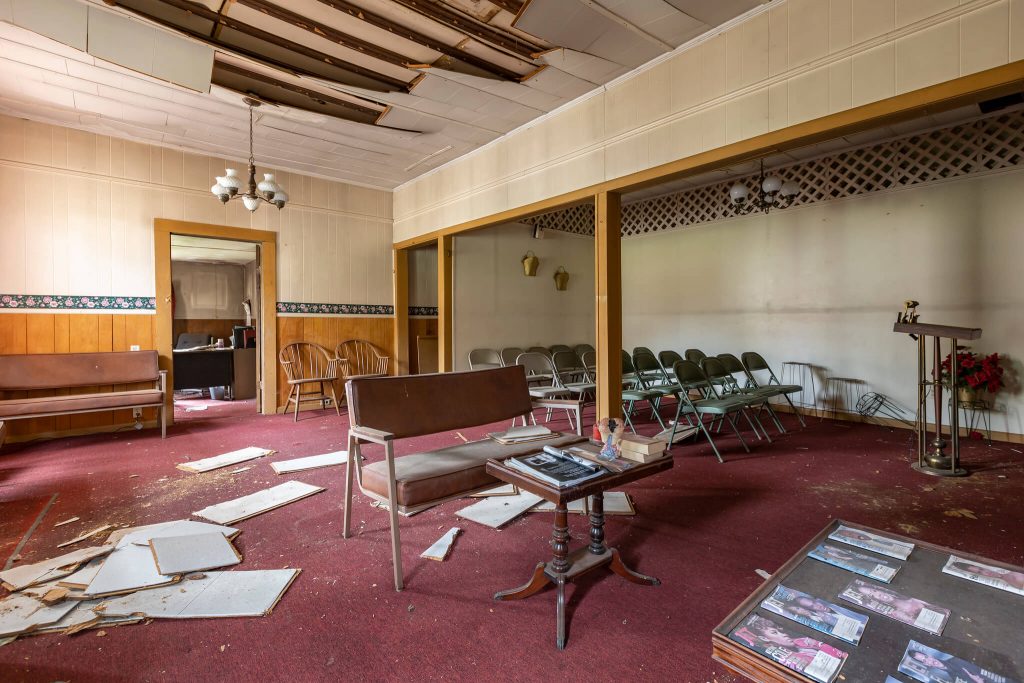 Since the mid-1900s, this quaint family-owned funeral home served its surrounding community with all its funeral and burial needs. Everything was done in-house, meaning they took care of all aspects of the funeral. From washing, embalming, dressing, casketing, and even providing the flowers.
Crossroads came under fire in the early 2000s when rumors began spreading around town about the owner possibly defrauding patrons. The state of Alabama launched an investigation into the funeral home and found evidence of fraud. This led to a lengthy indictment which resulted in a monetary fine.
The Crossroads Funeral Home gained a bad reputation in town and the owner closed the business down abruptly and has since been left abandoned. Nothing was taken from the funeral home when it was closed down. Furniture, caskets, rolling tables, and files are all present in the home. Along with some serious water damage.
2. Old Governor's House Hotel
The Old Governer's House Hotel (
map
) used to be one of the nicer hotels outside of downtown Alabama in the mid-1900s. It featured 190+ guest rooms, meeting rooms, and a large banquet hall where parties and events were frequently held. The hotel played host to a multitude of prominent local/international celebrities and powerful politicians.
It offered its patrons several luxury amenities, such as a private 9-hole golf course, horseback riding ring, restaurant, bar, lounge, and even an Alabama-shaped swimming pool.
In the mid-90s, the Governor's Hotel underwent a rebranding to revive the hotel but was ultimately unsuccessful at bringing new customers in. Complaints from tenants of unsanitary conditions and mold were common.
Now, the Old Governor's Hotel sits decaying and abandoned with its heydays long behind it. Vandals and homeless people occasionally occupy the building from time to time. For now, it is considered one of the many great abandoned buildings in Alabama.
3. Adams Grove Presbyterian Chruch (Sardis)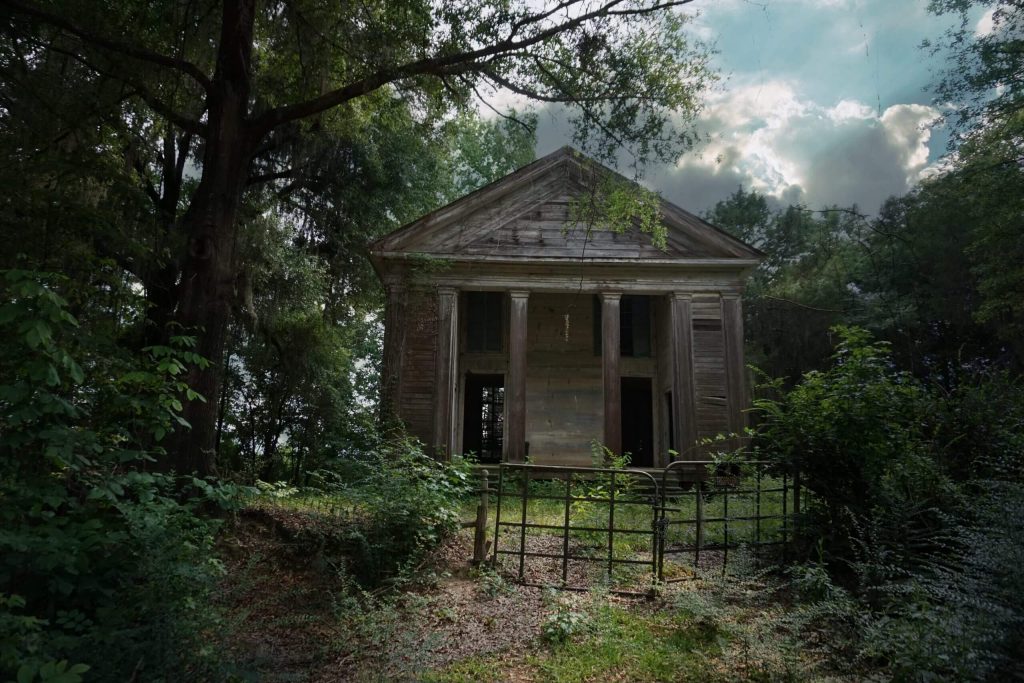 Constructed in the Greek Revival architectural style in 1853, this now abandoned church in Alabama is one of the last few remaining pre-Civil War churches in the area. For many years, it has retained all of its original architectural elements including a paneled pulpit dais and a slave gallery.
The church also houses a cemetery that includes more than 50 graves. The last documented congregation at Adams Grove (map) was held in 1974. On June 5, 1986, the church was inducted into the National Register of Historic Places. It's amazing that this historic church has remained intact throughout the many years its been abandoned.
Ghost hunters and paranormal enthusiasts who have visited, consider the church to be one of Alabama's most haunted locations. The church remains one of the most accessible abandoned places in Alabama to explore.
4. Jemison Center (Tuscaloosa)
The Jemison Center (
map
) was built in 1939 to relieve some of the overcrowding that was happening in the Alabama State Hospital For The Insane (Bryce Hospital). The majority of patients that inhabited the Jemison Center were mentally ill African Americans.
This was done on purpose as the main Bryce Hospital only housed white patients (Jim Crow era). The history of the Jemison Center is shrouded in mystery.
The Tuscaloosa newspaper reported a story on the abhorrent conditions patients faced at Jemison. This place was operated as a prison for profit where able-bodied patients were forced to work in the fields.
When not out working, some patients were tranquilized and kept locked in their rooms. A lawsuit forced the Jemison Center to close down operations and has since been left to rot.
Over the years, curious urban explorers have ventured inside the abandoned hospital for a peek. It's become known as a must-see abandoned place in Alabama.
5. Fictional Town Of Spectre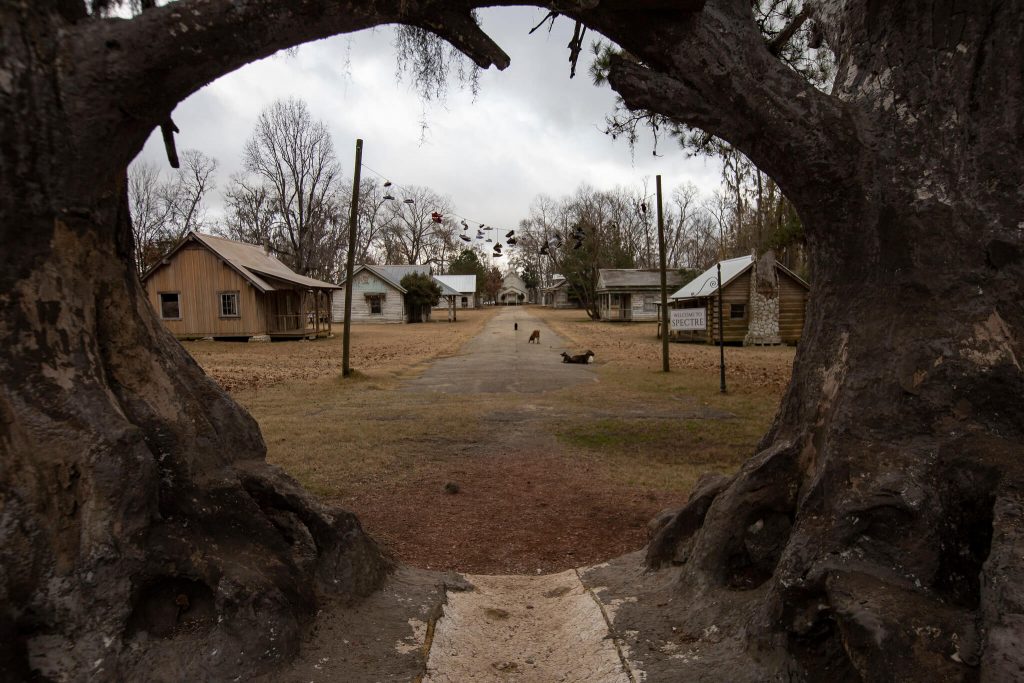 Built in 2003 as a prop for the movie Big Fish, this fictitious town was once full of empty buildings. The owners of the property had leased the area to movie director, Tim Burton. After filming was done, the town was set to be demolished but instead, the owners decided to keep it intact.
Sadly a few years after filming, the original buildings were destroyed in a fire, but a handful of structures like the church, family houses, and the mayor's quarters were spared and still stand till this day.
The town is located within Jackson Lake Island in Millbrook, AL (map). This fictional town has become a popular destination for photographers and urban explorers interested in abandoned places in Alabama.
6. Chilton County Training School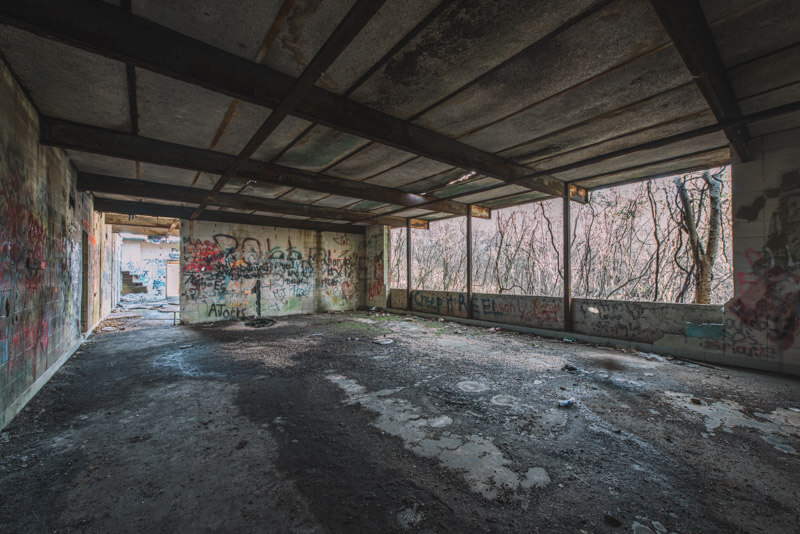 The Chilton Training School (map) was built in 1924 and was the first school in the area built specifically for African American students. The land, labor, building materials, as well as financial support, were all donated from the Rosenwald fund.
The fund was a foundation established by wealthy businessmen who were interested in helping social issues that included education for impoverished African Americans during the Jim Crow era.
The school offered classes for students in 1st – 9th grade. The original building was destroyed in a fire but was rebuilt with a Mid-Century modern style design that still stands to this day.
With the end of segregation in the mid-1950s, most single-race schools were closed down. This was the fate of Chilton County Training School as its doors were closed for good in 1960.
Efforts to revive the building have been made but a lack of financial support has stalled plans indefinitely. In 2017 the school was listed in the Alabamas Trust for Historic Preservation Places. This location is an incredible example of one of the best abandoned places in Alabama.
Are There Ghost Towns In Alabama?
I've been asked these questions a few times since this article was published. So I'll answer this question here. The answer is YES.
The beautiful state of Alabama has a multitude of ghost towns, most of them easily accessible to everyone. These places have been sitting empty for decades. Urban explorers and curious adventurers should check out this list of ghost towns in Alabama.
Still Looking For Abandoned Places In Alabama?
It would be impossible to list off ALL of the abandoned buildings there currently exist in the state of Alabama. This article features only a few of the hundreds, perhaps thousands, of abandoned buildings in Alabama.
The abandoned places that are truly worth a visit are not always advertised on blogs or social media. Most of the time you have to find these places yourself.
I wrote a guide on how you can find abandoned places near you to explore. If you're an urban explorer who's looking for abandoned places in Alabama or anywhere else, be sure to check it out.