These Are The Best Abandoned Places in Florida to Explore
Places that have been left behind in the Sunshine state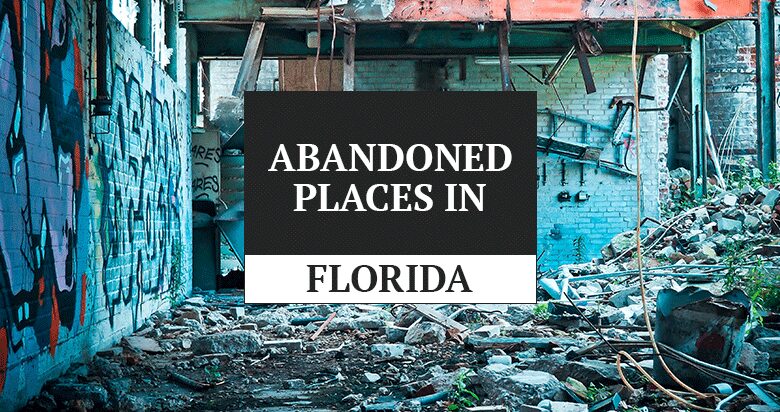 Having spent nearly a decade of my life exploring some of Florida's abandoned places, I compiled a list of some of my favorite locations to share with you.
You will see some historical places with fascinating histories like schools, hotels, amusement parks, and even a deserted island. Not all of these abandoned places in Florida will survive forever.
Some are in bad condition and others are in danger of being demolished. So if you're on the hunt for places to explore in the sunshine state, below you will find some that I think are worth visiting before they're gone.
List of Abandoned Places In Florida
[lwptoc]
1. Disney's Discovery Island – (Bay Lake)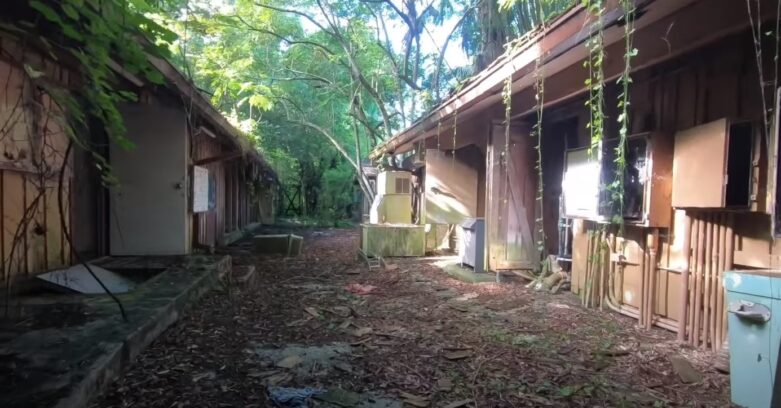 Starting this off with one of the most secretive abandoned locations in the state of Florida. It is called Disney's Discovery Island and only a handful of people have ventured inside the mysterious theme park since it was closed down nearly 23 years ago.
Disney has for years attempted to hide the fact that the island even exists. Not only is no one allowed to enter, but anyone who even attempts to get close has been met with police presence upon their return.
The history of the island dates back to 1974 when it was first revealed to the public and accepted by guests. The 11.5-acre park was meant to be a relaxing destination for tourists to view exotic birds such as cockatoos, flamingos, hawks, and falcons, among other fauna.
Due to low attendance rates, reports of animal mistreatment, and the opening of the Animal Kingdom park in mainland Florida, Discovery Island was shut down on April 8, 1999. Just 25 years after it first opened.
Since it closed down, the island has been left completely vacant and not a single person has been allowed to visit. Over the years several daring photographers and urban explorers have trespassed onto the island to take a peek inside.
2. Aerojet-Dade Rocket Facility – (Homestead)
Second on our list of abandoned places in Florida is the well-known Aerojet-Dade Rocket Facility. Situated on the border of the Everglades National park, lie the ruins of this once amazing building.
Built in the late 1960s, the facility was developed to experiment with various types of rocket fuel that were to be used in the Apollo Space programs. The facility was fully funded by a contract from NASA.
When NASA decided to cut funding to Aerojet-Dade in 1986, the site was forced to close down. Since it went out of business, the facility has been lying empty and rusting away with no future in sight.
For years it's been a popular place for graffiti artists and urban explorers wanting to take a peek around. One of the most unique features of the site is the abandoned silo that still holds an SL-3, known as the world's largest rocket booster ever built.
3. Disston Sugar Mill Ruins – (St. Cloud)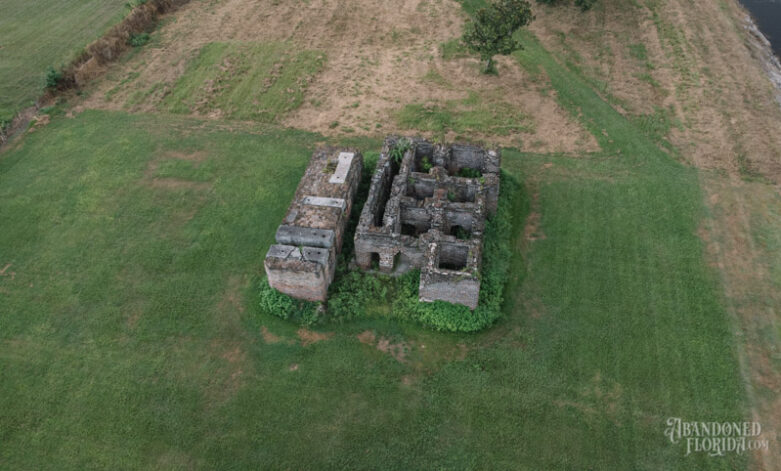 The Disston Sugar Mill ruins are a remnant of the sugar cane industry from the late 1800s. The now abandoned Florida building was constructed by businessman Hamilton Disston in 1886.
He established an extensive experimental sugar plantation on swamp lands he had managed to drain for the production of sugar. The agricultural experiment was a success and a sugar mill was built to help with the production.
For years the mills would produce several hundred tons of sugar every day. It wasn't until 1895 when the United States government would withdraw its support of raw sugar production that would send the sugar industry into a panic.
Due to a loss in business shortly after that happened, the mill was shut down forever. Parts of the mill and several pieces of machinery were dismantled and sold off at auction. Not all parts of the building were taken down, the main structure still remains standing until this day.
4. Suwannee Springs – (Suwannee County)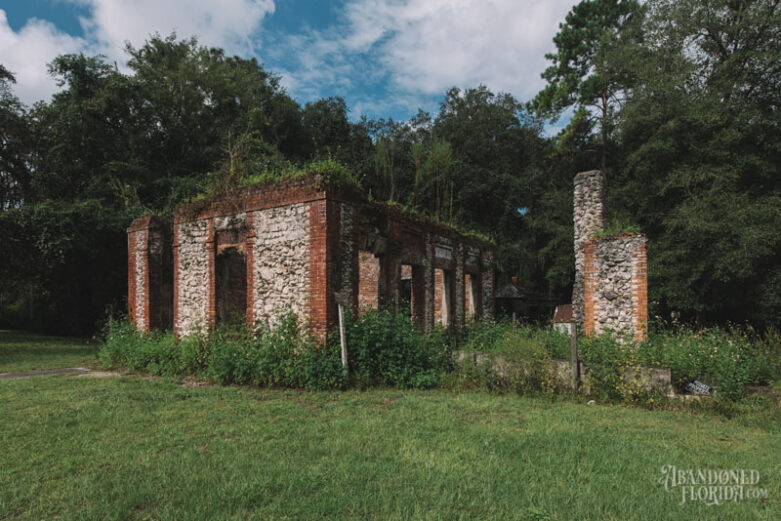 Florida is full of former natural spring resorts which are now abandoned throughout the state. Suwannee Springs is one of them. It used to be a natural spring resort and hotel which was quite popular in its time.
A natural spring is a stream of groundwater that flows onto the earth's surface. In the early 1800s, it was thought that natural springs had healing properties that could cure everything from cancer to kidney disease and even tuberculosis.
As such, businessmen created these resorts on lands that contained springs that would allow paying guests to bathe in these 'healing' waters. The Suwannee Springs was first built in 1830 and managed to attract big crowds so it had to keep expanding the resort to accommodate more people.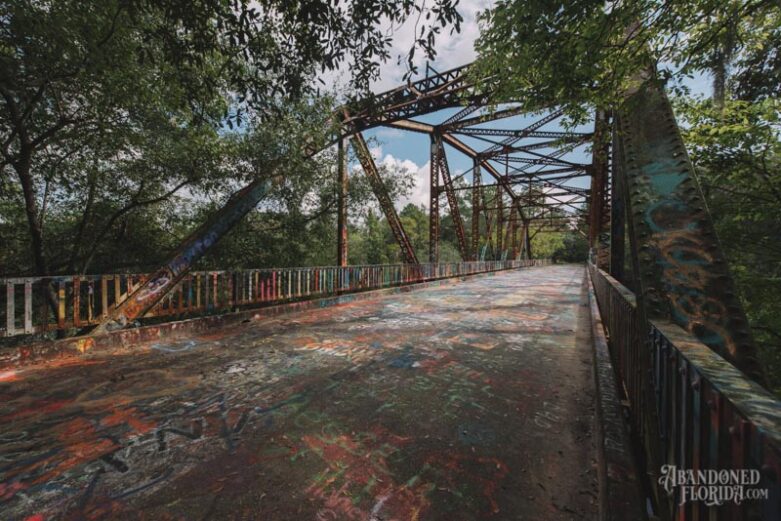 During its height, it managed to house over 200 guests with plans to expand further but that would never happen. A fire would burn down not only the first building but also the second and third ones that were built to replace the ones previously.
After scientific reports began coming out that spring waters had no healing properties, springs resorts started losing all their business. Because of financial hardships, Suwannee Springs was closed for good in 1925.
5. The Bin Laden Mansion – (Winter Garden)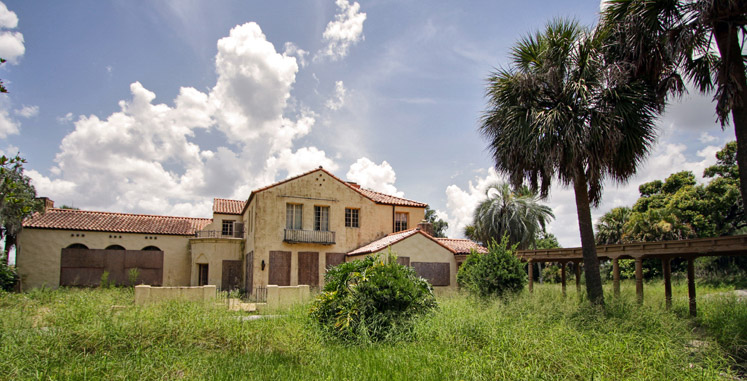 Yes, the house is connected to THAT Bin Laden but it was not directly owned by him. The now abandoned mansion in Florida was owned by Khalil Bin Laden, he was Osama Bin Laden's brother.
He purchased the home as a gift to his wife in December of 1980. For two decades the Bin Ladens lived in the large gated 5-bedroom mansion until 2001. After the terrorist attacks on the twin tower, the Bin Ladens were forced to flee the country due to safety concerns.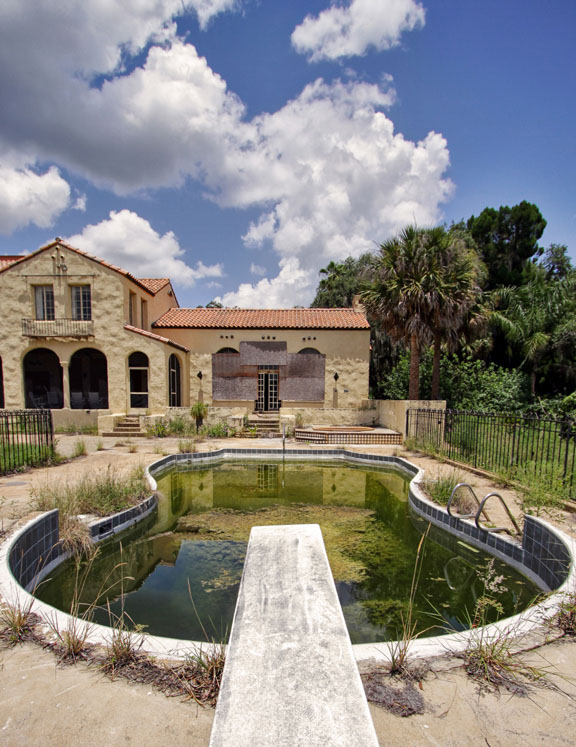 The abandoned house was vandalized and broken into since it was left empty. The mansion exchanged hands multiple times after that with new owners hoping to demolish the house and reuse the property for apartments.
But those plans never went through and the property was left abandoned since. The future of the home, like many other abandoned places in Florida, is uncertain.
For more spots to explore near Winter Garden, FL, see our list of abandoned places in Orlando.
6. The Thunderbird Motor Hotel – (Jacksonville)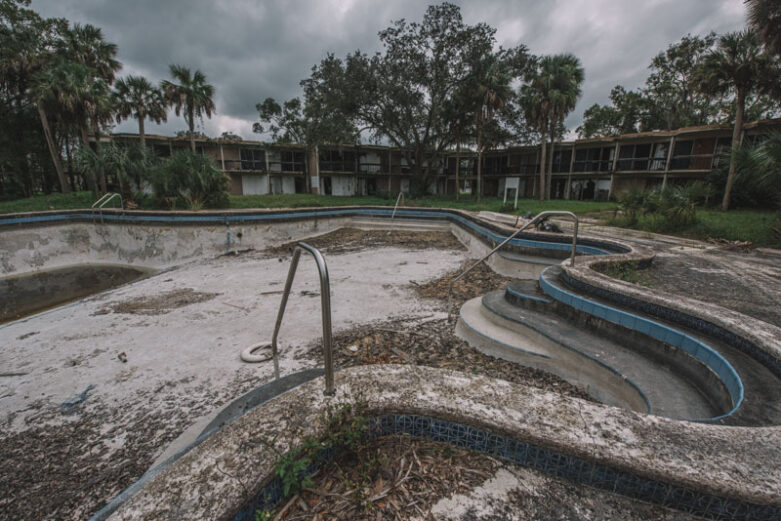 The Thunderbird Motor Hotel was originally opened in 1959 as a luxury hotel for the business executives of downtown Jacksonville.
In the following decade, it underwent big renovations that would hopefully draw more people in. The hotel was Polynesian and American Indian-themed with matching decor and colors.
For years it managed to draw in politicians and celebrities to its theater and luxury facilities. It had 300 guest rooms, lounges with live entertainment, dining rooms, two swimming pools next to Tiki bars, and an indoor venue.
It garnered a reputation among the rich and powerful in Florida as the place to have a good time. This all came to an end in the late 1970s as the hotel was no longer profitable so the property was sold off and closed down.
It exchanged owners over 4 times but nothing was done with the hotel. In 2019 a large fire ravaged the abandoned building in Florida and destroyed portions of the complex.
See our article on abandoned places in Tallahassee for more places to explore in Florida.
7. Jarazic Park – (Navarre)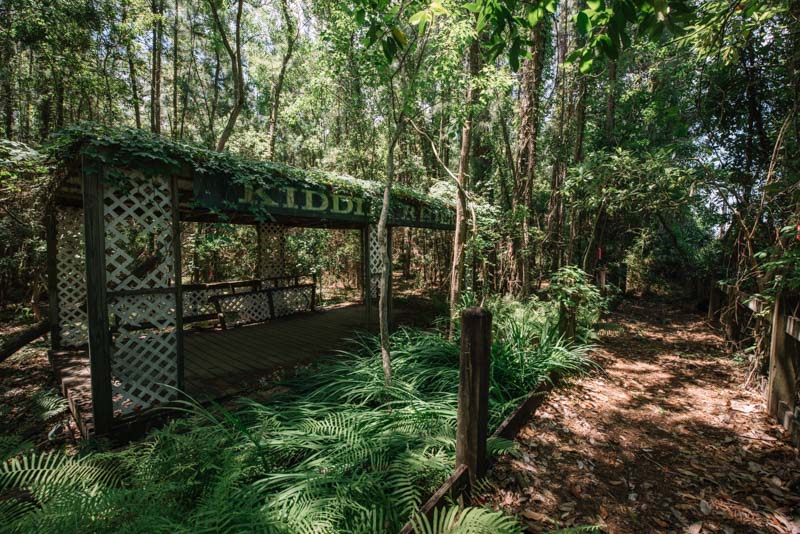 This abandoned amusement park in Florida opened in the 90s and was named Sports Land. It featured a mini-golf course, batting cages, and a rock climbing wall.
It wasn't as successful as its owners had hoped and ended up being sold. The new owners changed the name to Jarazic Park and added a few child-friendly rides to attract more people.
It worked but it did not last long. In 2001 after years of neglect, the park was starting to fall apart. Not only that but also the fact that trees and grass were growing wildly without any care made the park look dodgy.
In 2003 it was sold off but nothing at all has changed. All that remains of the park are parts of the golf course, the rusty batting cages, and some old signs.
As with most abandoned places in Florida, the chances of this place making a return are non-existent.
8. Homestead Seaboard Air Line Railway Station – (Homestead)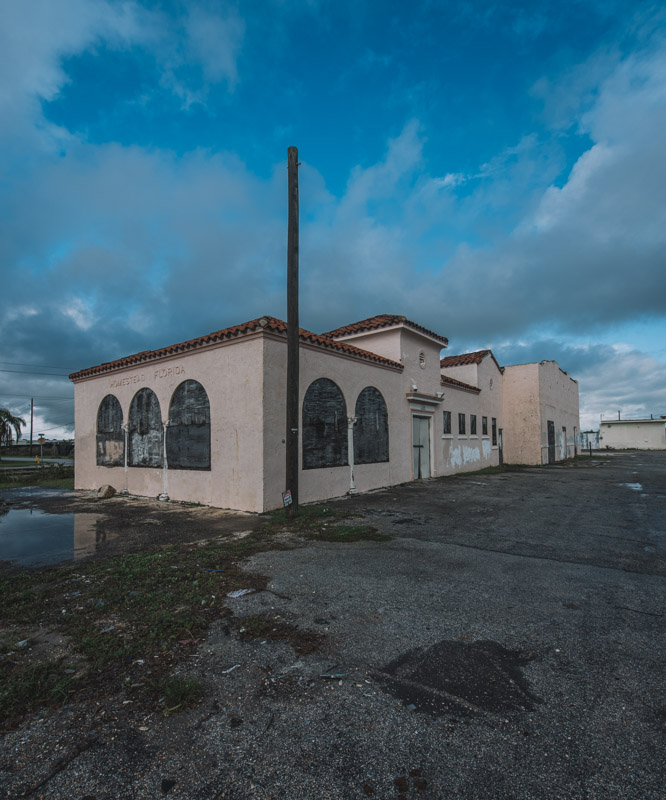 Not many railway stations from the early 1900s remain standing today. Several have been purposefully burned down, some demolished to make room, and others slowly withered away into decay.
One that has endured the pressure of time is the Homestead Seaboard Air Line Railway Station. It was built and in operation since 1927 when the Seaboard Air Line Railroad Company expanded its rail tracks from Miami, further into South Florida.
It mostly saw commercial freight cargo during its time. When the station closed down is unknown but it happened sometime in the late 60s.
It closed because the SALR company merged with its longtime rival which saw no more need for the station. It has the honor of being the southernmost railroad station in the US that hasn't been destroyed.
Like many abandoned places in Florida, it has been sitting empty and forgotten with no future in sight.
9. Rochelle School – (Alachua County)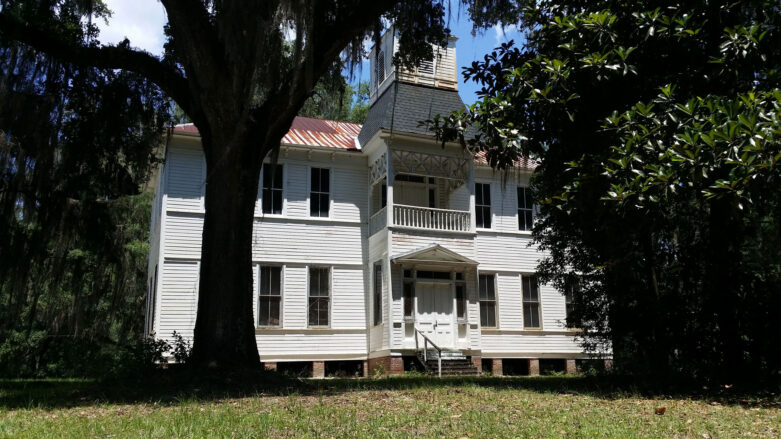 Located just outside Gainsville, Florida in the present-day ghost town of Rochelle is this historic abandoned schoolhouse. The old school of Rochelle dates back to 1885 and was originally known as the Martha Perry Institute.
The school is considered one of the very first buildings to have been constructed in the town of Rochelle. The school itself is two stories tall.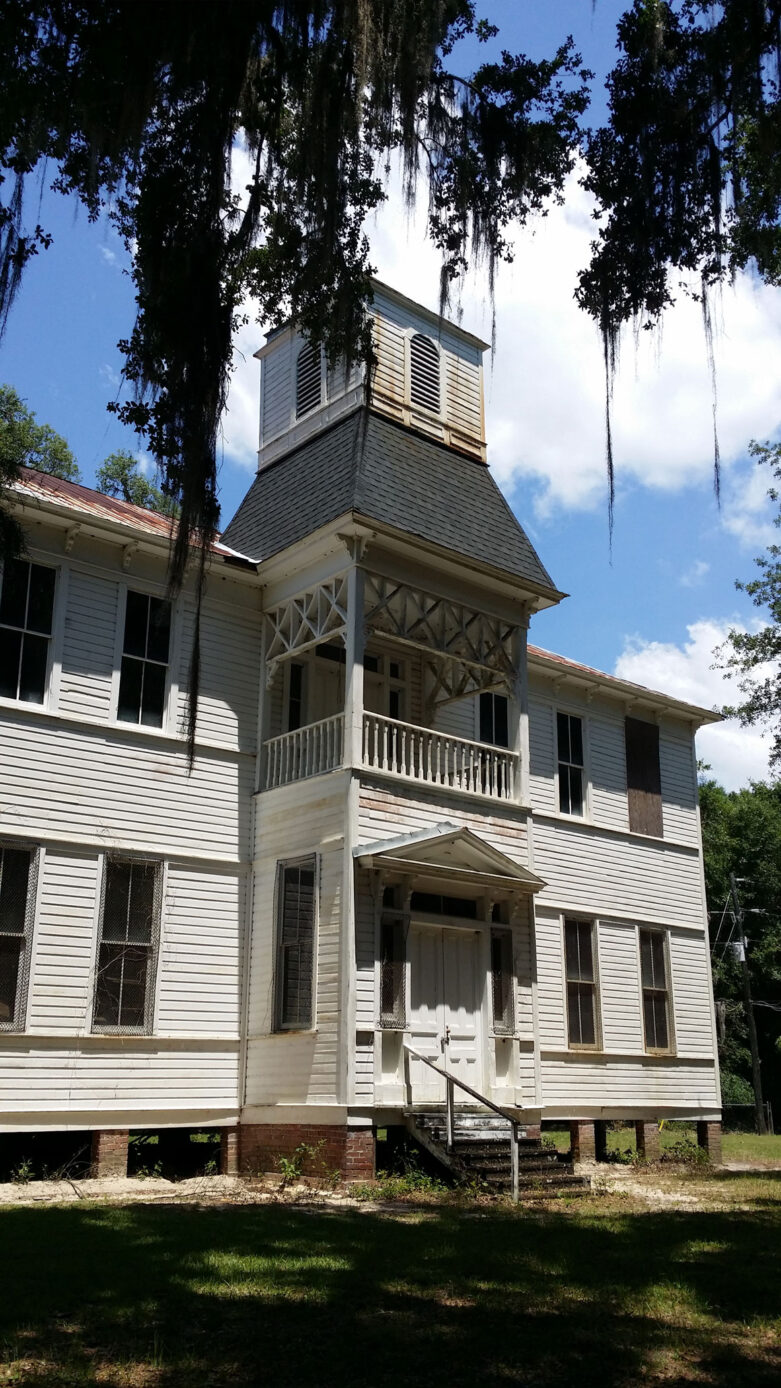 The lower floor had two classrooms and offices, while the upper floor had a large music room with a bell tower and a balcony. For over 4 decades the now abandoned school in Florida was only one of two schools in the whole town.
In 1935 as the population began to dwindle in Rochelle, the school was shut down for good. Inside you can still find old desks and school furniture dating back to that era. In 1973 the school was placed in the National Register of Historic Places.
10. Annie Lytle Elementary School – (Jacksonville)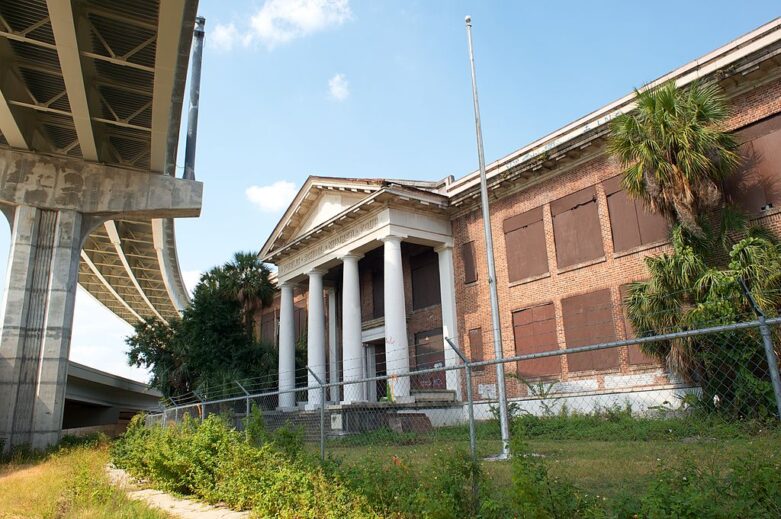 Who doesn't love abandoned schools in Florida, our state has many for you to choose from. One of them is the famous Annie Lytle Elementary School in Jacksonville, which was also known as Public School Number Four before its name changed in 1950.
Because of a highway system that was built only one hundred feet away from the school, it was considered difficult to get to. Not only that but also the noise of traffic passing by would disrupt classes all the time.
Because of these things, the school was slowly losing students. In 1960 the school officially shut its doors and was only used as storage for the county.
The building would go up in flames due to possible arson in 1995 and the ceiling would be badly damaged to the point of caving in. No attempts were made to repair the abandoned building in Florida and nature took its course.
The school was set to be demolished but historical groups in the area pressured the city to designate it a historical place.
Today the only people who visit the abandoned school are urban explorers and squatters. Rumors of the building being haunted have circulated the internet for years but no proof has come forward.
11. Atlas Hovercraft – (Green Cove Springs)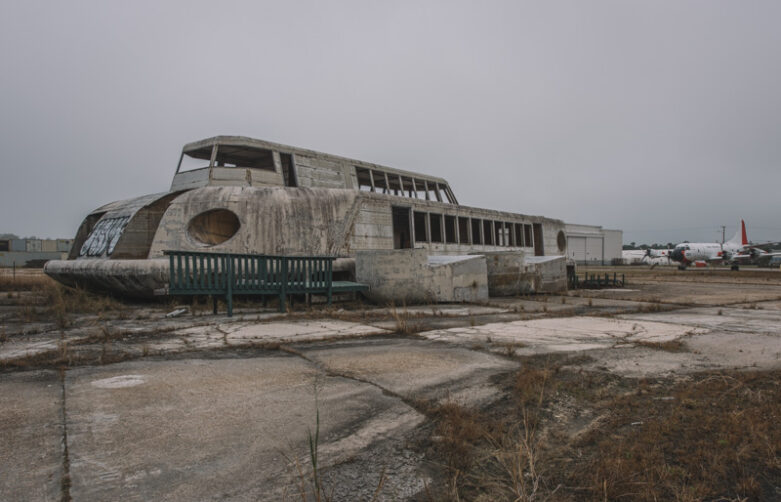 It's not every day you get to see a 125-foot experimental commercial transport hovercraft just lying around. But that's exactly what this Atlas Hovercraft is.
This futuristic hovercraft was built to be used as a commercial craft that would transport passengers from Miami all the way to the Florida Keys. This was supposedly going to reduce traffic congestion on roadways.
But they never were put into use as intended. The CEO and main engineer of the hovercraft company, Kurt H. Peterson had a history in both aviation and marine industries.
Because of his experience and knowledge from previous jobs, Mr. Peterson believed he could create the first commercial hovercraft for public use. After years of several failed attempts to get the hovercraft working, the company was shut down.
According to former employees, the closing came after a lack of funds that prevented them from purchasing the necessary parts needed for the craft to run. The company was in operation from 2005 until 2008. The Atlas Hovercraft is considered one of the coolest abandoned places in Florida.
12. Ambassador Hotel – (Jacksonville)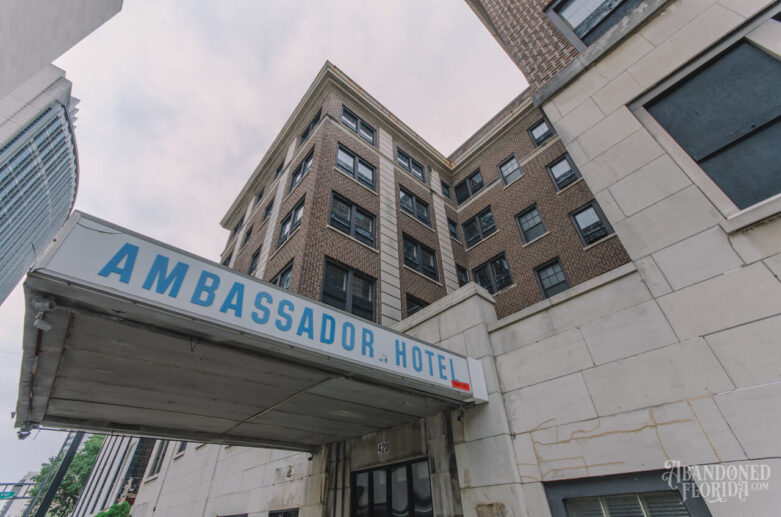 This abandoned hotel in Florida has been a hotspot for urban explorers and photographers for many years. The hotel was first opened in 1924 under the name 310 West Church Street Apartments.
It had 50 rooms and because of its unique H-shape design, it offered sunlight to every resident. The six-story abandoned building was built using brick and limestone and also had a Georgian Revival architectural style.
For two decades the Ambassador Hotel managed to be considered an upscale apartment building in all of downtown Jacksonville. Its good days came to an end in 1943 when the property was sold off.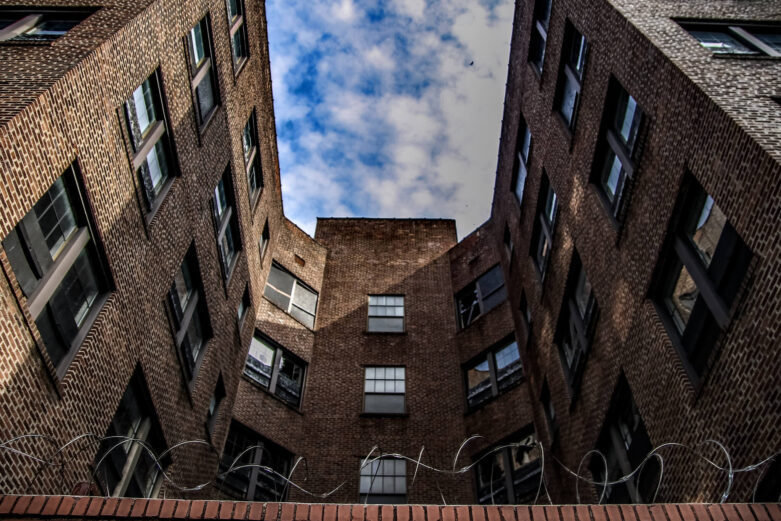 It kept exchanging owners for the following 4 decades until 1980 when it was converted into low-income apartments. Because of this, the hotel had many problems with drugs, robberies, and prostitution.
In 1995, safety inspectors cited the owners for multiple safety code violations. It was shut down and has remained abandoned since.
13. Old Weirsdale Elementary School – (Weirsdale)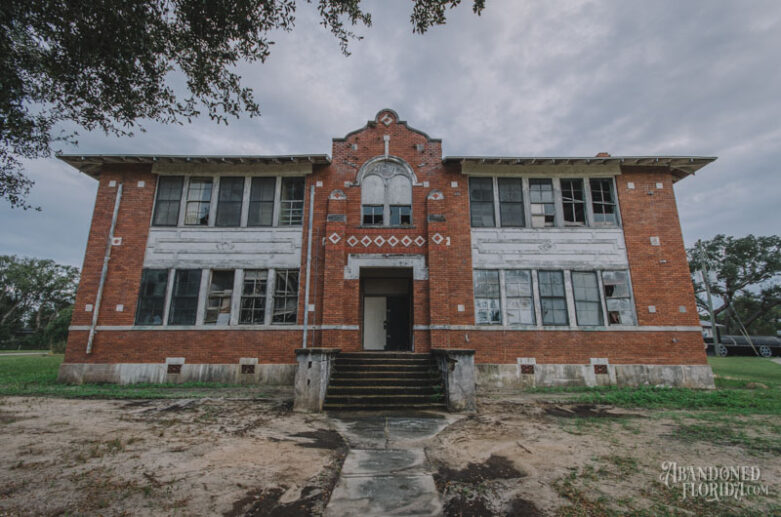 A YouTuber that explores abandoned places in Florida recently uploaded a new video to his channel where he ventured inside this abandoned school.
The photos and video he was able to capture were so stunning that I just had to look it up. It's called the Old Weirsdale Elementary School and it was opened in 1923 for students from grades 1 to 12.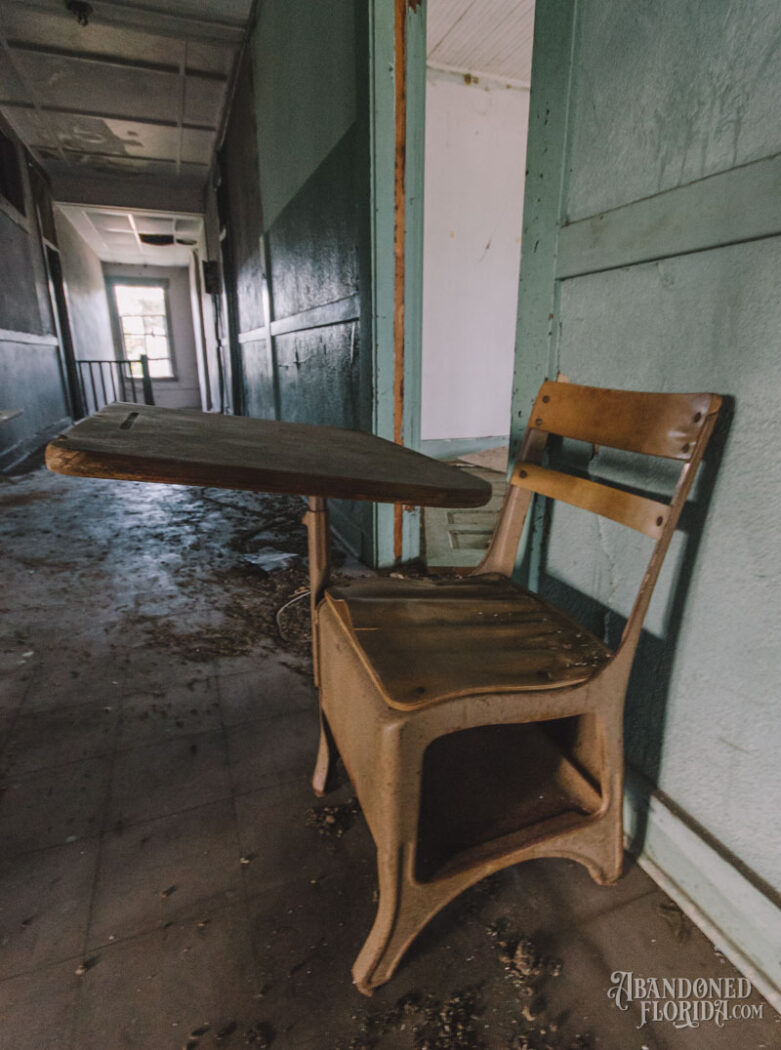 It closed down in the 70s because a new better school was constructed nearby. After its closing, it was used as a country music venue but more interestingly, it was also used for scenes in the 2001 legendary movie, Jeepers Creepers.
In the following years, the building remained practically untouched. It's been sitting empty and only being used as storage.
14. The River Preserve Condos – (Wassabo)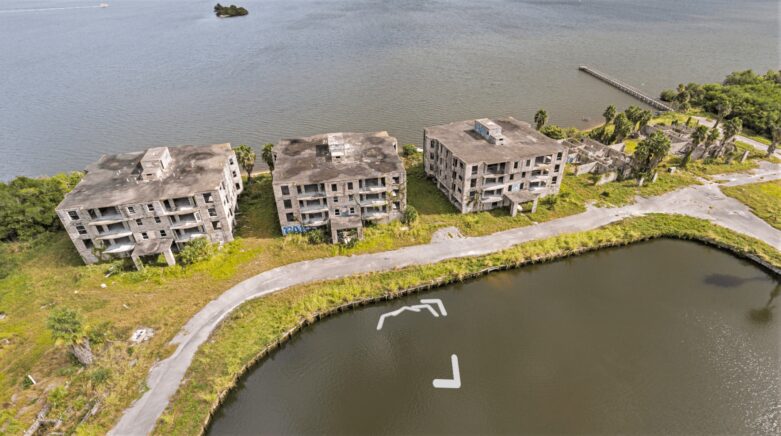 What originally started as an ambitious project to build a new subdivision that would include 20 homes and over 70 condominiums, ended up being a big flop.
Situated on the shores of the Indian River in Wassabo, are 3 abandoned condo buildings that were never finished. A clubhouse, pool area, and park were set to be alongside the condos but they were never built.
The reason was the real estate crash of the early 2000s, all construction of the River Preserve project was canceled. They would never resume construction and the structures would be entirely abandoned.
You can take a 360-degree virtual tour of the condos through the abandonedin360.com website.
15. PotashCorp Phosphate Terminal – (Jacksonville)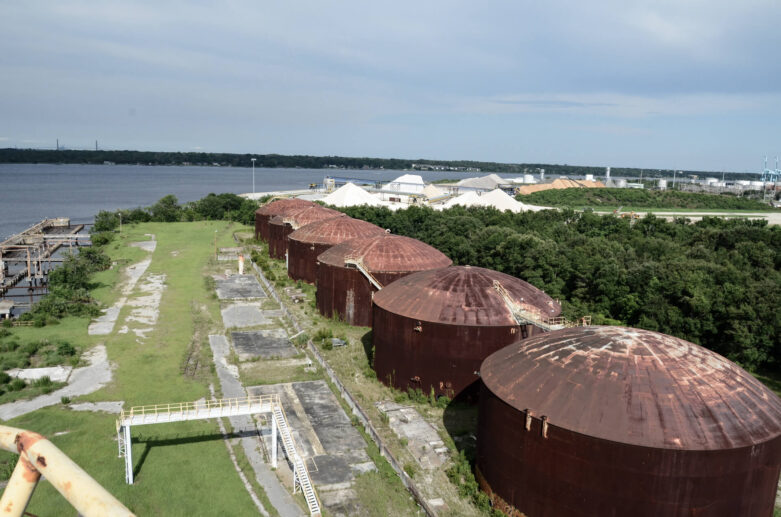 Urban explorers have for many years been in love with this abandoned place in Florida. One of the reasons is because of its sheer size and unique structure.
The building was a terminal that would process phosphate and other nutrients into fertilizer. Located towards the back of the terminal are six massive concrete storage bins measuring 40 feet in diameter and 110 feet high.
They each held 5,000 tons of minerals that were set for export. Inside the terminal were two 100-ton hopper cars and conveyor belts used in production.
For thirty-three years the PotashCorp Phosphate Terminal exported over 20 percent of the global potash capacity. In 1999 the company merged with a competitor and decided to cease operation at this terminal.
It was left abandoned and has been weathering the elements since.
16. St. Luke Baptist Church – (Marianna)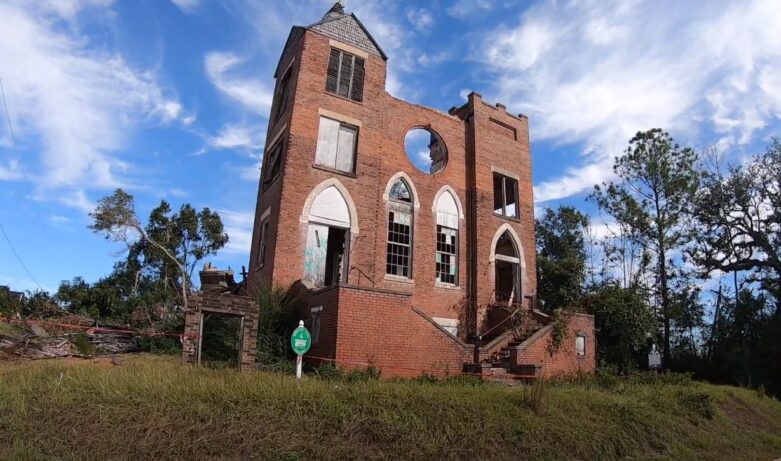 This abandoned church in Florida is currently listed in the National Register of Historic Places. Its history dates back to the late 1800s.
The church originally began as a simple wooden shed on the banks of the Chipola River. It wasn't until 1921 that the building would be rebuilt only this time much larger to allow entry to more people.
The design of the church followed the gothic revival style with pointed arches and stained glass windows and towers on both sides of the main nave.
For sixty years the church was a popular location with worshippers but that would come to an end in 1989 when it was decided that the congregation would move to a more suitable church.
It was left vacant, and like many other abandoned places in Florida, badly damaged by a hurricane. The church is currently listed as endangered.
For more places to explore in Florida, see our list of abandoned places in Tampa.
17. Old Pahokee High School – (Pahokee)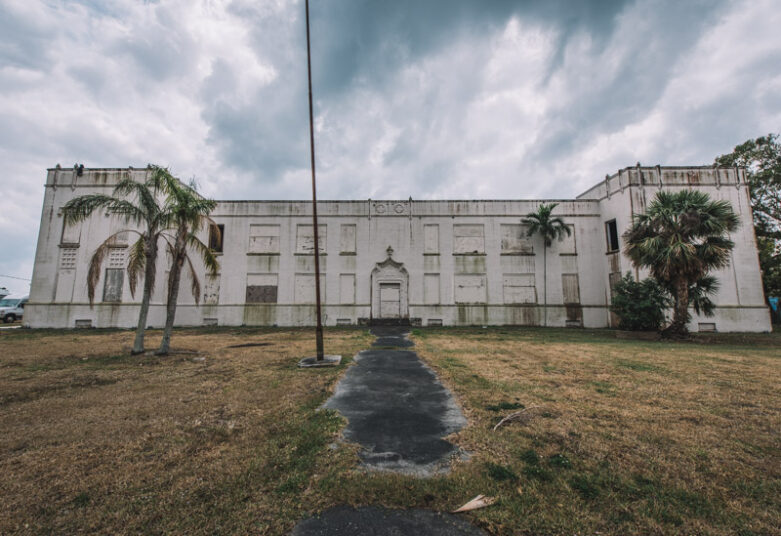 Here is yet another abandoned school in Florida, this time the Old Pahokee High School. The school had a rough start as the same year it was built, a massive category 5 hurricane made landfall causing destruction to hundreds of buildings in the area.
The school managed to survive but not without taking some damage of its own. It was fixed and officially opened to students in 1931.
It started as an all-white school but in 1941 it made history by becoming the first school in the county to be integrated. For decades the Old Pahokee High School served the city of Pahokee until 1998.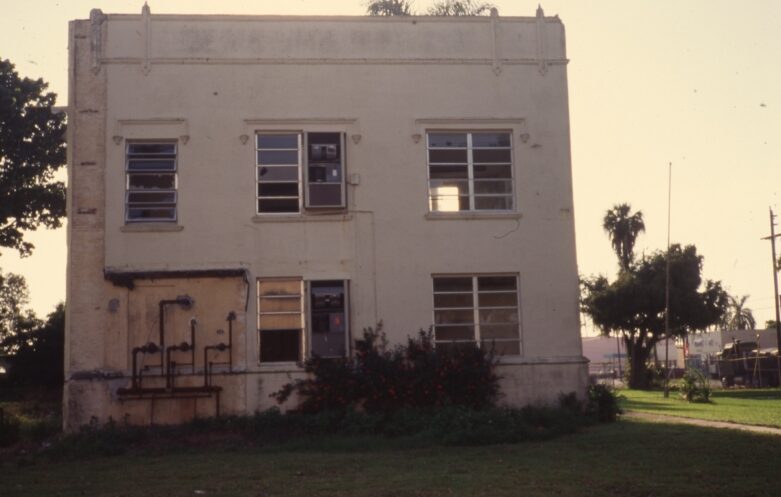 The Palm Beach County School Board closed the complex, to make way for a new Pahokee High, and turned it over to the city.
Like other abandoned places in Florida that are included in this article, this school is also listed on the National Register of Historic Places.
Which Famous Abandoned Building In Florida Did I Miss?
It's difficult to make a good list of the best-abandoned places Florida has to offer. The state is simply full of these forgotten sites that deciding which ones are better really comes down to preference.
The 17 abandoned places featured in this article are some that I think are interesting and that other urban explorers in Florida would enjoy.
Have you explored any of them? Is there one spot I forgot to add that you think should be listed? Let me know in the comments.