The Best Urban Exploration Backpacks You Can Get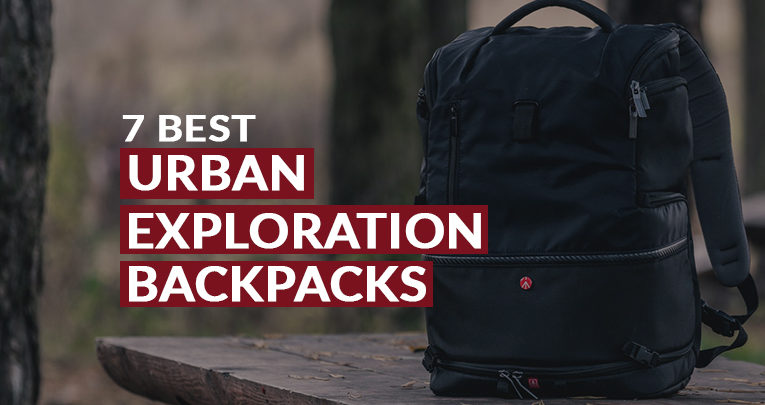 Sometimes you carry a little. Sometimes you carry a lot. But no matter what urbex adventure you set out on, you're going to have to carry some type of gear.
Your pockets can only fit so much before they bulk up and become uncomfortable to walk around with.
Having a good urban exploration backpack is useful. You want to make sure you have one that is light, comfortable, durable, and spacious enough to fit all your gear.
In this post, I'm going to show you 7 of the best urban explorations backpacks that fit those criteria.
You don't need a special type of backpack for urban exploration. Unless you're a photographer who likes to take multiple lenses and equipment for your camera.
[lwptoc]
Lowepro Urbex BP 28L Backpack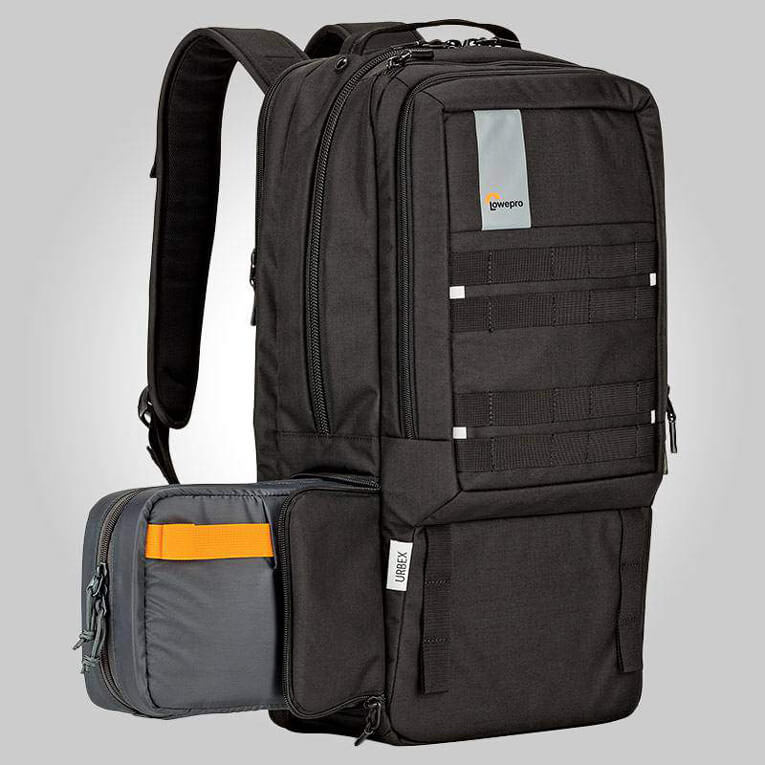 Weight: 2.75 lbs
Material: Polyester
Capacity: 28 Liters
Pros: Expandable which allows for more space
Cons: Lacks chest strap
Best for: Organized heavy packer
No, I did not include this backpack in here for the simple reason that it has the word 'Urbex' in it. This backpack is actually incredibly well-made and almost perfect for urban exploration.
I say 'almost perfect' because what defines 'perfect' is subjective. Some people will love it, others will not. And I can say with complete honesty that those people who don't like it are wrong.
The Lowepro Urbex 28L Backpack is a fantastic bag. It's made from tough polyester material and has a 28-liter capacity which is more than good enough to carry your urbex gear plus still have some left-over space.
It was made for an urban explorer who is always on the go. It's slim, stylish, and well designed with a dedicated section for quick access to gear such as a camera.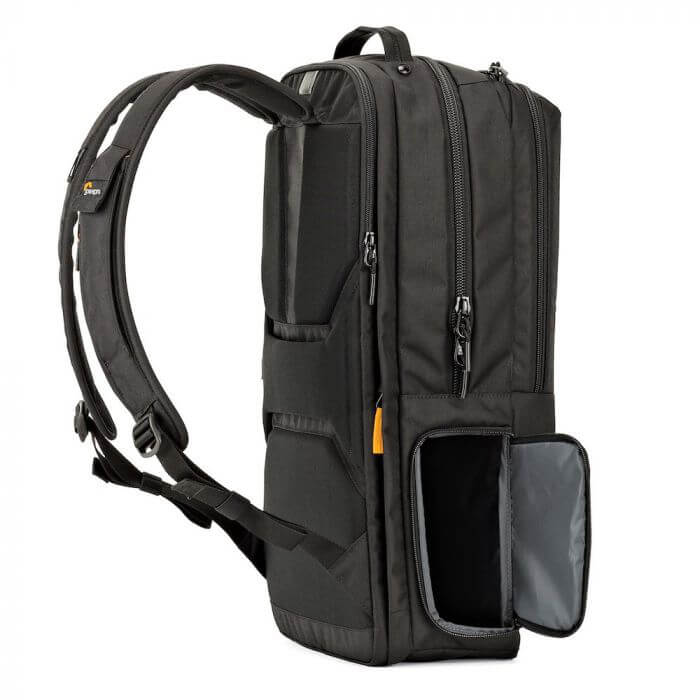 The dedicated section is found at the bottom of the bag. You can store any gear you want to get to quickly, without having to dig down through your entire bag.
This backpack is great for an organized person that carries lots of gear. It has 5 zippered compartments throughout the bag. One at the base for easy access to important gear.
Such as a camera, self-defense weapon, respirator mask, or a first aid kit. 4 more compartments are inside the bag where you can store your more bulky items.
No matter if you're exploring an abandoned 2 story medium-sized house for 20 mins or a derelict mega-factory for 2 hours, the Lowepro Urbex backpack is more than good enough for any exploration adventure you set out on.
Osprey Talon 22 Backpack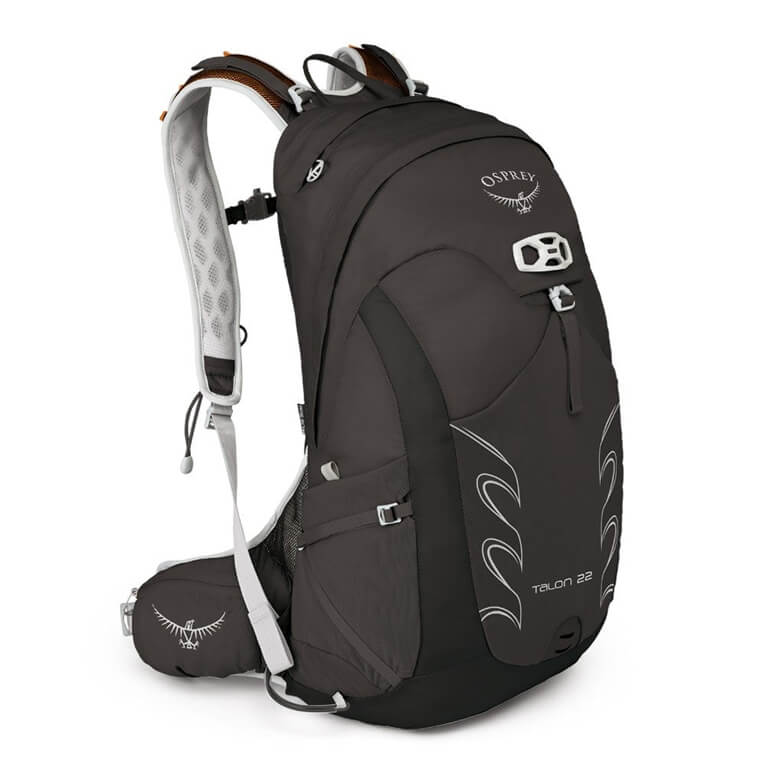 Weight: 1.7 lbs
Material: Nylon
Capacity: 22 Liters
Pros: Chest & Hip straps
Cons: Straps hang when not in use
Best for: Person who climbs / rooftops
There are two types of explorers. Those who cautiously and slowly move around a location while exploring and those who like to always be on the move, climbing, jumping, or rooftopping.
If you're part of the latter explorers, you'll benefit greatly from this backpack.
The Osprey Talon 22 is a versatile backpack for light and fast explorers. It has an adaptable design that is ready for any urbex adventure you set out on.
It's made from a relatively thick and tough nylon fabric that is perfect for urban exploration. Its 22-liter capacity is quite limited but still good enough to carry a decent load.
If you're the type of explorer who only likes to carry the basics with you when out exploring, you don't need a backpack with a high volume capacity.
A pack like the Osprey Talon 22 is simply perfect for you. This pack is tricked out with several features to make it the perfect option for almost any scenario you find yourself in.
It has both a chest and hips strap which allows for the pack to be wrapped tightly around you. This comes in handy if you don't like backpacks that bounce around your back as you're walking / running / jumping.
All in all, the Osprey Talon 22 backpack is a fantastic choice for any urban explorer. With its versatile design, adjustable fit, and comfortable composition, this pack excels in every way.
Osprey Daylite Sling Backpack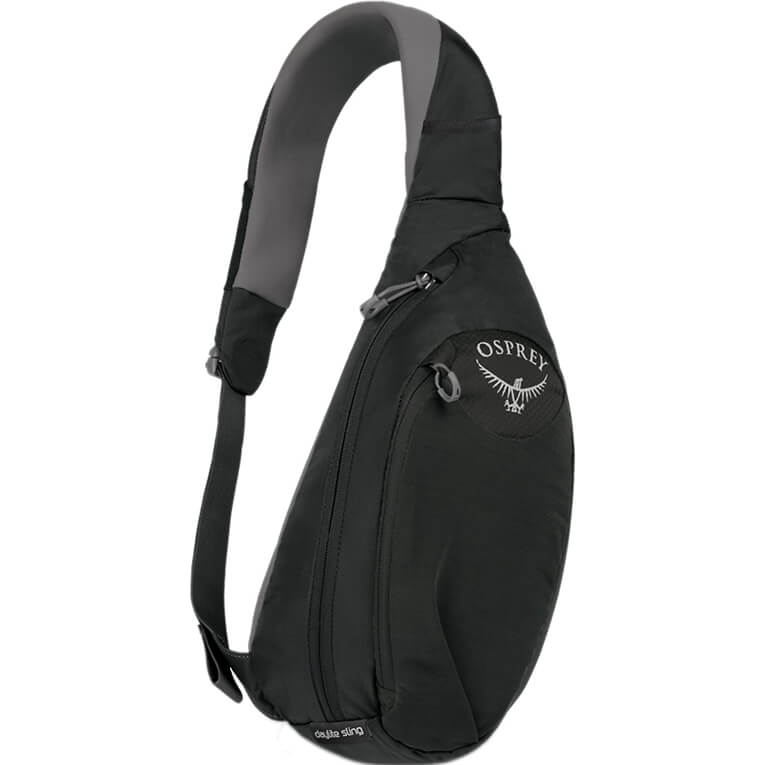 Weight: 0.5 lbs
Material: Nylon
Capacity: 6 Liters
Pros: Well padded and comfortable
Cons: Can only be worn on the right shoulder
Best for: Minimalist explorers
If you're the type of explorer who likes to carry only the absolute essentials when you're exploring abandoned buildings, this backpack is for you.
The Osprey Daylite Sling is excellent for those who like to travel as light as possible but still value durability and design.
This pack although small can still fit a modest amount of gear. Think only the essentials of urban exploration. Things like your cellphone, flashlight, self-defense weapon, digital camera, gloves, and a snack.
You can, of course, expect the typical Osprey high-quality design on this backpack. It's made from a strong but lightweight fabric that is quite durable.
It has an adjustable padded strap that easily attaches and disconnects. You can effortlessly rotate the pack over your shoulder to reach your gear quickly.
It's a simple neat little pack that's perfect for carrying only the urbex essentials. It allows you to free up space in your pants so you don't have to walk around with bulky pockets.
The Osprey Daylite Sling backpack is great for short explorations. Any explorer can benefit from this backpack. But it's more suited towards those who carry less gear.
Burton Annex 28L Backpack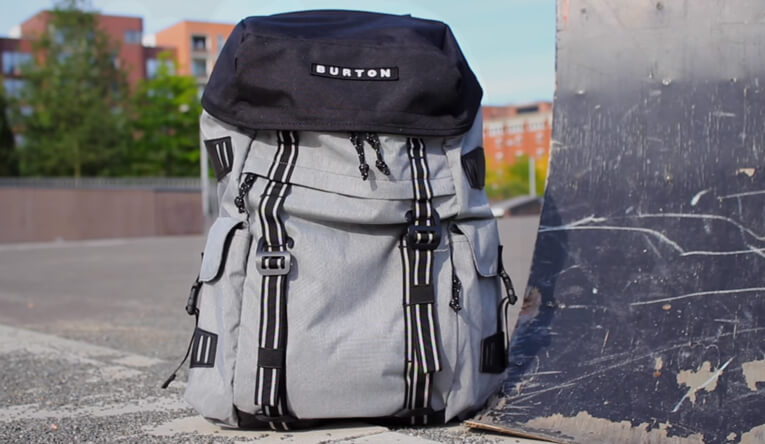 Weight: 2 lbs
Material: Polyester
Capacity: 28 Liters
Pros: Adjustable ergonomic shoulder straps
Cons: No back ventilation
Best for: Mid-size packers who value design and durability
The Burton Annex 28L is my current urban exploration backpack.
Since I started urban exploring, I've owned quite a couple of different backpacks. All different and unique in their own way. But none have compared to this one.
I have owned this backpack for almost 2 years now and I can safely say this is one of the best investments I've made in my urbex career.
One of the main reasons I chose this particular pack was because of its style. I'm a sucker for these vintage type looking backpacks.
This particular one has a rustic look to it with a more modern design and plenty of neat features. It's also lightweight and provides a decent amount of space for all my gear.
To give you an idea of how much gear I carry in it, go check out my urbex gear post where I detail all the gear I take with me when I'm out exploring. Overall it fits all my gear quite easily.
It's also a super comfortable pack to carry. With its adjustable sternum strap and load lifters, I barely notice I have it on my back.
The material of this backpack is also quite solid. It's made from 100% polyester which is a durable material. Perfect for outdoor activities.
In the 2 years that I've used it, it has very little noticeable wear and tear to it. I've dragged it through rough surfaces, thrown it over fences, and wore it in the rain. Still, it keeps going strong.
If I were to one day lose or damage it for one reason or another, I'd probably buy another one. That's how much I like it. This pack is too good!
Overall the Burton Annex 28L Backpack has served me exceedingly well in the time I've been using it. I have no intention of replacing it anytime soon.
Lowepro Fastpack BP250 AW II Backpack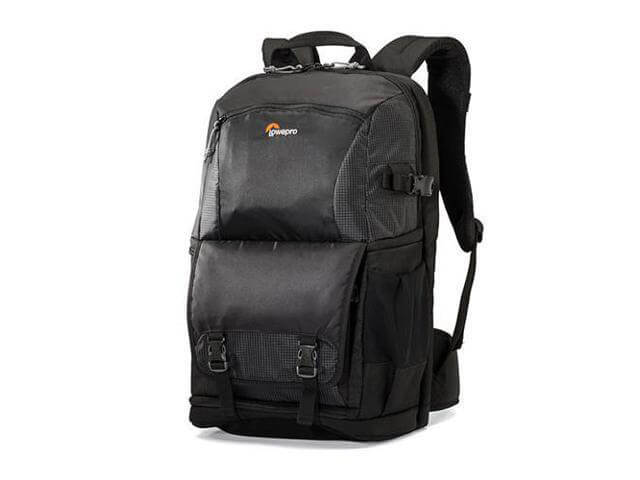 Weight: 4 lbs
Material: Nylon
Capacity: 15L + Space for camera & gear
Pros: Dedicated camera pocket
Cons: Limited open space
Best for: Explorers who carry DSLR's for photography
I personally don't carry or use a large DSLR camera for urban exploration. But I know lots of other urban explorers do.
If you are one of them and you're currently looking for a backpack that can carry both your DSLR camera and your urbex gear, this backpack is for you.
The Lowpro Fastpack BP250 was made with photographers in mind. It's a half backpack and a half camera bag.
This backpack is divided into two main compartments.
The upper compartment is open with space for your personal urbex gear. Things like a flashlight, respirator mask, gloves, cellphone, water, or a snack, can fit into this area.
The lower compartment is dedicated to storing your DSLR camera and its various lenses. It has padded separators for keeping things organized and stable.
This is perfect for urbex photographers who carry their expensive camera equipment with them when out exploring.
A DSLR camera is quite bulky. Especially when you have a lens attached to it. Although you can carry such a camera in a normal backpack, you don't really want to be doing that.
You don't want to have your expensive camera bouncing around and crashing against other items you may have in your pack. This could damage it.
One other neat little unique feature of this backpack is its quick-access side panel. This panel allows you to pull out your camera without having to stop, put down your pack, and open it up.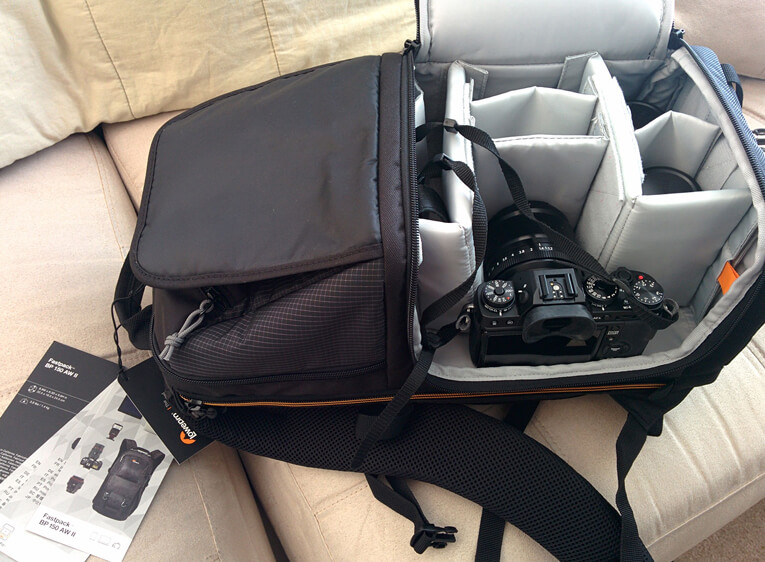 With the fast access panel, you simply sling the backpack to its side and you can quickly grab your DSLR.
Aside from its cool design, this backpack is comfortable to carry. It has padded shoulder straps and a waist strap that you can tightly secure around the waist.
This helps the backpack not move around too much as you're inside a location exploring.
Overall, the Lowepro Fastpack BP250 AW ll Backpack is a fantastic pack for any urban explorer who carries a camera with its accompanying accessories.
The North Face Borealis Backpack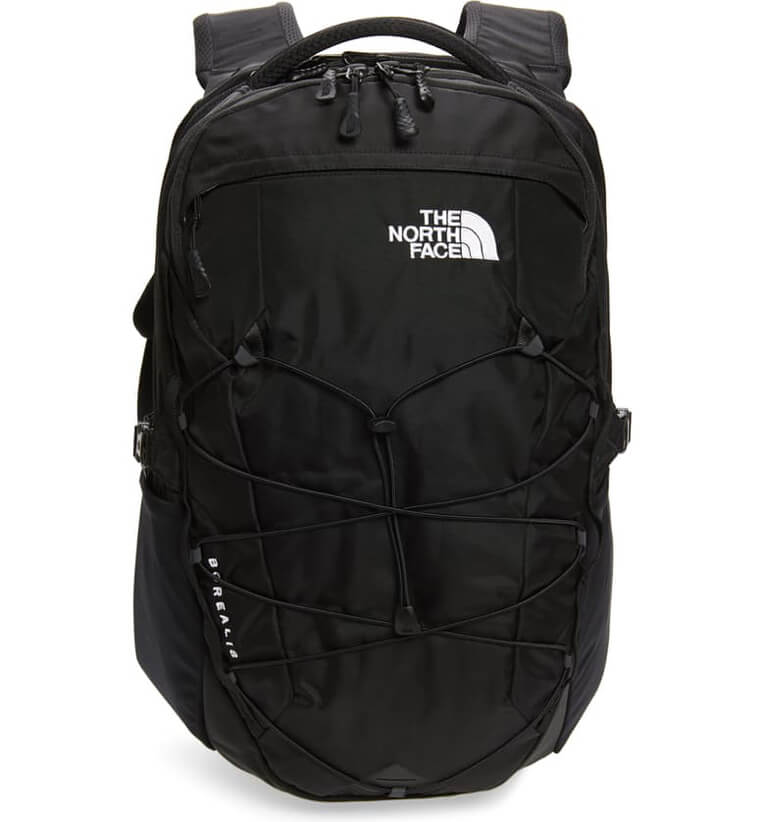 Weight: 2 lbs
Material: Nylon / Polyester
Capacity: 28 Liters
Pros: Plentiful storage, Versatile
Cons: Not stylish
Best for: Those who carry lots of gear but don't want to spend too much $$$
Even if you don't own any North Face products, you've had to at the very least have heard of them. They're an incredibly successful company that lots of people admire and trust.
It's for a good reason they're so liked. They build high-quality outdoor-centered products, usually at an inexpensive price.
The North Face Borealis backpack is one such product that tons of people go for.
It's a functional and spacious backpack that will amuse the most organized of urban explorers. It has a 28-liter capacity which is more than enough for any urbex gear you carry.
It also includes a suspension system in the shoulder pads and back paneling that provide a support system that makes carrying any load an easy feat.
One little unique feature that I've honestly never seen on a backpack before, is a built-in whistle. It's located on the chest strap which centers on your body when it's clipped.
May be useful in certain situations, maybe not. Either way, it's a neat little feature to have.
This backpack is also highly resilient. It is from North Face after all. Their products are built to last. You can drag it through rough surfaces, throw it around, dunk it in lava, and it will still stay strong.
Oaky maybe not the lava part, but you get the idea. It's a highly durable backpack that will last you for many years. No matter what you put it through.
The North Face Borealis Backpack is a standout backpack for any urban explorer. Definitely, one you should consider if you don't yet have an urban exploration backpack.
Mardingtop Tactical Backpack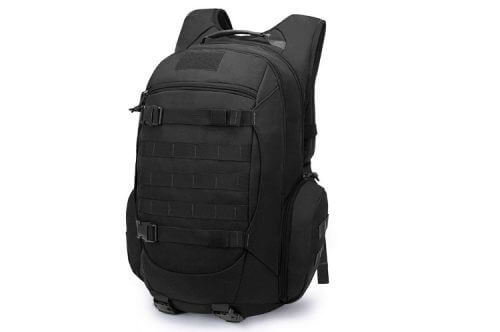 Weight: 1.6 lbs
Material: Polyester
Capacity: 35 Litters
Pros: Hydration compartment
Cons: Does not include hydration bladder pack
Best for: Explorers who venture into far-out remote locations
I couldn't finish off this list without at least including one tactical backpack. They're simply so useful and perfect for urban exploration.
The Mardingtop Tactical Backpack is a multifunctional pack for any gear junkie. It can hold a decent 35 litters and has several pockets for organizing all your urbex gear.
Even with lots of weight on it, this backpack is comfortable to carry. It includes padded shoulder straps, a hip belt, and a chest strap. These help in lifting some of the weight from your back.
What makes this backpack different than all the others that I've listed above, is its internal hydration bladder compartment.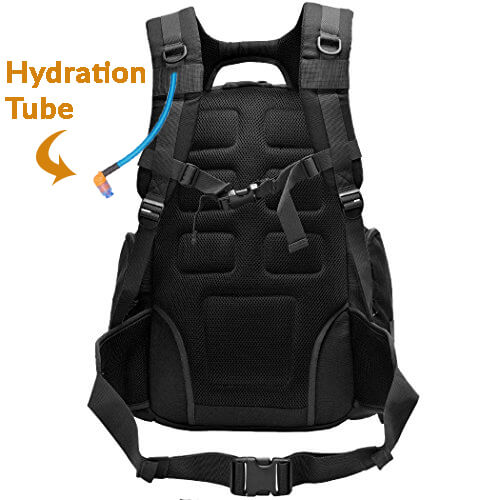 This is basically a feature on the back panel of the backpack that can carry a hydration 'bladder' pack. It also has a tube management system that allows you to run a tube from the bladder pack through the shoulder strap which lets you drink water while on the move.
The hydration bladder does NOT come included with this backpack. You have to purchase it separately. It can only hold a 2 litter pack. So if you buy one, make sure it's for 2 liters or less.
This Hydration Bladder Pack is one I can recommend. It holds 2 liters of water and is leak-proof. Fits perfectly with this backpack.
With the addition of the hydration compartment, this backpack is simply perfect for outdoor activities. It's made from durable material, can store lots of gear, and is comfortable to carry.
What more can you ask of it?
If you're looking for a tactical urban exploration backpack, The Mardingtop Tactical Backpack is for you.
Do You Really Need A Backpack For Urban Exploration?
Of course not. You don't need anything for urban exploration. That's one of the beauties of this hobby.
Even though you don't need to take anything, it helps to have some sort of gear with you while you're exploring. Things like a flashlight, hand gloves, cellphone, self-defense weapon, water bottle, snack, and a camera if you like taking photos, can all come in handy.
Not only that but they make your explorations a lot more safe and enjoyable.
You, of course, don't want to carry the gear you take with you in your hands or pockets. This will just make you feel uncomfortable as you're walking around and exploring.
This is why a backpack is useful.
It's completely up to you if you want to take any gear to your explorations. If you do take some gear, having something as simple as a backpack where you can store all your urbex gear will be extremely helpful.
Things To Consider When Choosing An Urbex Backpack
There are a number of different factors you should consider before getting a backpack for urban exploration. Things like:
Comfort
Price
Weight / Material
Volume
Style
Comfortability Is Crucial!
One of the most important factors you should consider when picking an urban exploration backpack is its comfortability.
Having a backpack that feels like a chore to carry around will not only slow you down but also make your explorations a hell of a lot less enjoyable.
All backpacks are built differently. Some hold high and tight in your back, others hang low and loose.
When deciding on what backpack to choose, the first and most important factor you should consider is comfort. Keep this in mind.
You Get What You Pay For
As with everything you purchase, the more you pay for it the better the quality it will be.
Quality backpacks are not cheap. When choosing an urbex backpack, don't think of it as just another thing you buy. Instead, think of it as an investment. Because that's what it truly is.
You're getting a backpack that will last you for many years to come. One you don't have to replace every 6 months because of wear and tear.
If you're willing to spend a bit extra to get a decent quality backpack, you can be sure it will last you for a long time.
Go For One That Is Light But Durable
Aside from comfortability, you want a backpack that doesn't weigh much but is also tough and durable.
I once had an under armor drawstring backpack that I used for carrying my gear. That backpack was made of ultra-light material which I thought was perfect.
But it ended up getting torn in half when the backpack got caught on a tiny piece of glass as I was making my way inside a building through a window.
I ended up having to leave since I didn't want to carry my gear in my hands while I was exploring.
A backpack that is both light and made from durable material is what you want.
Make Sure It Can Fit All Your Gear
You don't want to pick a backpack that will limit your urbex gear. You want one that is spacious enough to fit all your gear plus leave a bit of extra space left.
Only you know what gear you carry on your urbex adventures. So when choosing a backpack, be sure it can fit all that gear you know you will need.
Choose Your Style
If you're going to drop a pretty penny for a good backpack, make sure it's one that also looks good on you! Don't be afraid to go for one that is of a certain color or style that you particularly like.
Below, I will show you 7 of the best urban exploration backpacks you can get. They're all made from good quality material, light can fit most gear, and most importantly are comfortable to carry.
If you don't yet have an urbex backpack, I hope you find this post helpful.
Conclusion: So Which Backpack Is The Best One?
That's up to you to decide. I've shown you what I think are 7 of the best urban exploration backpacks available for you to get.
Even though they all have the same basic function, which is to carry things in it, they all are unique in their own way.
Some have more capacity to carry heavier loads than others. Some have a design you may or may not like.
What I like about one particular backpack, maybe you won't feel the same. So I can't really tell you which one is the best backpack overall.
Think about how much gear you're going to be carrying with you on your explorations. From there, you can choose which backpack better suits your needs.
No matter which of the above backpacks you choose, you can rest assured knowing you'll be making a smart investment towards your urbex career.