Some Of The Best Abandoned Places In California For Urban Exploring
Find places to explore or photograph in California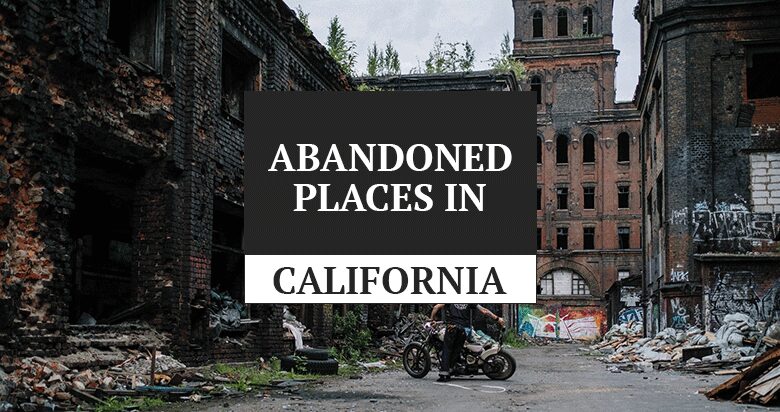 The great state of California has thousands of abandoned structures, many of them left behind for good reasons. Some of them have had violent histories, others simply ran into bad luck. Regardless of why they have been abandoned these places now sit utterly empty with no hope of ever being used again.
People are always interested in abandoned places and ruins, we want to know what happened here. Why were these places shut down? Below is a list of some of the most interesting abandoned places in California that all have fascinating backstories and whose buildings are still around but slowly crumbling into the ashes of history.
List Of Abandoned Places In California
[lwptoc hideItems="0″ skipHeadingLevel="h2,h4″]
1. Bodie Ghost Town (Bodie)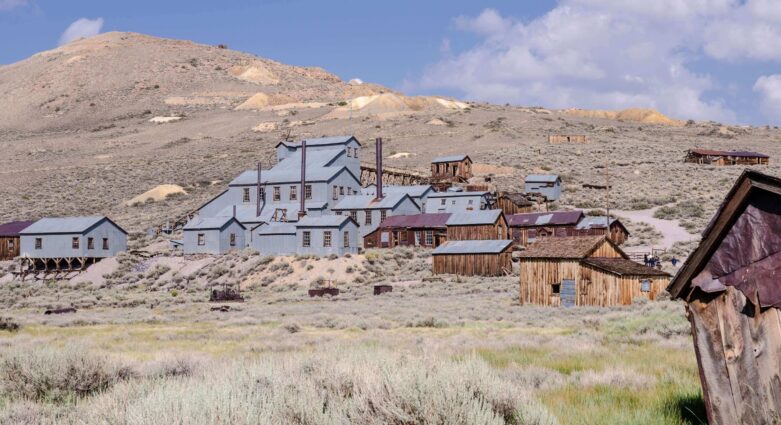 Bodie was once known as the house of ill repute. It had everything from gambling halls, saloons, brothels, opium dens, and an endless amount of alcohol available to anyone. It was a gold mining town out in the middle of nowhere that reached a max population of 10,000 inhabitants in 1880.
By then, Bodie (map) had everything from miners, families, robbers, store owners, gunfighters, prostitutes, and people from every part of the world. Like clockwork, miners would work in the mills and in the afternoon, head for the bars and the red light district to spend their hard-earned money.
The combination of alcohol and guns made Bodie a very dangerous town. Newspapers reported that every morning, townsfolks would ask 'Who died last night?" like it was completely normal. Like with every mining town, the population of Bodie began to dwindle in the subsequent decades after the discovery of gold.
It was officially labeled a ghost town in 1915. In the following decades, the state of California took over the town of Bodie but decided not to restore it. Instead, they opted to preserve it and left it in a state of "arrested decay". It was inducted into the California State Parks in 1962. It is one of the most popular abandoned places in California to explore.
2. Lake Dolores Waterpark (Newberry Springs)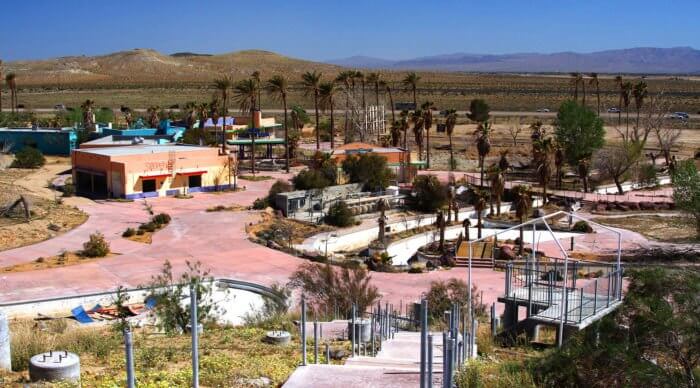 This waterpark got its start as a fun getaway on Lake Dolores in the Mojave Desert (map) for a prominent local businessman and his extended family. It was opened to the public and it quickly turned into a tiny oasis getaway for the locals from the baking California desert.
The park was opened in the early 1960s and in the next few decades would attract thousands of vacationers from all over the state. With the opening of rival waterparks in the area, attendance would sharply decline in the late 1980s. By 1990, the park was officially closed down.
It was renovated in 1998 but never fully managed to get back to its former glory days. A third to revive the waterpark was made in 2002 and only lasted 2 years before shutting down operations. It's been closed in 2004 and the former location of a once-popular waterpark is now nothing but a sad sight to see.
Found in the town of Newberry Springs, the Lake Dolores Waterpark, also known as Rock-a-Hoola, sits completely abandoned and vandalized.
3. Elsinore Naval School For Boys (Lake Elsinore)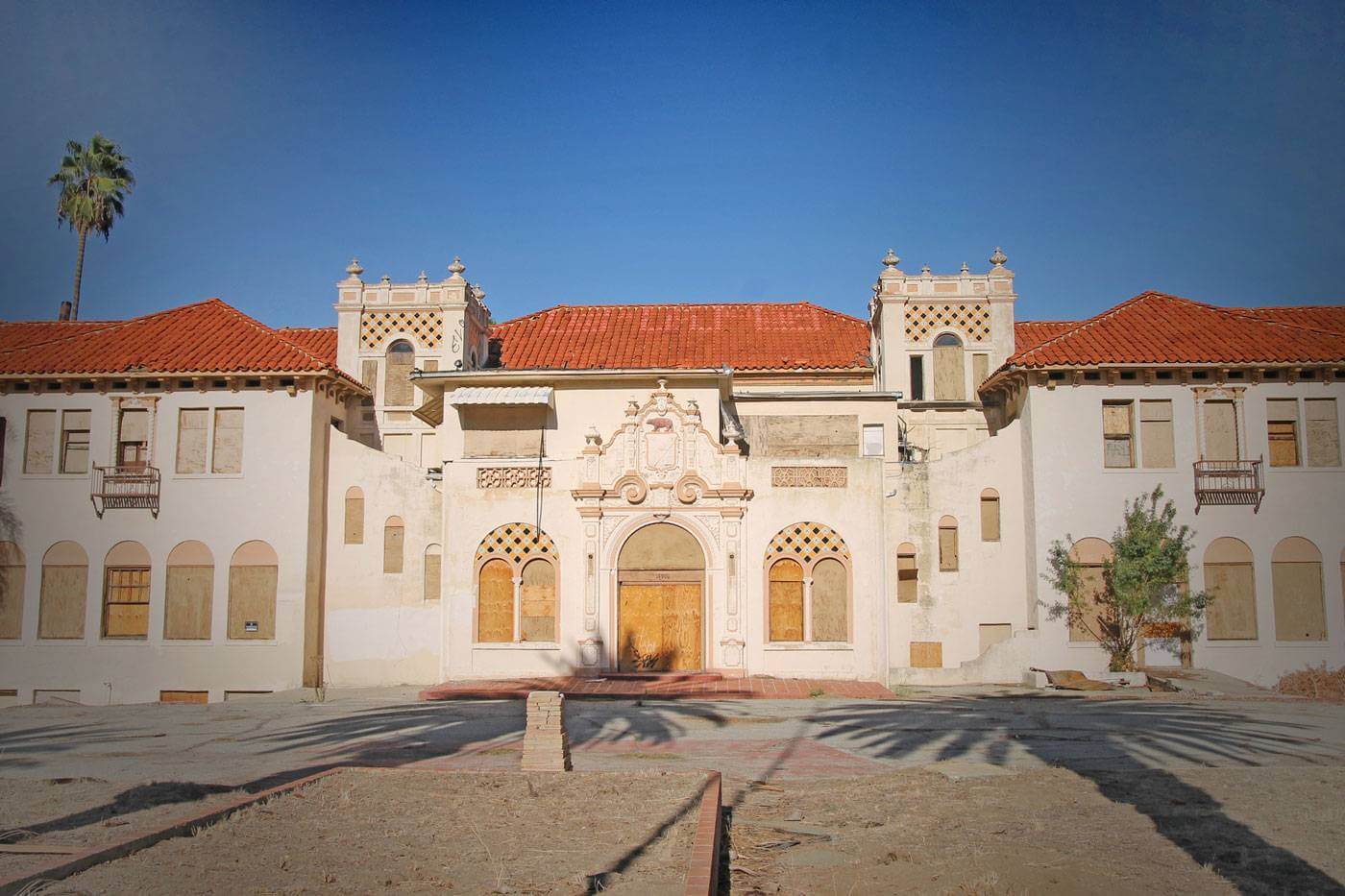 Built in 1920 as a private country club for the rich (map), it never managed to formally open for this purpose as the Great Depression brought on several financial troubles and it was subsequently closed down.
It was converted in 1933 as a Naval School for young boys aged 3-18. For decades Elsinore School was host to sons and nephews of powerful and wealthy politicians.
The school proudly graduated thousands of students, averaging 200 per year until it was closed down in 1977.
A few years after closing, a fire tore through the outbuildings bringing them down. The main structure still stands tall and mighty today. Weather, squatters, and vandals, have slowly damaged the building over the years.
4. Calico Ghost Town (Barstow)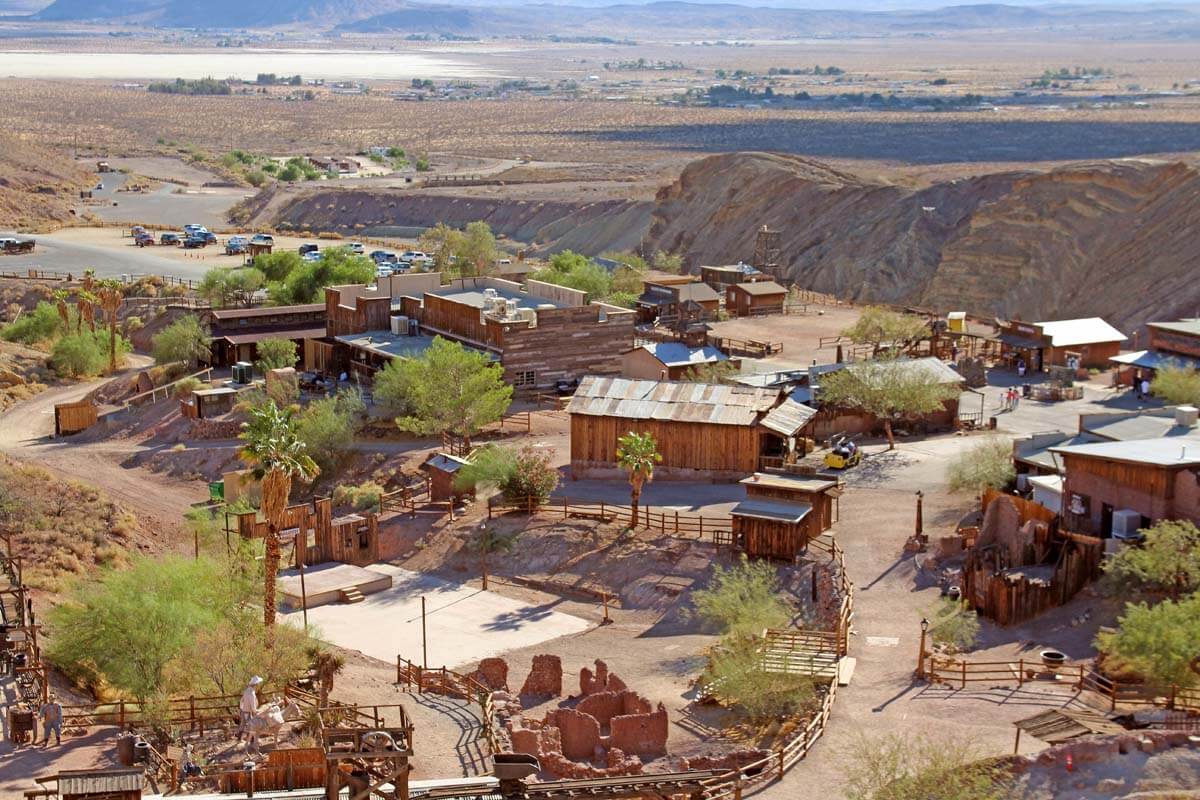 The former silver mining town of Calico (map) dates back to 1881 when 'silver fever' drew miners to the Southwest looking to make some money. Hopeful workers in search of riches in a new town would ravage the nearby mines looking for their precious silver.
More than 1,200 people would come to call Calico their home but that changed in 1890 when the price of silver took a dramatic plunge. The price of silver was not the only thing that crashed, news of the low prices being offered in exchange for this precious metal was driving miners and their families away to better opportunities elsewhere.
Attempts were made to revive the town but were ultimately futile and the town lost a major part of its population by 1893. Decades later in 1954, the town of Calico was purchased by Walter Knott, a local businessman who intended to turn the property into a theme park.
It failed miserably and he instead donated the town to the County of San Bernadino and they have operated the area since then. Mines, hotels, and two dozen or so other buildings still stand to this day. It's become known as one of the coolest abandoned places in California.
5. Casa Sirena Seaside Resort (Oxnard)
This 270 room seaside resort was once a popular tourist destination in Oxnard for nearly 40 years. It met its end in 2009 when the company lost funding and was forced to sell. A new building next door to the main resort was erected and kept open as a Hampton Inn Hotel.
But the rest of Casa Sirena Resort was deemed non-operational and as a result, was closed down for good. It was built in 1972 and was considered the precious creation of a local hotel magnate named Martin Smith. Mr. Smith wanted the best amenities available to his guests.
The resort included a spacious lobby, giant pool, hot tubs, picnic areas, hiking trails, and several other amenities. Since its abandonment, the inside of the resort was left exactly as when it was closed. The interior was sacked but spaces inside appear as if frozen in time. It's considered one of the coolest abandoned places in California to explore.
6. Chemung Mine (Bridgeport)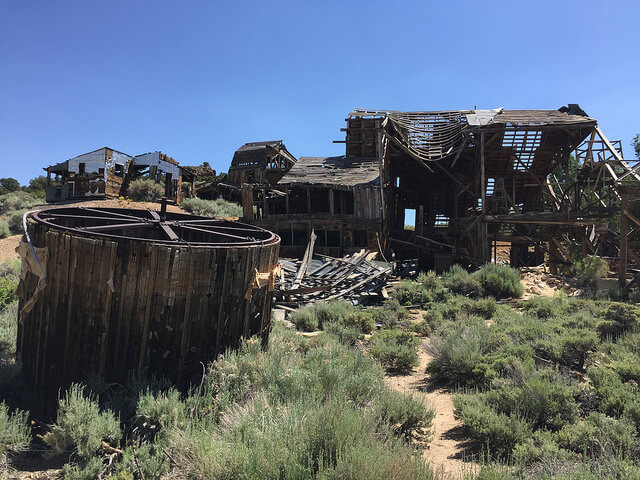 Located near the ghost town of Masonic, California, the Chemung Mine was a big producer of gold and silver for the miners who worked it. As a result of riches being found in the mine, a small town was constructed nearby in 1902 (map).
A small community was thus established and included a general store, bunkhouses, offices, and its own mill. The town, like most mining towns, had several ongoing issues with the law. The state of California tore down the city 3 times, and every time it was torn down, it was quickly rebuilt.
The mines were rich and produced gold and silver so it was no trouble rebuilding it time after time. By the late 1930s, the Chemung Mine was producing very little that it was officially closed down and has been abandoned ever since.
A lone miner named Elton Heinemeyer returned to the mine in the 1950s with hopes of striking riches but was left empty-handed after almost 20 years. Today most of the wooden structures are decaying on-site and the mine has become a favorite of many urban explorers looking for abandoned places in California.
7. Fort Ord (Salinas)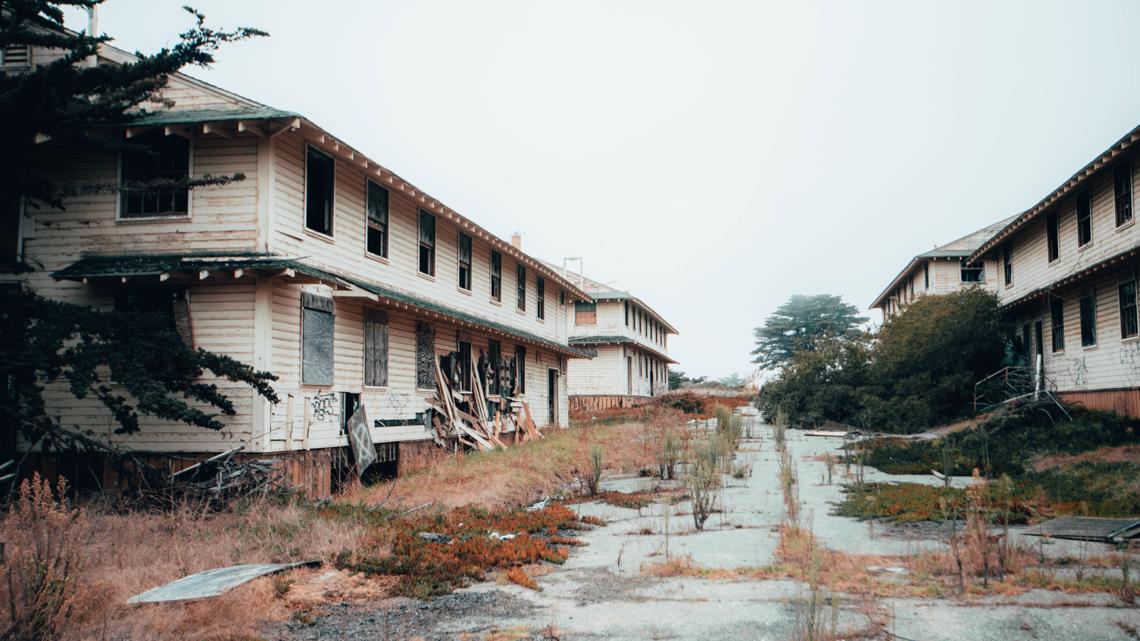 Once considered one of the most beautiful army bases in the region, Fort Ord was shut down by the EPA for causing serious environmental damage to the area. In 1988 the EPA ran an assessment of the environmental impact of the base, and it found several issues.
The most damaging of them all was the underground petroleum storage tanks that were unknowingly leaking into the groundwater. Unexploded mines were also found, as well as illegal dumpsites. The army base was closed in 1994 and was placed on the National Priorities List as a 'Superfund Site'.
A Superfund site is considered toxic and potentially dangerous. Fort Ord abandoned army base had such an action-packed life that it become known as one of the coolest abandoned places in California to explore.
8. Abandoned Brothel of Secret Valley (Litchfield)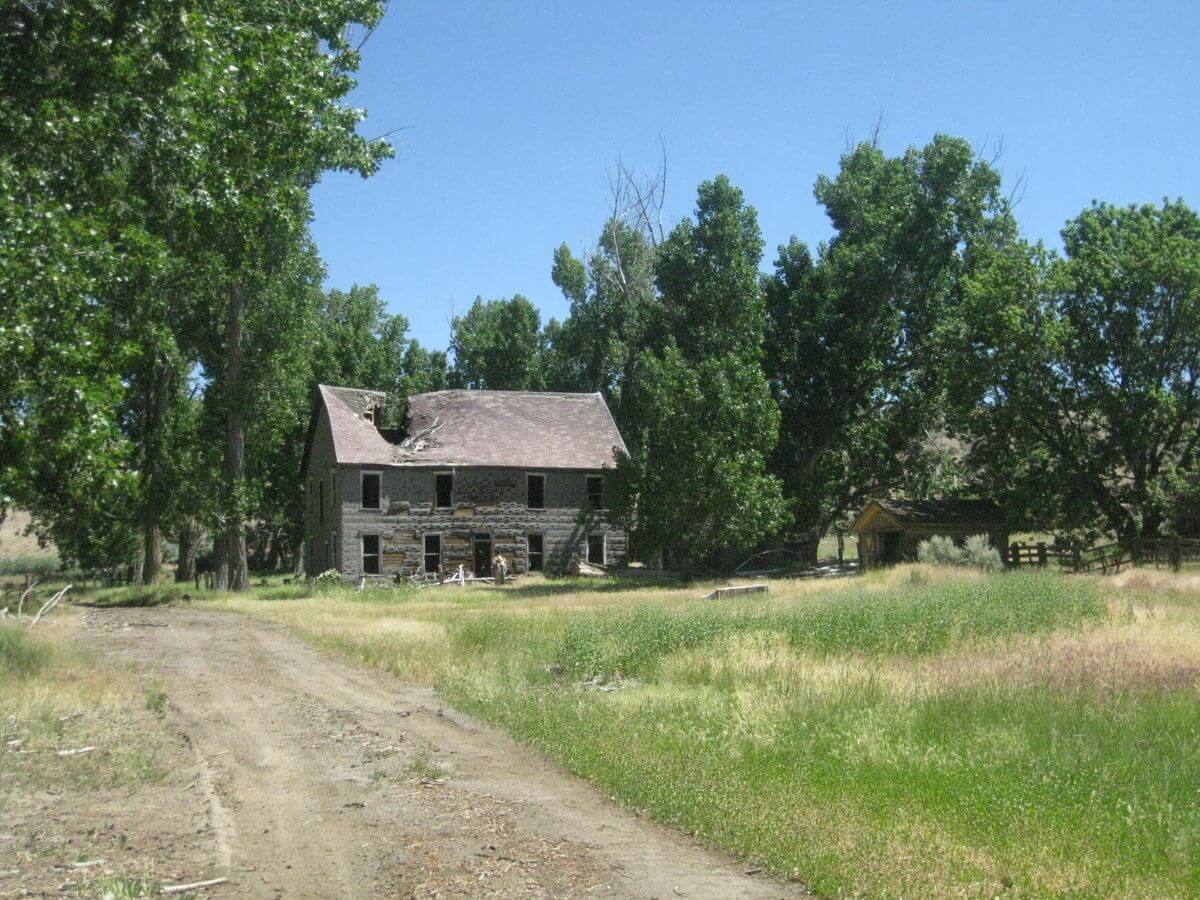 For decades, this abandoned brothel was known as a house of ill repute. It was once the favorite destination for local railroad workers to fulfill their fantasies after a long day of work. It was built a few miles outside a town so as to stay away from the authorities. Locals called the place 'Secret', and was known as the location where lonely travelers or locals could visit the working ladies.
The house was originally built near a railroad for easy access for the tired working men. But with the decline of the railroad industry, the house was forced to be relocated to stay in business. A few years after moving, a new major highway was built nearby which cut off passing travelers thru the brothel.
The brothel was separated from the main highway by thick grasslands and was subsequently hidden from view. This was bad for business as men stopped visiting and working ladies started quitting. It is not known when the brothel was officially closed down but the decaying remains of the building are still present.
Old furniture, dirty mattresses, and peeling wallpaper, litter every room in the entire building. The ruins of this abandoned brothel have become a destination for many curious photographers and urban explorers.
Looking For More Abandoned Places In California?
No matter where in California you live, you are bound to come across deserted buildings. From creepy decrepit hospitals, to empty amusement parks, and even ship graveyards, there is no shortage of abandoned places to explore in California.
Finding these places eludes most new urban explorers. It's understandable, not all abandoned structures are listed on a website somewhere. In order to find them, you will have to do the research yourself.
Luckily for you, I've made it easy with a guide I wrote detailing the methods you can use to find cool abandoned places near you to explore. Give it a read if you're still on the hunt for abandoned buildings in California, or anywhere else around the world.
Check Out These Other Abandoned Cities In California