These Abandoned Places In Texas Are Worth Exploring
These abandoned buildings in Texas may not be around for long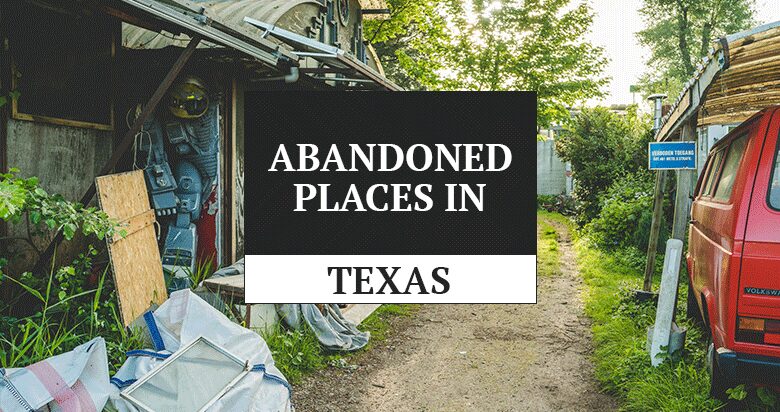 The Lone Star state is home to thousands of abandoned buildings and deserted locations. From decrepit mansions to abandoned asylums and even empty schools. Texas has a long and tumultuous history that has left buildings once occupied in utter ruins.
Several of these locations still remain intact and are not often talked about. There's no shortage of abandoned places in Texas and today we're featuring some of the most popular locations that urban explorers and photographers alike may like to visit.
What's left of these forgotten places is nothing but a slowly decaying structure, in danger of being demolished any day. If you decide to explore any of these locations, don't wait around too long. They may be gone soon.
Best Abandoned Places In Texas
[lwptoc hideItems="0″ skipHeadingLevel="h2,h4″]
1. Aldridge Sawmill (Zavalla)
Deep in the pine forest of East Texas, the concrete ruins of a once-prosperous lumber company lay in complete abandonment. Built in 1903 by businessman Hal Aldridge, this lumbar sawmill company at one point produced an estimated 125,000 boards of lumber on a daily basis.
In 1911 a fire would go on to destroy most of the sawmill, which was made entirely of wood. It was rebuilt 2 years later with reinforced concrete to reduce its chances of burning. Unfortunately only 2 years later another fire would ravage the sawmill which would cause Mr. Aldridge to abandon the company.
It was acquired by the U.S. Forest Service in 1935 and the sawmill itself remains in its original location. It's been featured in several articles online as one of the coolest abandoned places in Texas. Hikers, photographers, and urban explorers routinely visit Aldridge Sawmill as it is open to everyone.
2. The Bender Hotel (Laredo)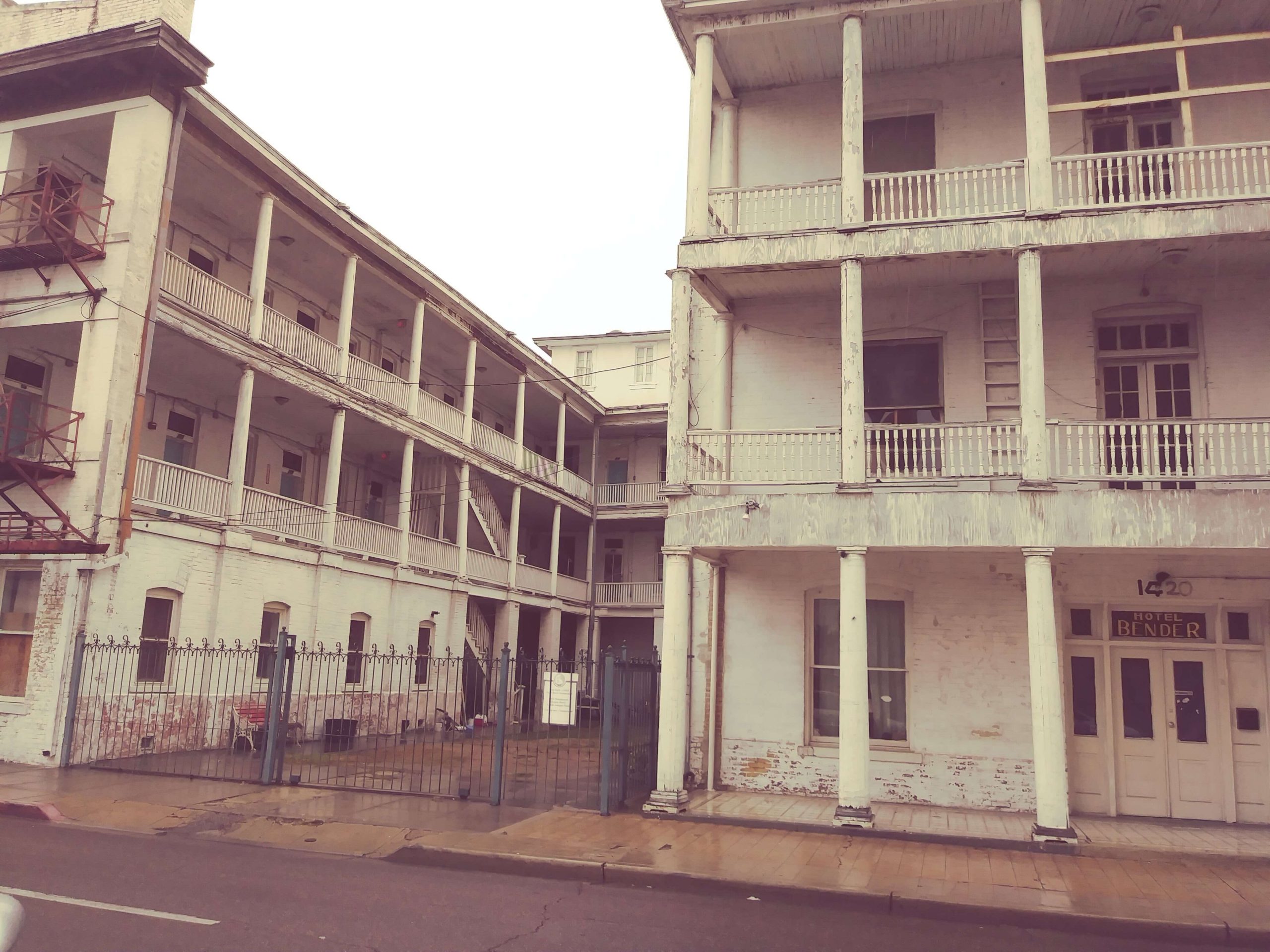 Built in 1913, the Bender Hotel is known as one of Laredo's first hotels ever built in the area. In its early days, this U-shaped three-story building featured 50 rooms and an impressive front balcony with a beautiful small garden in its center.
It had quite a vibrant past as it was known to be a popular tourist destination with many prominent celebrities, musicians, and politicians taking up rooms. A string of neglectful owners over the years caused the Bender Hotel to fall into hard times.
It closed down in the 90s and was purchased in 2012 by a businessman who had plans to renovate the hotel. So far no changes have been made to the building and it currently sits empty with a reputation of being haunted.
3. Dick and Charlie's Tea House (Uncertain)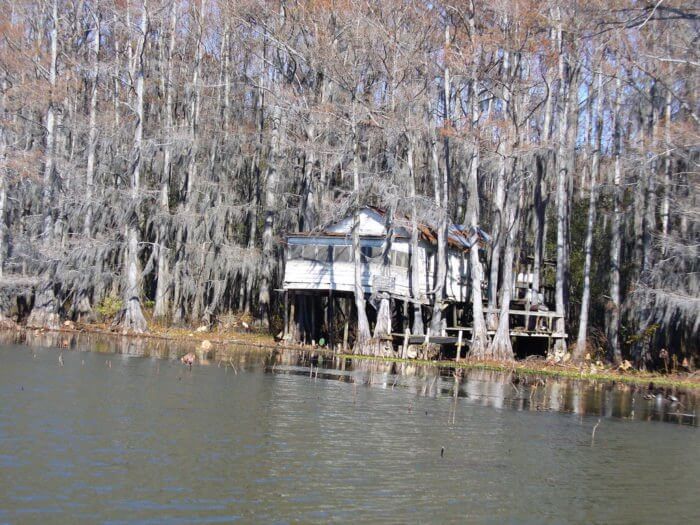 Very few details are known about this abandoned house in the middle of Caddo Lake. What is known is that from 1919 to 1933 it served as a speakeasy (illegal bar) during prohibition. People from across Caddo Lake would row their boats to this building to get drunk, dance, and overall just have a good time.
After prohibition, the owners of the house, Dick and Charlie, stayed in the building without running water or electricity for a few years. Eventually, they abandoned the property and it's been sitting empty and forgotten ever since.
A sign out front of the house reads "House Rules: 1. There ain't none. 2. There never was none. 3. There ain't never gonna be none.". Due to its looks and being surrounded by swamps and dead trees, it's been called one of the creepiest abandoned places in Texas.
4. Bexar County Juvenile Home for Boys (San Antonio)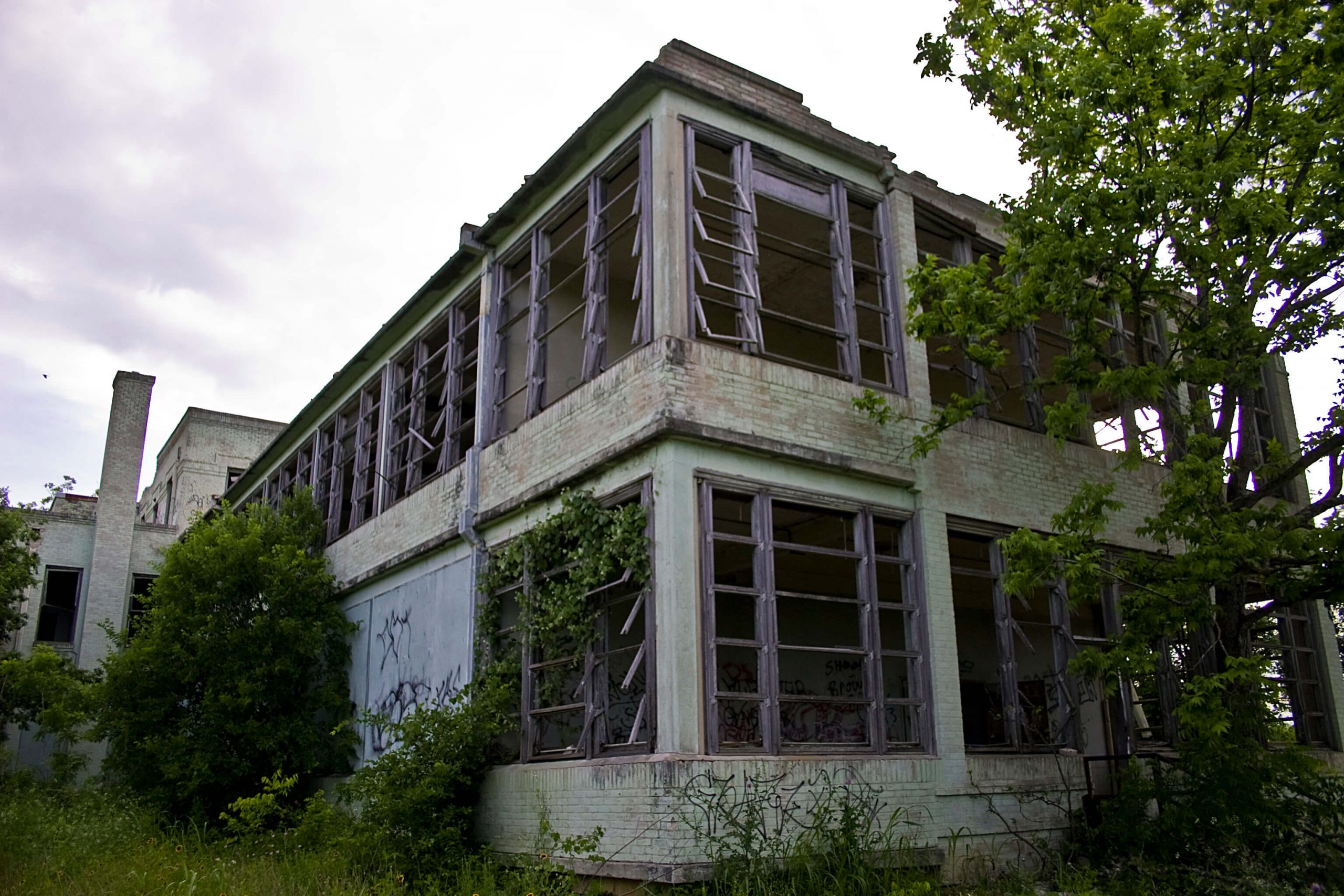 This detention center has a reputation among the locals as being extremely haunted that many people who try and explore this place leave just as fast as they get in. It's been named one of the most terrifying abandoned places in Texas.
Built-in 1916 as a juvenile home for boys, this facility housed young delinquents who were put to work on the community farm to serve their sentences. In 1925, 14-year-old inmate Alfred Garcia was found on the floor by an attendant after having ingested rat poison to end his own life.
Only 8 years later, the juvenile home would again make news headlines after a 20-year-old man was accused of murdering a young boy in the facility after an altercation. He beat the boy over the head with an iron bar and dumped his body in a creek a mile away from the home.
More violent and horrific events occurred until its closure in 1996. Explorers who have ventured into the building have shared creepy details such as hearing loud bangs, apparitions, and objects moving when no one is looking. Explore at your own risk!
5. The Rig Theater (Premont)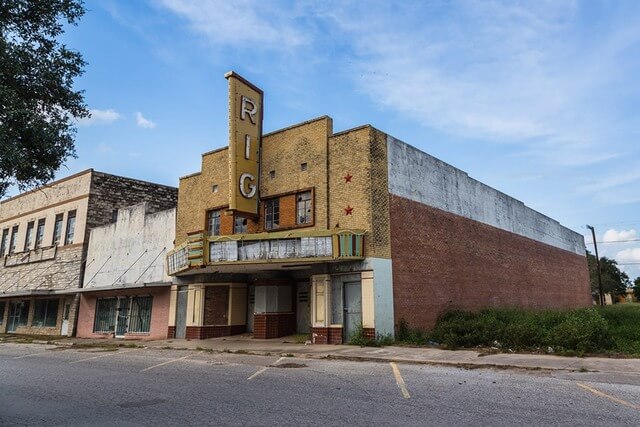 First opened in 1950 in Premont, TX, this now-abandoned theater hosted a maximum of 500 people per viewing. In its popular days, town folk would stand in lines that reached the end of the street to get tickets to watch a movie.
30 years later it would be closed down in 1980 due to a shortage in funding. Explorers who have ventured in have mentioned feeling nostalgic upon laying eyes on the old-fashioned architecture and furniture of the building.
Be warned that the only light that enters the theater is from cracks in the windows, so if you're thinking of exploring this place be sure to have a good flashlight!
6. Toyah Ghost Town (Toyah)
The
ghost town of Toyah
is one of the most popular abandoned towns in Texas. First inhabited in 1879, the town quickly became a hub for ranchers who were looking to trade their goods and services. The arrival of the Pacific Railroad helped to grow the town to hundreds of residents.
By 1881, Toyah was full of houses, saloons, shops, schools, hotels, and lumberyards. The town reached its peak population of 1,050 residents by 1910. Due in large part to the Great Depression, the population of the town would rapidly decline to half its numbers.
By 1950 residents who remained in Toyah would slowly start to leave and in 1980 the town had a mere 160 residents left. Several of the town's buildings were left abandoned and have been slowly decaying to time and the elements.
Many of the original buildings are gone but others still remain. Toyah has been called one of the coolest abandoned places in Texas
7. Swift Armour Meat Packing Plant (Fort Worth)
Located east of the bustling Fort Worth city stockyards, sits this now abandoned industrial meatpacking plant. It was in operation from 1902 until its closure in 1971. For decades the Swift Company ran this business successfully and employed well over 1,500 workers.
In the mid-1950s with the decline of the meat-packing industry, employees were laid off in mass and the decline of Swift Armour would begin. The plant continued to run for 15 years until a fire would break out that would bring operations to a halt.
The costs of rebuilding the plant would be too much for the owners and efforts to save it would fail. The building was left abandoned and has not been used in recent years.
8. Old Mosheim School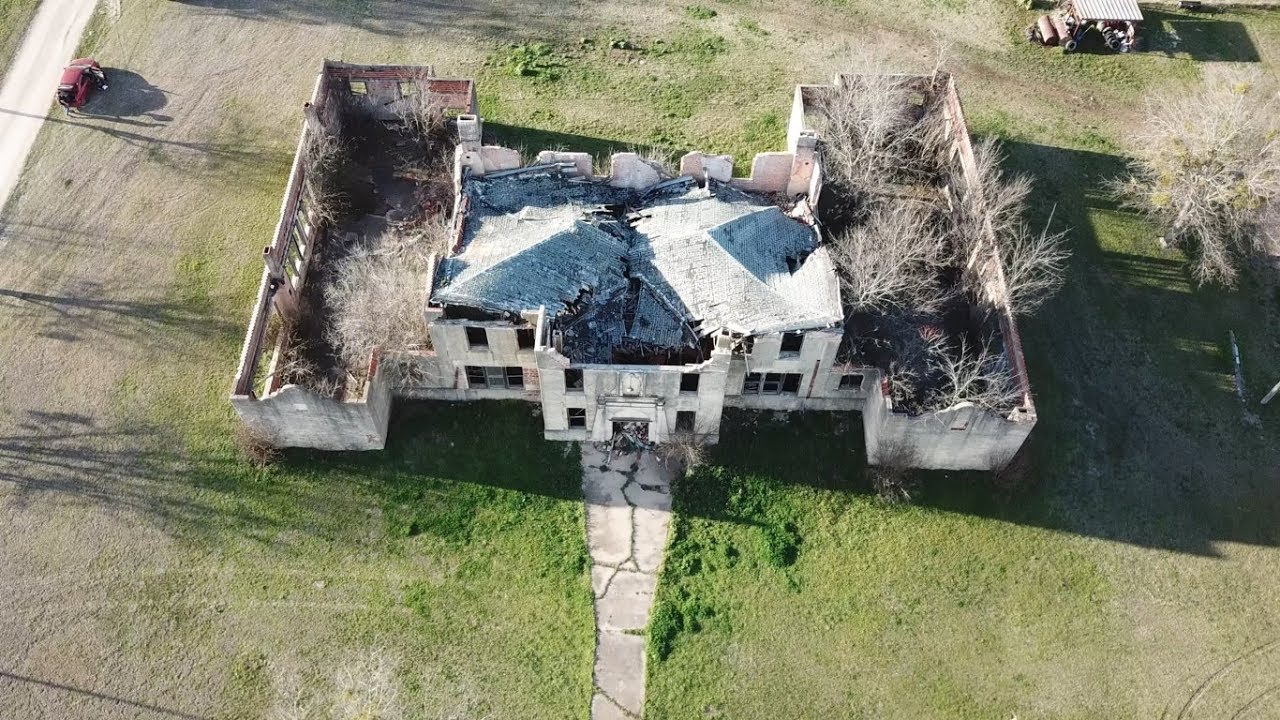 Built-in 1920, this abandoned school in Texas was only in use for a short period of time before being left to decay. At the time of the school opening, the town of Mosheim had a population of fewer than 200 residents. The school hosted students from grades 1st-12th.
It featured 7 classrooms, a study hall, a library, an auditorium, and a book depository. With the decline in the population of the town dwindling down to just 50 residents, fewer and fewer students were attending the school.
By 1960 the remaining students were transferred to different schools and the Old Mosheim School was repurposed into a community center. A few years later the building was left vacant and it has been slowly falling into disrepair ever since.
9. Terlingua Ghost Town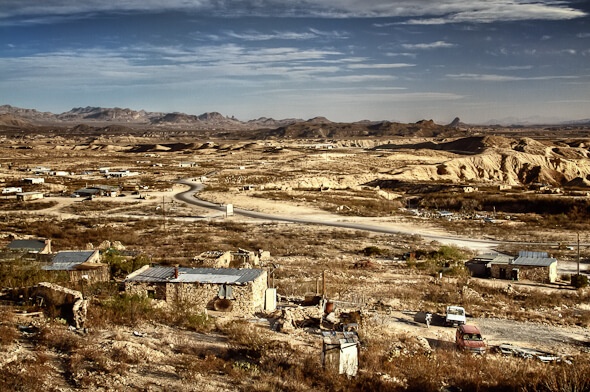 In the mid-1880s, miners trolling in the Chisos Mountains would make a discovery that would be the birth of the town of Terlingua. Mercury, also known as Quicksilver, was found in the area which would draw people from around the U.S. looking for work in the mines.
As a result, the town would explode in population reaching a peak of 1,000 residents. Houses, schools, stores, hotels, and restaurants were built to accommodate the new arrivers. For decades mercury would be extracted from the mines, lots of which would be used in both World Wars.
The market for mercury saw a decline in the 1930s and in 1942 the Chisos Mining Company, which employed all miners in town, filed for bankruptcy. After this happened, residents started leaving the town in droves. Today, many of the once used buildings remain standing.
Most are in a bad state of disrepair. Because of the history of the town, it's been listed in many magazines of abandoned places in Texas.
10. Omen School (Omen)
You might have a bit of trouble finding the Omen School as it sits in complete ruins fully surrounded by thick green trees. Built-in 1939 by the Works Progress Administration, this school hosted students from grades 1st – 12th.
For several years the school would operate without issues until a sudden decline in population would cut down attendance by more than half. Because of this, the school was shut down and repurposed but eventually was left unused.
Attempts to revive the building were made but were never successful. Today, mother nature has fully reclaimed its territory but parts of the school remain.
11. St Dominic's Catholic Church (D'Hanis)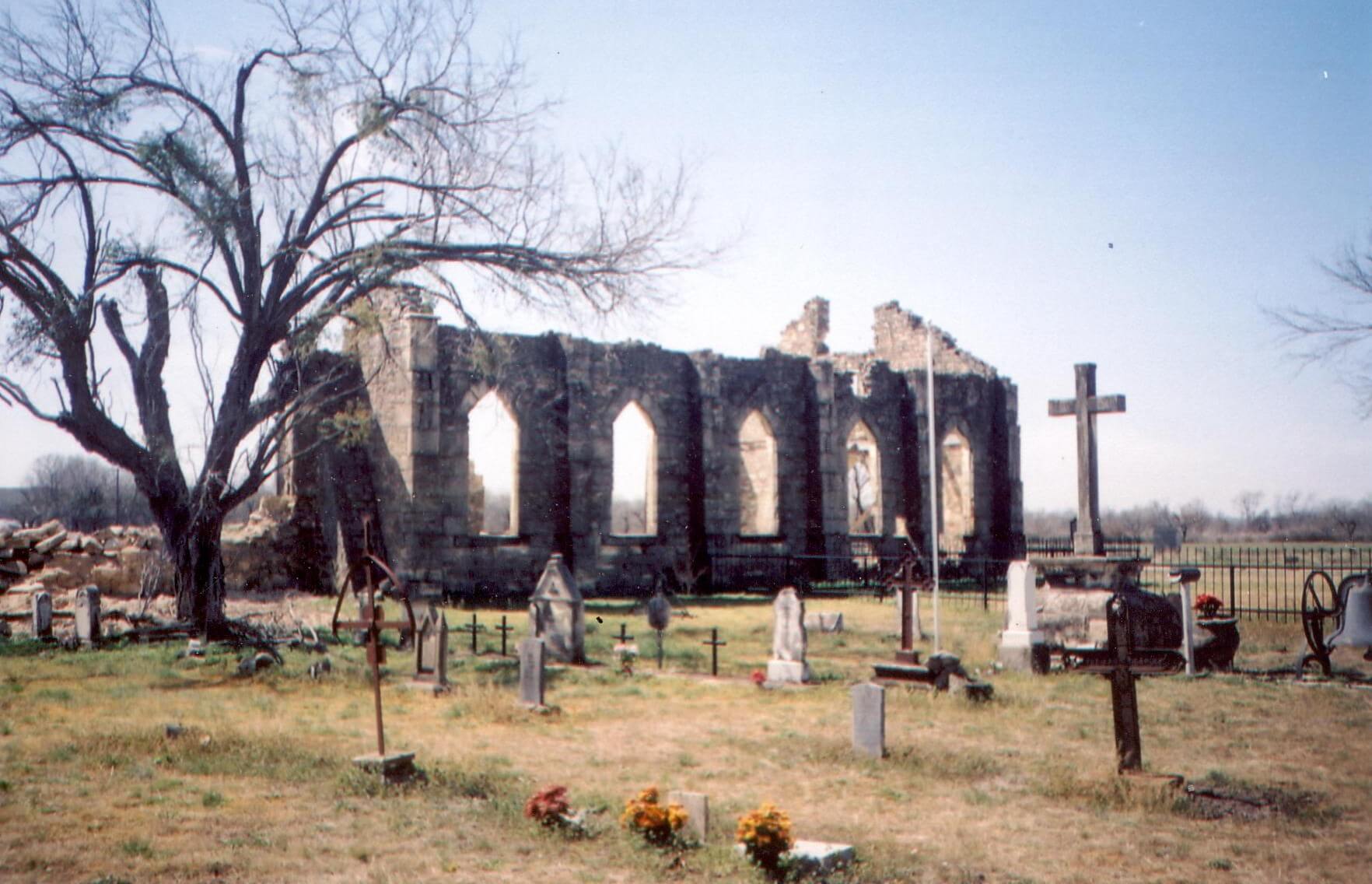 The St. Dominic's Catholic Church, built-in 1864, was once a place of worship for several European families in the town of D'Hanis, Texas. The town began as a small settlement and eventually grew to hundreds of residents which built many buildings in the area, including this now famous abandoned church.
The town was set to have a railroad run alongside the town, but that never happened. This prompted several residents to pack up their belongings and move a mile and a half away, closer to the railroad. A new church was built as well and as a result, St. Dominic's was left abandoned.
In 1912 a fire ravaged the church which would be the last time it was ever occupied. Today the church and the attached cemetery are left in complete ruins. If you're a history buff in search of abandoned places in Texas, be sure to add this church to your map!
12. Hotel Viggo (Hebbronville)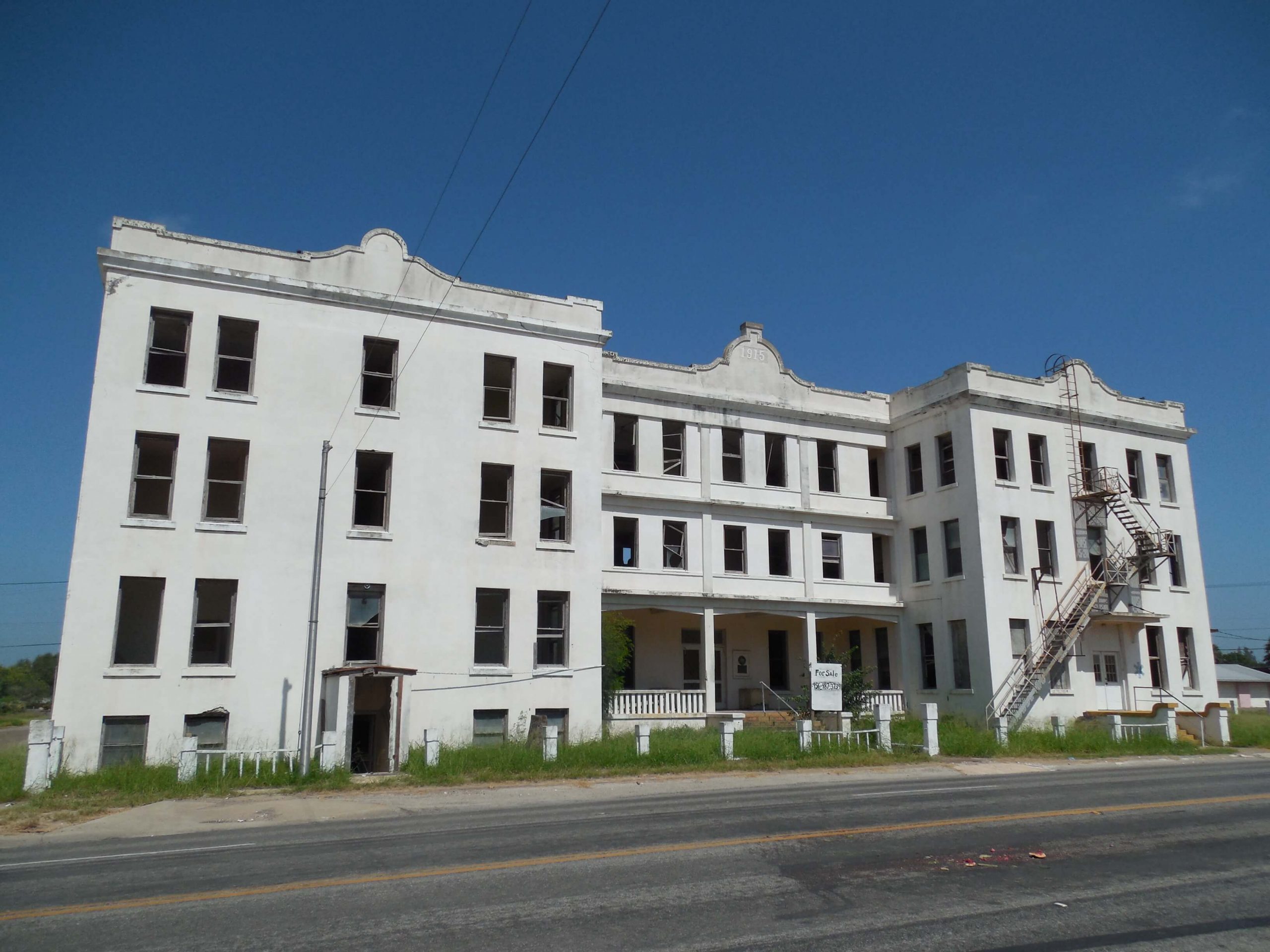 This once vibrant and luxurious hotel saw several traveling businessmen and wealthy ranchers occupy rooms during its best days. It also served as a defensive shelter for early settlers in Hebbronville who feared predation from famous Mexican bandit Pancho Villa and his men.
It was built in 1915 by C. F Luque for owner Viggo Kohler to accommodate travelers passing through. It is not known why the hotel was left abandoned but in 1983 it was given a Historical Marker by the state of Texas.
Today Hotel Viggo sits in utter ruin, broken windows, missing doors, and caved-in walls are found throughout the building. You can see it on Google Maps.
13. Glenrio Ghost Town
Straddling the border between Texas and New Mexico is the now-forgotten ghost town of Glenrio. It was founded in 1901 by the Rock Island and Pacific Railroad Company which established a railroad station in the town.
The surrounding area became populated and houses, businesses, and other structures were built. When Route 66 was paved, the town of Glenrio provided amenities for passing travelers. Gas stations, cafes, restaurants, motels, and bars were built for tourists.
In 1955 when the Rock Island Pacific Railroad closed down, the town saw a decline in numbers. Glenrio's demise would come years later when a new Interstate would replace Route 66 which meant fewer people would pass by the town.
By the early 1980s, most residents were long gone and the town of Glenrio would be fully abandoned. Few abandoned places in Texas have the unique history as Glenrio does.
14. Ozona Hotel (Ozona)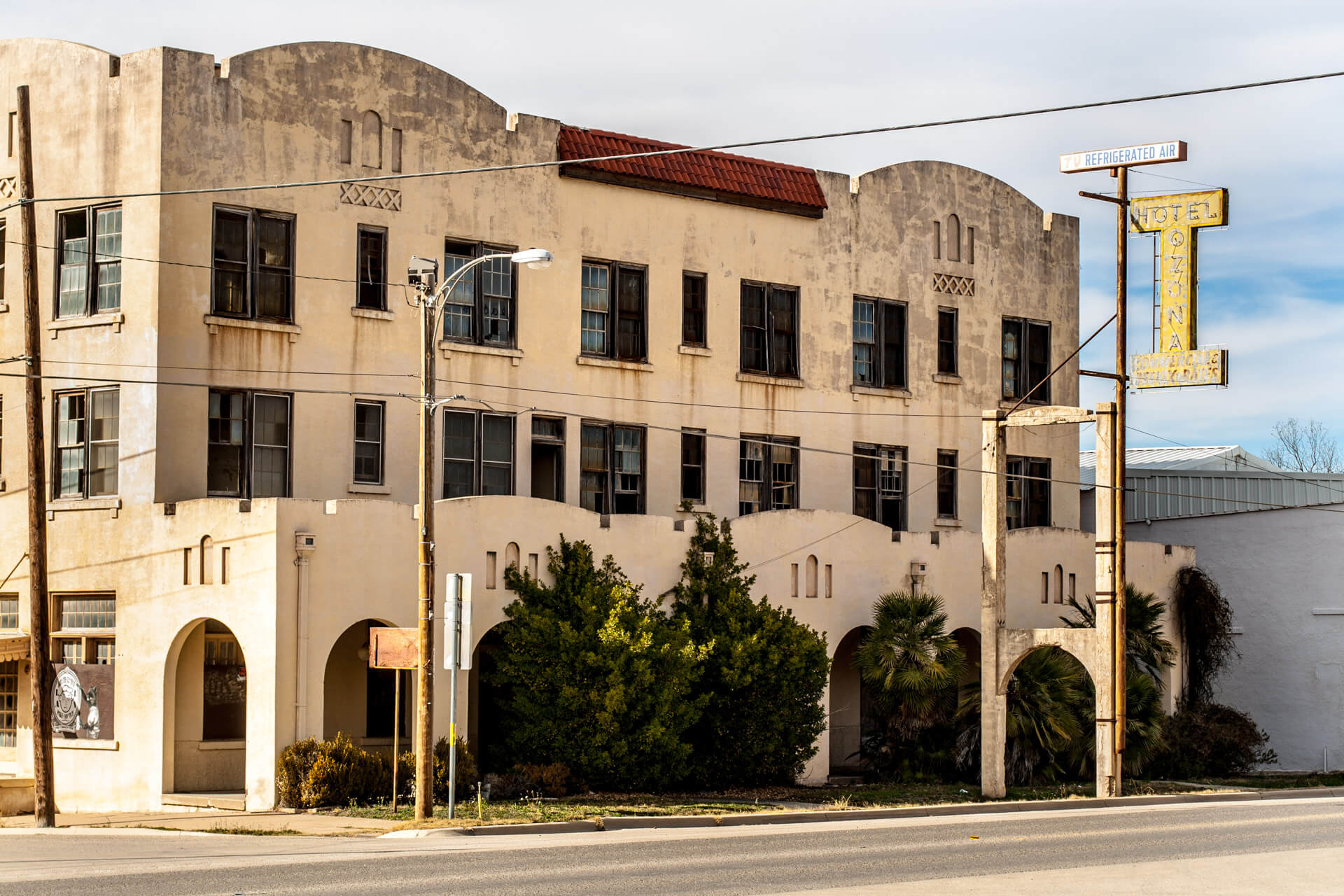 This once beautiful hotel was built in 1927 from reinforced concrete and hollow tiles. It provided stylish accommodations for tourists coming through the area. In its good days, the hotel was a busy center for locals as it hosted club meetings, business luncheons, wedding receptions, and more events.
Not much is known about its closure, other than the 41-room hotel was placed for sale in the newspaper for less than half of what it was worth in 1948. A possible dissolution of a partnership was to blame but it is unknown if that is the actual cause.
No buyers ever came forwards and with newer hotels being built close by, Hotel Ozona was doomed. It never reopened and has been sitting empty and dilapidated ever since.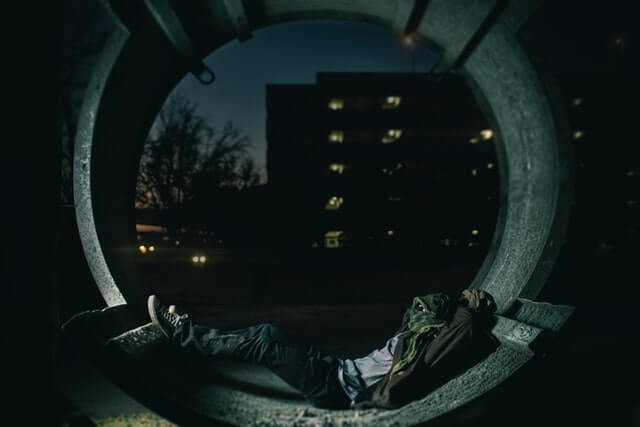 Looking For More Abandoned Places In Texas To Explore?
Being the 2nd biggest state in the United States, Texas has more than its fair share of abandoned places to explore. Urban explorers should have no trouble finding these forsaken places to look around. Often you won't have to travel very far to get to one of these locations.
Whether you live in Texas, or you're just visiting, you can easily find more of these abandoned places by doing some light research online. Don't know how to do the research?
Don't worry, I wrote an article where I reveal some of the methods I use to find abandoned places to explore. They're so easy to follow that you'll no doubt quickly find an abandoned location for your next exploration trip.
Check Out These Other Abandoned Places In Texas