The Best Urban Exploration YouTube Channels Right Now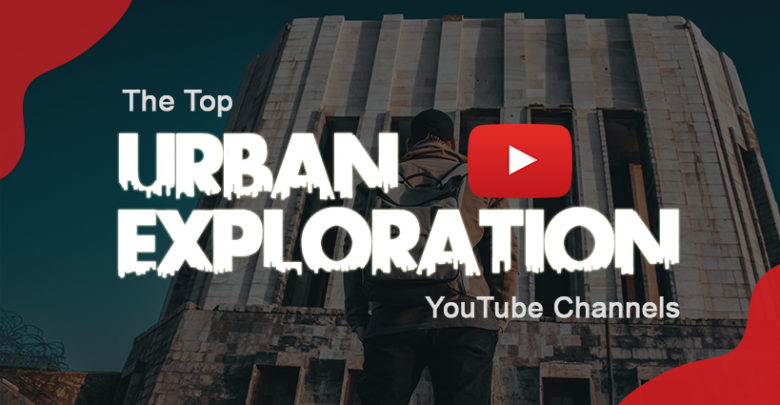 Youtube is chock-full of amazing urban exploration videos. Lots of famous urban explorers like to film their explorations and post their videos on youtube for the whole world to see.
That's great and all, but the problem is that several of the videos on youtube are pretty bad. They're either low quality, have poor audio, or don't give any context in the video of the place they're exploring. All this makes the viewing experience pretty terrible.
I don't know about you, but when I watch urban exploration videos on Youtube, I want to see a video that's filmed in high quality and properly edited. Most of the urban exploration youtube channels don't give you that.
I created this list to share with you who I think are the best urban exploration youtube channels right now. Yes, these are my personal favorites so I am being a bit biased.
But I genuinely believe these 13 urbex vloggers currently have the best urban exploration youtube channels and are better than almost 90% of all the other urbex youtube channels.
They're all high-quality content creators and have tons of subscribers. This means lots of people enjoy their videos so there's a chance you might too.
Let's get started.

Exploring With Josh
YouTube Channel: youtube.com/user/theartofrealitycrew
No urban exploration youtube list is complete without including Exploring With Josh.
Josh has undoubtedly the most popular urbex youtube channel right now. He's one of the reasons I got into urban exploration.
So many people love him and his videos because he's a likable type of guy. He films in incredible locations and takes you along with him for the ride.
Josh has been on youtube for over 5 years and has amassed an impressive 3+ million followers.
Some of his most popular youtube exploration videos consist of Josh exploring an abandoned gold exchange bank. Going into an empty drug dealer mansion and walking around the Suicide Forest in  Aokigahara, Japan.
His videos are always high quality and the locations he explores are just absolutely incredible. He definitely has one of the best urbex youtube channels out there today.
---

The Proper People
YouTube Channel: youtube.com/user/TheProperPeople
Two friends, Bryan and Michael, travel in search of abandoned buildings around the US to explore and photograph the most amazing locations they can find.
What I absolutely love about these guys is that their videos are properly edited. They have voice-over recordings on their videos giving you context on the building they're exploring every step of the way.
Knowing the backstory of the places they're exploring gives you some amazing insight into the video you're watching. Which makes for a great viewing experience.
Some of their most notable videos include Bryan and Michael exploring an abandoned Disneyland knock-off. Or them driving down Clinton Road which is considered America's most terrifying stretch of road.
Their videos can be considered mini-documentaries with how detailed and high-quality they are. Michael and Bryan are truly some of the best urban explorers on youtube.
Check them out, you won't regret it!
---

Dark Exploration Films
YouTube Channel: youtube.com/user/xJailBreaks
Dark Exploration Films is quickly becoming one of my favorite urban exploration youtube channels.
Devin, the guy behind DEF, is not afraid to venture into abandoned locations that are quite dangerous. It's what makes his videos so damn interesting to watch.
He films in abandonments that you don't often see on youtube.
He's explored everything from insane asylums, churches, amusement parks, and just about any other place you can think of. If you're looking for one of the best urban exploration youtube channels Reddit certainly recommends Devin. His videos get shared on Reddit pretty often.
DEF is adding new videos every week so that's always a plus.
---

This Is Dan Bell
YouTube Channel: youtube.com/user/moviedan
Dan Bell is a professional producer and filmmaker. So you know his videos are going to be top-notch!
Dan has been featured on several news sites such as NY-Times, Time Magazine, The Baltimore Sun, and several others. He's a popular urbex YouTuber with half a million subscribers.
He explorers the most insane locations and has gotten himself in some dangerous situations. Most notably, the time he stumbled into a drug house with actual drugs inside.
The drug dealers came back for their drugs and Dan had to hide in a nearby bathroom. All while the drug dealers were in the room next to him!
I can't find the video I'm talking about at the time of writing this. If you can find it, please post the link in the comments.
Dan also has a series on his channel called The Dead Mall series. He travels the country and explores shopping malls that have been left to decay. It's a super interesting series which I can't recommend enough. Check it out.
---

Broken Window Theory
YouTube Channel: youtube.com/channel/UCQjlzE-BSD1PDW988vbqVjw
The channel, Broken Window Theory, is run by two college students named Till and Marco who are both from Germany.
What I most like about BWT is that they explore buildings we Americans don't often get to see.
German architecture is somewhat similar to ours. But there definitely are some differences. You see it in their videos on the incredible locations they explore.
They've explored castles, nazi bunkers, army camps, and several more fascinating locations.
Their most popular video is one where they explore a castle worth more than 10 million dollars. It's a castle that's been used for movies and tv shows. He also shares some of the scariest urban exploration stories on reddit.
---

Steve Ronin
YouTube Channel: youtube.com/user/sunsteprising
I came across Steve Ronin while I was watching one of Exploring With Josh's videos.
They're both buddies and have several videos of them exploring together.
Steve is a worldwide traveler and an urbex vlogger. He moves from place to place which gives him the opportunity to explore several different locations in many different countries.
One of Steve Ronin's most popular videos is one where he and his crew are exploring a cave system and accidentally find a little girl that's been lost. They found her scared and crying alone in a dark cave and ended up helping her get back to her parents. The video ended up going viral and was published on top news websites worldwide.
This is just one of the many incredible videos on Steve Ronin's YT channel.
---
Kibara
YouTube Channel: youtube.com/user/ThatsBrainStorming
Kibara is a fearless female urban explorer from Spain.
Though she doesn't speak English in her videos, that really doesn't take anything away from how awesome her explorations videos are.
What I like about Kibara is that she isn't afraid to push her limits. She'll often explore areas of a building that her friends don't want to go into.
One of her most popular videos is one in which she explores an abandoned Arabic mansion in Spain that's full of creepy dolls.
---

Freaktography
YouTube Channel: youtube.com/channel/UCstrXRqOR2dotMpxE81i8Jw
The guy behind Freaktography is a professional photographer who explores the typically off-limits and unseen parts of civilization.
His YouTube channel is full of amazing high-quality videos documenting his explorations.
What I like about Freaktography is that he has a website where he shares his experience through photos and words.
His videos capture the physical location he's exploring. But sharing how the places he's explored made him feel is a completely different experience. One which you can't always describe as you're experiencing it on video.
One of his most popular urbex videos is one where he finds over $7,000 dollars in an abandoned house. Though not as popular as other explorers, he's quickly gaining fame and being compared to other famous urban explorers.
---

Urbex Dane
YouTube Channel: youtube.com/channel/UCof2oJ9jC4YaKtJj8gAQtvQ
Dane is mostly known for his explorations in the urban areas of Cleveland, Ohio & the incredible ghost town of Centralia, Pennsylvania. He's also explored some locations in Pittsburgh.
Some of his videos have been featured in several documentaries and short films in 2018.
This guy is absolutely fearless when it comes to exploring.
He'll explore an entire abandoned neighborhood that's known to be dangerous, all by himself. He's not afraid to explore alone, no matter where he's going.
He knows the risks all too well, but that doesn't stop him.
---

Exploring With Fighters
YouTube Channel: youtube.com/channel/UCTNdfPdLPsQkR45BSotGVzw
Dan, the guy behind EWF, is a UK-based urban explorer and travel vlogger. He has a passion for history, architecture, and decay.
Think of a place you'd like to explore. Now go to this youtube channel and I can almost guarantee he has a video of him exploring that place.
He's explored everything from abandoned towns, forgotten amusement parks, and underground mines.
I found out about Dan from one of Exploring With Josh's videos. Dan and Josh are good friends and have several videos of them exploring together.
With how much Dan travels, he gets incredible opportunities to explore so many different places, from not just one country, but several.
---

Urban Exploration With Janne Flinck
YouTube Channel: youtube.com/user/FlinckJanne1981
Janne Flinck is a Finnish-based urban explorer.
Several of his urban explorations videos take place in Finland, but certainly not all of them. He's traveled to a few other countries such as Japan and Belgium and carried out some explorations there too.
He's popularly known for exploring abandoned houses that are full of stuff. Houses that appear to have been abandoned overnight.
Some of his explorations include houses that were used by the Nazis during the 2nd world war. These videos I find absolutely fascinating. You get a feeling of going back in time and seeing with your own eyes how and where some Nazi soldiers lived.
Definitely, a channel to check out.
---

Exploring the Unbeaten Path
YouTube Channel: youtube.com/channel/UC73dVtWf9mpjiWYkXyIlm7A
Bob Thissen, the guy behind Exploring the Unbeaten Path, has a passion for researching and exploring abandoned buildings. Since 2007 he has been to uncountable locations worldwide to capture the beauty of decay.
His dedication is unquestionable. His videos and pictures shot in abandoned places are covered a lot in the media.
Do yourself a favor and watch his 10-part video series on exploring the Fukushima nuclear disaster zone in Japan.
It's absolutely incredible. The aftermath of the nuclear disaster is simply jaw-dropping. Over 100k+ people up and left their living quarters. Bob goes in and explores the houses and buildings left behind.
His videos are simply incredible. Certainly, one you should subscribe to as he's considered one of the best urban explorers on Youtube.
---

RnK All Day
YouTube Channel: youtube.com/channel/UCHYk6Jn9Irscb8Sf4V7ebiA
Robb and Kristy, or RnK, are a wife and husband urban exploration power duo.
They're a New York-based explorers but certainly don't stick to only exploring in New York. They travel all over the United States in search of abandoned locations they can explore.
Some of their most viewed videos are one in which they explore abandoned millionaire mansions.
They're fearless explorers and their videos are proof of that. They've been arrested, had guns pulled on them, and have gotten injured while exploring unsafe areas of a building.
Nothing stops them from going into abandonments and having a look around.
---
Who Did I Miss?
I know there are thousands of urban exploration youtube channels out there.
But not too many of them post good quality urbex videos worth watching.
I am curious and would like to hear from you.
Who are your favorite urban exploration youtube channels? Who would you add to this list?
Leave me a message in the comment section. I'm always looking for new urbex youtube channels to subscribe to!