You Can Explore These Abandoned Places in Cleveland, OH.
The many abandoned buildings Cleveland has to offer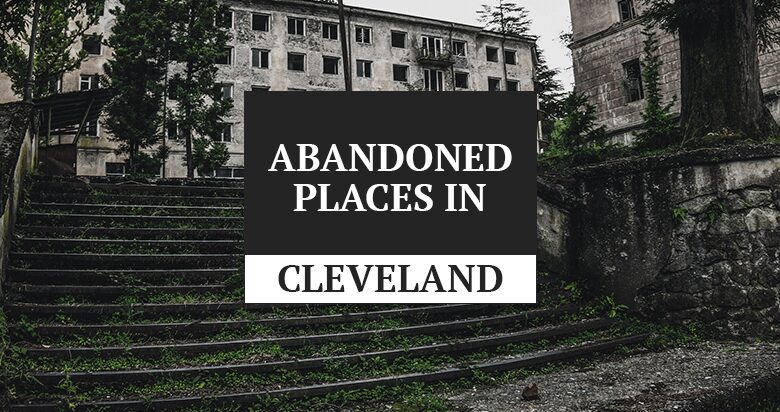 A forgotten theater, a masonic lodge, an old aquarium, and a decaying space observatory are just a few of the abandoned places in Cleveland, Ohio that you can explore.
The city of Cleveland, Ohio has a long and storied history. One that dates back over 2 centuries. Over the span of that time, thousands of buildings, homes, and factories were built and many of them still stand to this day.
Just not in a lively condition for people to occupy them. Fortunately for us, they're all completely abandoned. I learned about these places thanks to other urban explorers on YouTube and Instagram.
If you're searching for abandoned places in Cleveland Ohio to explore, in this article you'll discover a few that should pique your interest.
The Best Abandoned Places In Cleveland
[lwptoc]
1. Warner and Swasey Observatory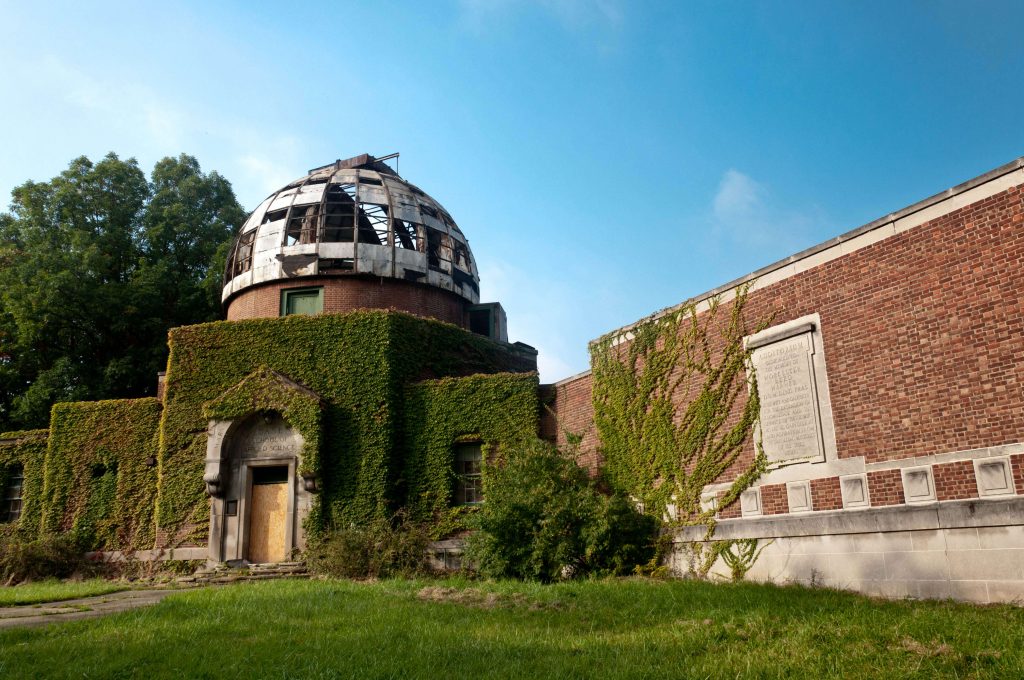 Back in 2005 real estate mogul, Naiir Al Mahdi purchased the abandoned Warner and Swasey Observatory.
It is said he wanted to build an extravagant residence on the site. Unfortunately, 2 years after his purchase, Mr. Mahdi was sent to prison due to a conviction for mortgage fraud.
Since then, the Warner and Swasey Observatory has been unoccupied. The century-old building is now in ruins sitting on a hilltop in East Cleaveland.
The astronomical observatory was built in the early 20th century. It once contained a powerful telescope that explored the beautiful Clevland night sky.
Because it's been sitting untouched for so many years, the building's walls are now decaying. Local graffiti artists have covered its walls with their art. Vines have been growing wild all around the observatory.
Mother nature has reclaimed what has always been hers. Today the abandoned Cleveland observatory continues to stand just off Taylor Road, decaying with the beauty and color of the stars it once used to gaze upon.
It is regarded as one of the most popular abandoned buildings in Cleveland Ohio.
2. National Acme in Cleveland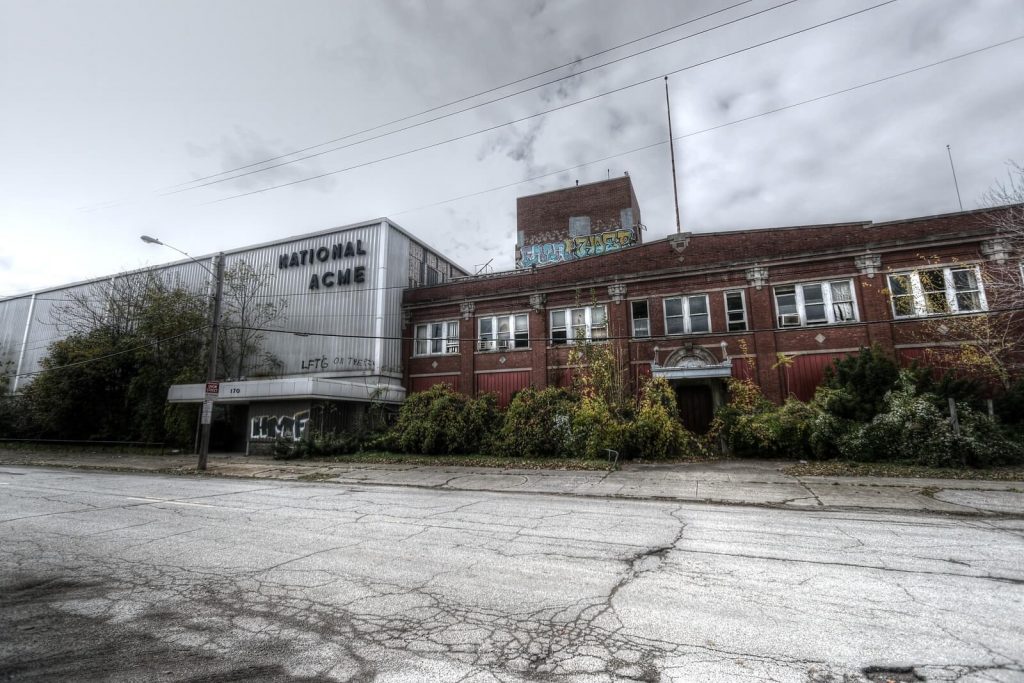 The company, National Acme, was the result of two notable machine tool manufacturers back in the 1930s.
Its purpose was to create machine tools that were used throughout the United States. At one point National Acme was one the largest manufacturers of machine tools in the world.
It employed thousands of workers to run the giant factory and its complicated machines. In the early 1980s, the company was losing money so they began to let off work to reduce their operating costs.
Year after year the company's profits were falling. It eventually reached a point that leads to the closure of the factory in the early 1990s.
In 2011 the National Acme factory was leased to a garbage disposal company. A year later they would be sentenced to prison for violating the Clean Air Act.
Today the National Acme factory sits completely empty and is known among many as one of the coolest abandoned places in Cleveland.
It's been left to decay so long that some of its walls have come crashing down. Local graffiti artists, vandals, and thieves have destroyed parts of the building.
If you decide to explore this abandoned building in Cleveland, remember to take a respirator mask. The building possibly contains asbestos debris.
3. Euclid Theater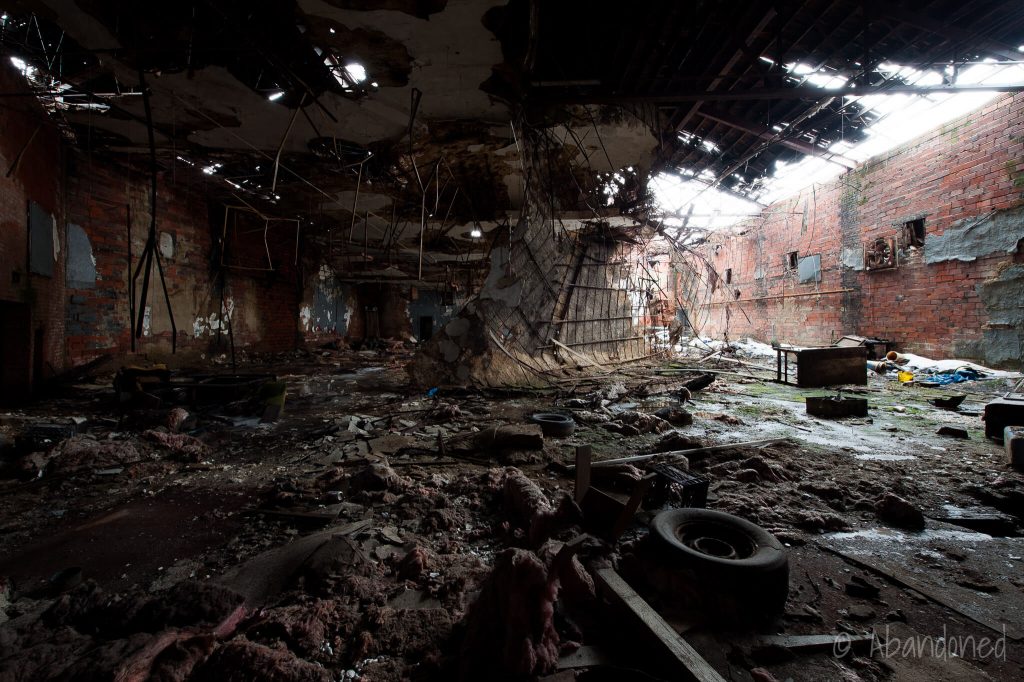 The Euclid theater that today remains abandoned is the successor of a previous theater with the same name.
That theater was located in a separate part of Cleveland, Ohio but was demolished 4 years after its creation and rebuilt in a new location.
The successor, the one that you can explore today, was opened on May 22nd, 1925. It closed down permanently in the 1950s. Today the Euclid Theater is nothing more than a display of nature reclaiming its land.
In its days the theater was decorated in an 'oriental Japanese' scheme to give it an interesting look. It contained the latest in sound and pictures, such as projectors and speakers.
Failing the test of time, the entrance of the building collapsed and now a gaping hole is present in its roof. Almost the entire theater is destroyed or damaged in some shape or form.
Urban explorers and local adventurers have toured the abandoned building in Cleveland since it was vacated. It has become one of the most popular abandoned places in Cleveland for both explorers and local adventurers.
Should you find yourself within the Euclid halls one day, try and imagine what life was like back when the theater was popular. I promise it'll make your exploration a lot more fun.
4. The Nativity Of The Blessed Virgin Mary Parish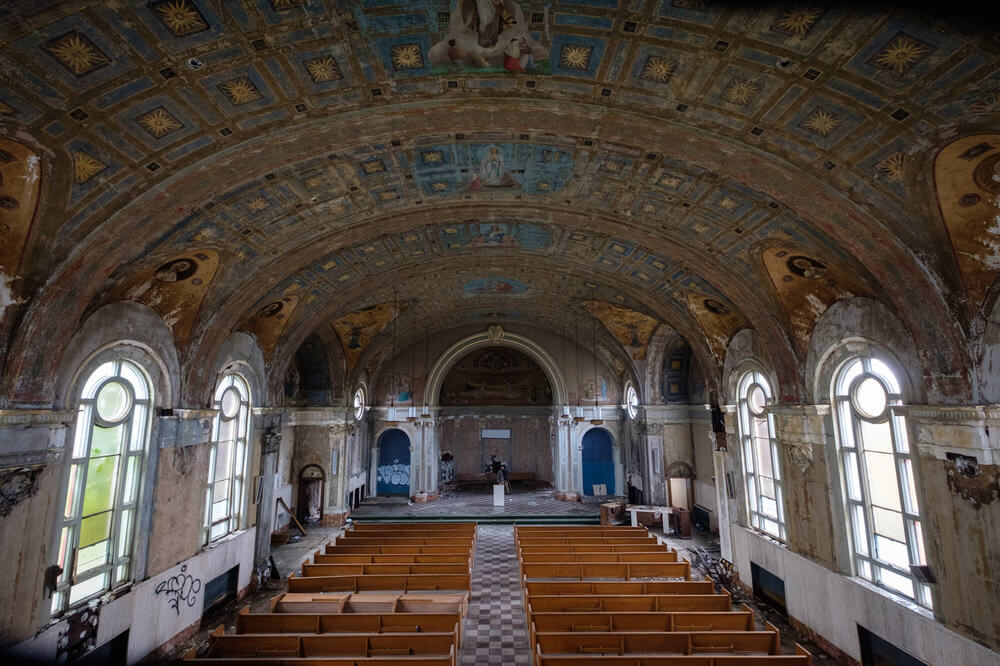 The Nativity of the Blessed Virgin Mary's Parish was built on December 6, 1903.
It was founded by Slovakian immigrants fleeing their homes. The parish contains an abandoned church, school, and parish house where pastors and other members of the church would stay in.
You'll find other smaller buildings in the parish, these are just some of them. The Nativity Parish school was closed in 1972, and the last resident pastor left in 1984.
The final mass that took place in the church was in 1992. Seven years later the church, rectory, and school were sold to a competing business. Ahem, church.
Today the Nativity of the Blessed Virgin Mary is in severe disrepair with significant signs of damage to the entire building.
Portions of the building have collapsed. Over time, it has joined a long list of abandoned places in Cleveland that locals like to venture into and explore.
5. The Sidaway Bridge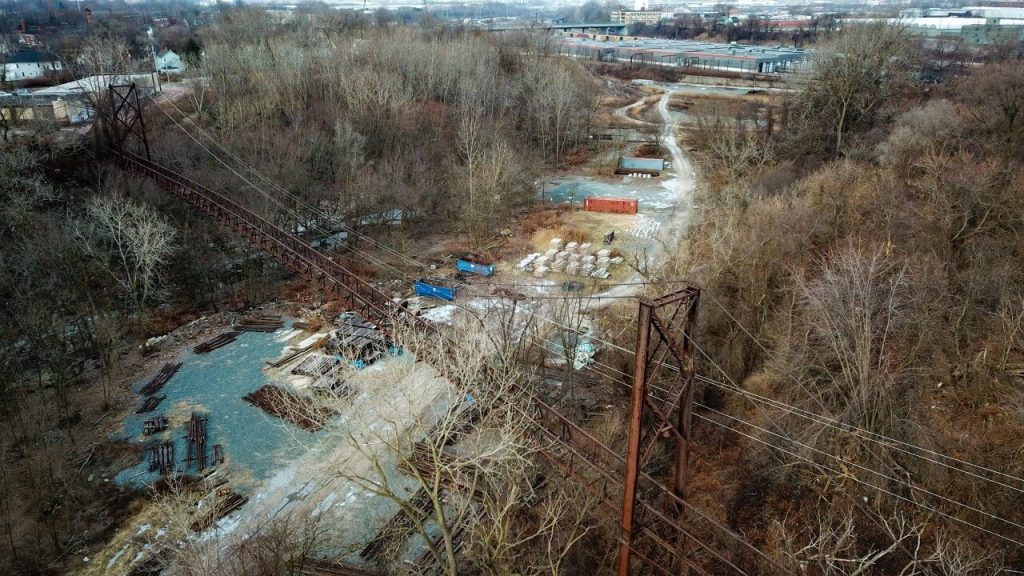 The Sidaway Bridge has quite an interesting back story to it.
It was the site where four dismembered bodies of the Cleveland Torso Serial Killer were discovered. It also was the location of an attempted but failed attack to burn it down.
It was built in 1909 at the urging of 2 citizen groups from different ethical backgrounds. It was built so that it could connect a white and ethnic community together.
In hopes, it would help the two communities' mutual commercial and general welfare. The Sidaway Bridge was closed in 1966 as tensions between the two communities came to an all-time high during the civil rights movement.
It closed due to a rioter, from the ongoing Hough riots at the time, who tore out planking from the bridge and tried to set it on fire.
Over 50 years after its attempted destruction, the bridge still stands downtown as the only suspension bridge in the city's history.
The Sidaway Bridge runs from Sidaway Avenue to Berwick Road. It's blocked off at the two ends, it has overgrown shrubs on private property obstructing your view.
Even though it's blocked off, if you really want to explore it, you'll find your way in, it's not hard.
6. Cedar Avenue Powerhouse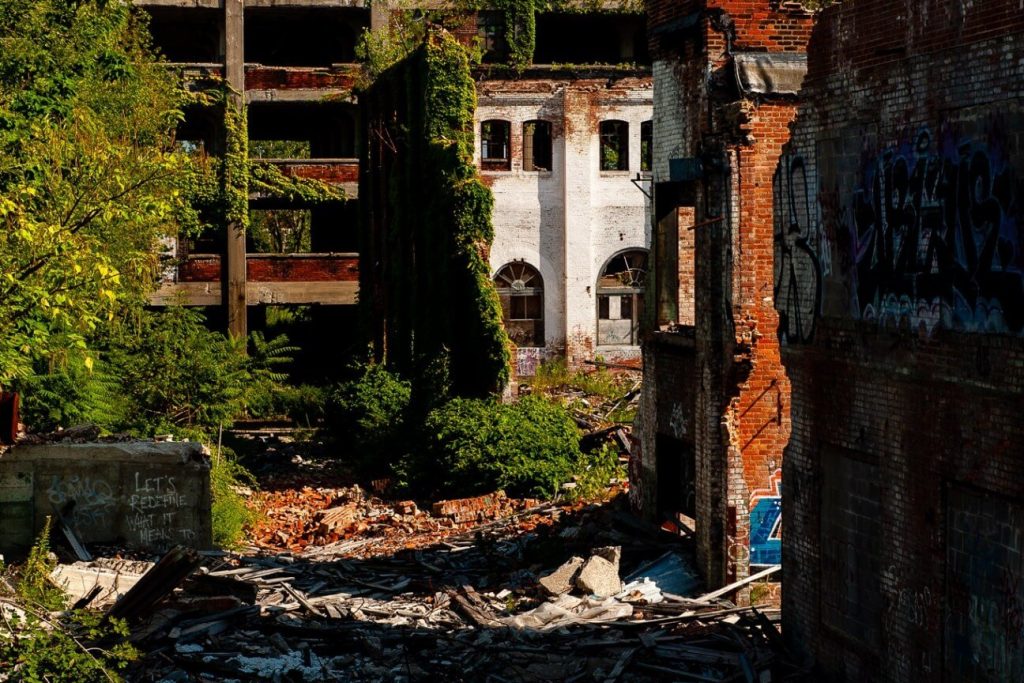 The Cedar Avenue Powerhouse in Cleveland was once used to build parts for airplanes that were being used in WW2.
The company once employed thousands of workers to man their powerful machines. The facility itself is huge. There is more than one building. It's more of a cluster of buildings.
It housed over half a dozen high-capacity steam-powered generators. Some of the largest in their time.
The building was occupied by quite a few companies over the years, but the original stonework bears only two names: The Cleveland Railway Co and Westinghouse Electric.
The Powerhouse was constructed in the early 1880s. It had been re-opened by new companies occupying the building, but all eventually closed for one reason or another.
It closed down permanently in 1979. The high-powered generators were sold off at auction.
Today the Cedar Avenue Powerhouse sits completely alone and decrepit, slowly falling apart and known amongst many explorers as a must-explore abandoned building in Cleveland.
Several of the buildings in the middle of the compound have been badly damaged. The entire building is in a very rough state of disrepair.
If you go exploring, take a flashlight, I hear there's a basement section that is pitch black and scary as hell. With how old and big the powerhouse is, it's become a well-liked abandoned place in Cleveland to explore.
7. The Taylor & Boggis Foundry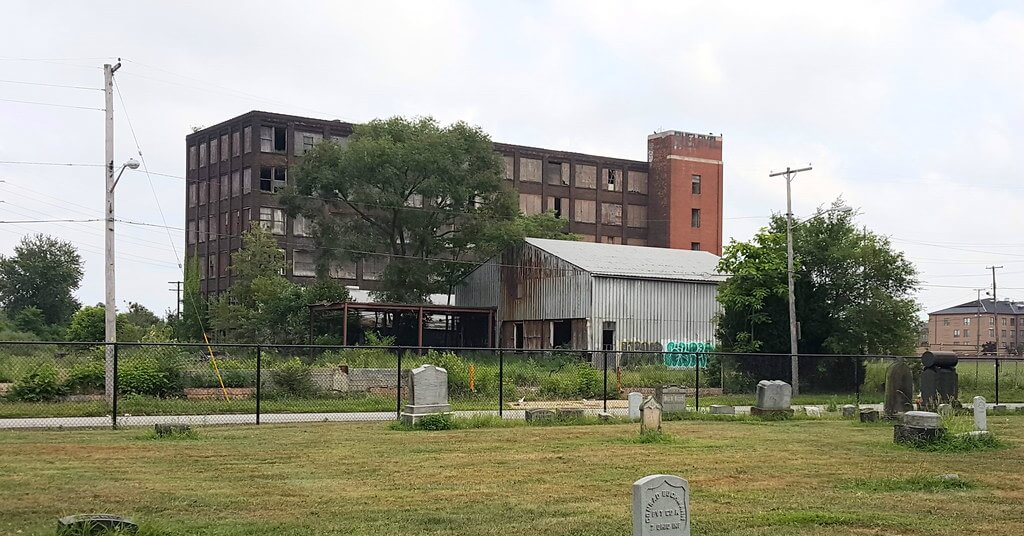 The Taylor & Boggis Foundry was built in 1864 by Harvey Taylor and Robert Boggis.
It was used to manufacture gray iron castings and builders' hardware. Nineteen years after it was opened it burned completely in an accident on April 9, 1883.
The Foundry was rebuilt but tragically burned down again 60 years later when a passing locomotive train ignited the roof of the oil storage shed in the building.
The losses totaled over $75,000. In today's money, it would come out to over a million dollars. The losses for the company were too much but the Taylor and Boggis Foundry kept business running until 2012.
Just over a decade ago, the Foundry was finally shut down for good. It's been sitting quietly and empty for some time now. The abandoned Cleveland Ohio location has for many years seen several daring urban explorers and local graffiti artists inside its walls.
Today the Foundry is owned by a developer who had big plans to revive the Foundry, but nothing has been done to it for many years. It is considered among the most historic abandoned places Cleveland has left behind.
8. The Abandoned Cleveland Aquarium
Most people in Cleveland don't know that their city once held an aquarium other than the one that is open today.
Built in 1954 the original Cleveland Aquarium is located in Gordon Park in the Glenville neighborhood. Just south of the new one. It had an 80,000-gallon capacity when it was opened.
Rare fish, such as red-bellied piranhas, were among the more popular exhibits. Other aquatic life it housed were sawfish, swordfish, eels, squids, octopuses, sharks, and various exotic small fish.
In 1967 it had the opportunity of tripling its capacity to 240,000 gallons thanks to a monetary donation, but that never happened. The aquarium began to face financial struggles. This led to a price increase in admission tickets.
After admission prices rose and structural damage was not financially viable to repair, the aquarium was closed down.
The building was closed to the public in June 1985. Today the abandoned Cleveland aquarium is barely intact. Everyway you look inside all you'll notice is a scene of wicked decay.
Final Words
The city of Cleveland, Ohio is full of abandoned buildings, you just have to know where to look. No matter what part of the city you are in, with a little digging on Google Maps, you can find several cool abandoned places near you to explore.