Abandoned Places In Miami, Florida You Can Explore
List of abandoned Miami spots for urbex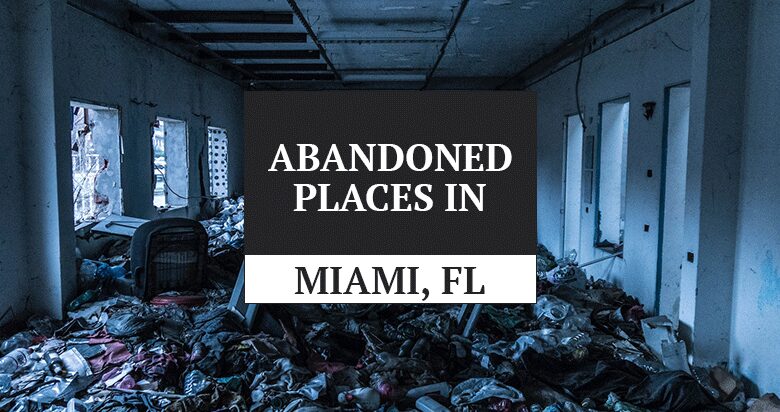 Miami is popular for its beautiful sunny beaches, tourist attractions, and lively nightlife. But there are also places around the city that are well-hidden and fascinating, begging to be explored. I'm talking about the many abandoned places in Miami.
These locations though no longer occupied, tell captivating stories of the rich history of the region. Some people have images of packed theme parks and sandy beaches when they think of Miami. But for urban explorers like us, the main attractions are not advertised.
They are hidden away under overgrown trees and rubble. Others are hiding in plain sight. Whether you find them appealing or creepy, there is something interesting about each of the abandoned places in Miami I'm going to show you.
If you're a resident of the Magic City and are looking to do some urbex, below are a few locations you may like to check out. For more places to explore, see our list of abandoned places in Florida.
Best Abandoned Places In Miami, FL
[lwptoc hideItems="0″ skipHeadingLevel="h2,h4″]
1. The Coconut Grove Playhouse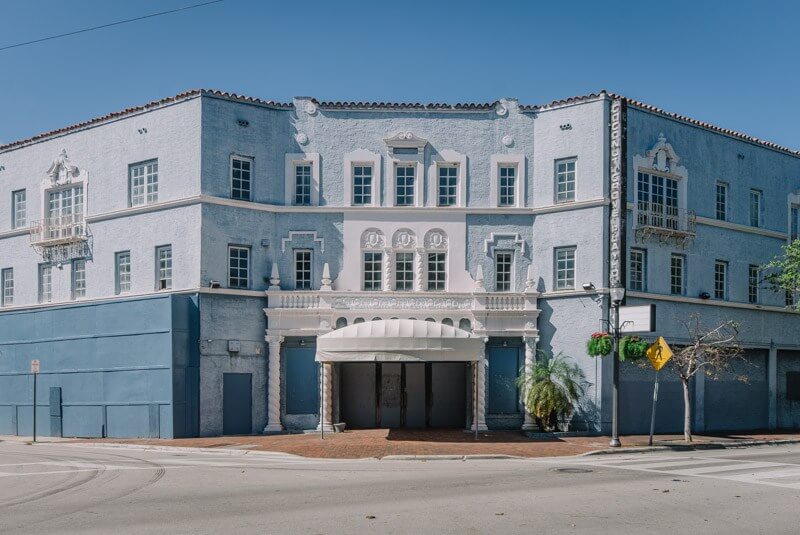 The history of the Coconut Grove Playhouse (map) dates back to the early 1900s. It was originally designed as a movie theater and opened in 1927. At the time, it was considered the second movie theater that had air conditioning in the state of Florida.
It also boasted the third largest Wurlitzer organ in the whole United States. It saw years of success before going bankrupt due to the stock market crash in 1929. It was closed down shortly after and then repurposed as a school for Air Force navigators in World War 2 until the 1950s.
It was then sold to a wealthy businessman who intended to repurpose it as a performance art theater. It lasted only 5 years before changing ownership again.
This occurred a couple more times over the years. It wasn't until after decades of failure and accrued debt that the city took control of the building in 2012 and had plans to demolish it. Because of lawsuits and disputes with local groups who are against the destruction of the playhouse, it has remained standing but completely empty.
Today it is seen as one of the coolest abandoned places in Miami. You can find videos on Youtube of fellow urban explorers taking a peek inside the building. It is one of the most historic abandoned places Miami has to offer that urban explorers will continue to talk about for years to come.
2. The Brooksville Victorian Tree-house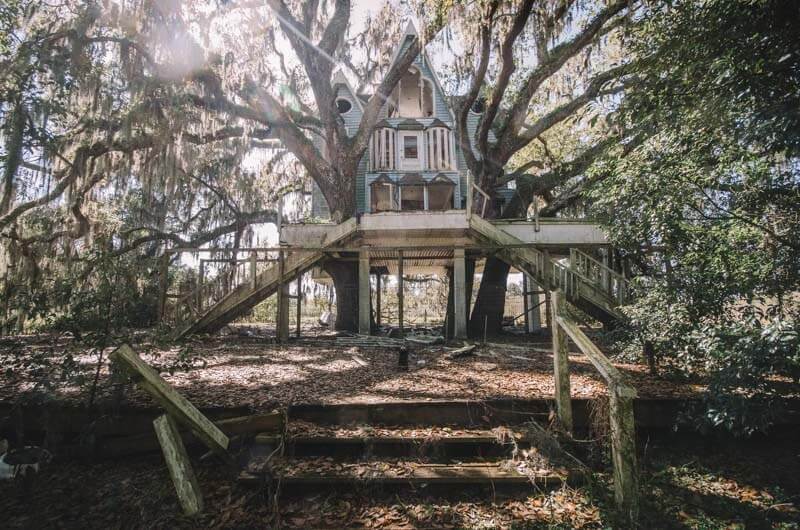 This stunning and incredibly photogenic 3-story decaying treehouse is one of the coolest abandoned places Florida has to offer. It was built in the early 1970s and is part of a much larger complex that was a former nursery business that shut down.
It included several rooms, bathrooms, bedrooms, and even a small kitchen. The structure has sadly deteriorated over the many years of being abandoned and is considered too far gone to renovate.
Pictures of the treehouse went viral in 2004, going around news outlets, social media, and blogs. It has become very popular for being among one of the most unique and wondrous abandoned houses in Miami that have sadly been left to rot alongside the rest of the property.
The current owners of the building are not so happy with all the attention the house was getting. People kept visiting wanting to take photos and videos but were being turned down.
But despite the many warnings from the house owners that trespassers will be arrested and charged, people have not stopped visiting the property to see the forgotten tree house with their very own eyes. Visiting the house is not recommended unless you seek permission first.
3. North Dade Detention Center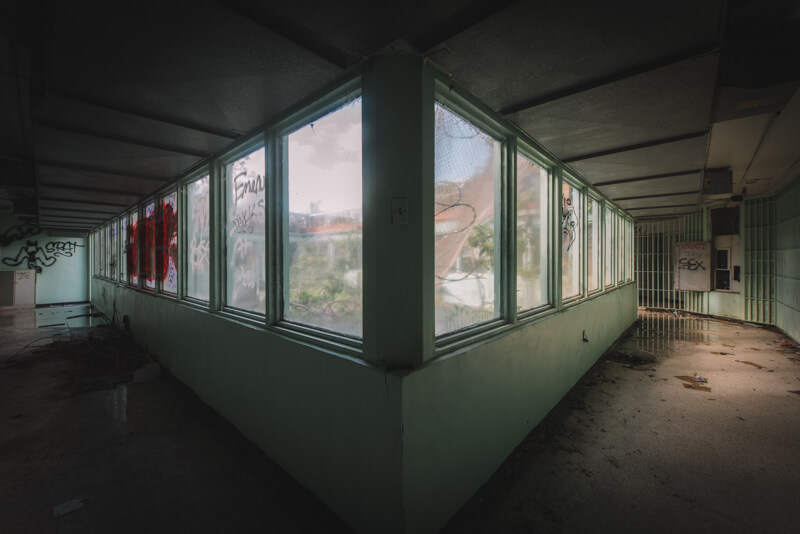 If you're an urban explorer on the hunt for abandoned places in Miami to explore, you're gonna be fascinated by this location. The North Dade Detention Center was opened in 1974 to serve the needs of the local community.
It was closed just two years later and then leased out to the State of Florida to be used by Miami Dade Corrections and Rehabilitation Institute.
The U.S. Department of Justice closed the psychiatric ward eventually and moved the inmates to a better facility that had more modern programs and facilities for the people jailed here. It was left unused for years until it was formally abandoned.
Today, the North Dade Detention Center is still one of the most popular abandoned properties in Miami for urban explorers to check out. A quick search on Youtube will show up so many videos of explorers taking a look inside.
Sadly it has been badly vandalized and damaged by storms and the elements. The walls are covered in graffiti and the center is eerily quiet. It is among the few abandoned prisons Miami urban explorers can visit. You can read more about this place and find more abandoned buildings in Miami here.
4. Deauville Beach Resort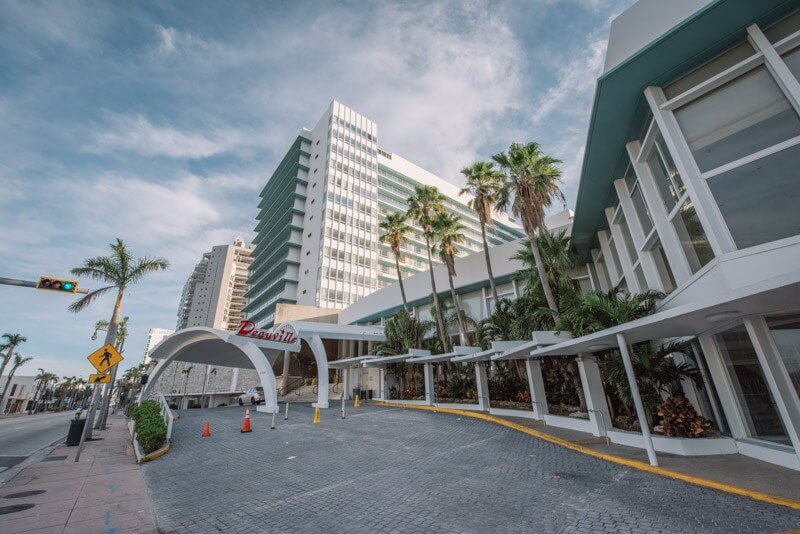 Anyone interested in exploring this abandoned resort in Miami should not wait too long as it might be getting demolished real soon. The Deauville Beach Resort was built by Joe Elsener, a real estate investor, in 1926.
During that period, the resort was a luxurious casino and beach club popular for having the largest swimming pool and the craziest parties in Florida.
In 2017 the hotel had an air conditioner fire accident as a result of faulty wiring. The guests were evacuated and relocated so that the hotel could repair the damages.
Since then, the hotel has remained closed. Hurricane Irma caused further damage to the structure, extending the cost needed to fix the resort. The abandoned building is rumored to be full of mildew, water, mold, and rats and remains without power.
Lately, it's been used by squatters and homeless people seeking shelter. Because of its sheer size, it is considered one of the coolest abandoned hotels in Florida.
5. Crandon Park Zoo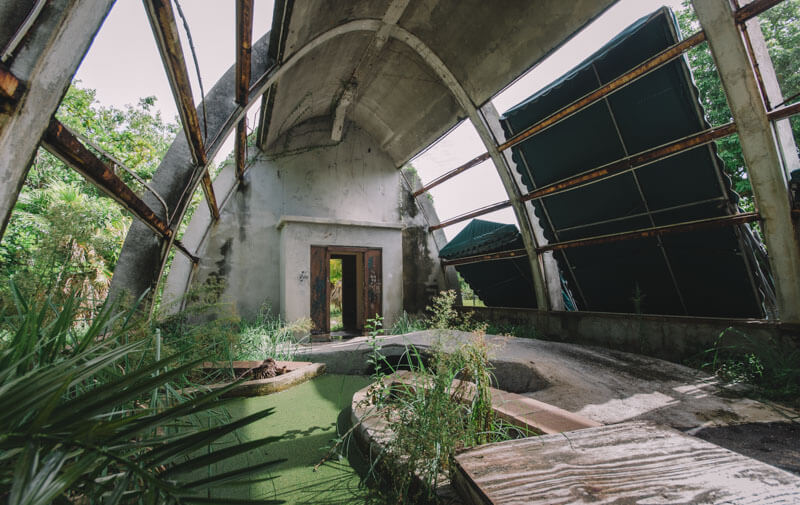 In 1948 the city of Miami bought some land on Key Biscayne. In addition to the land, it acquired two black bears, three monkeys, and a goat and created the first public zoo. With time, more animals and attractions were added, including a miniature railroad that ran around the entire zoo.
Conditions at the zoo were inhumane during those times compared to today's standards. People began to get worried about the welfare of the many animals housed here. Disaster struck on Labor Day in 1965 when Hurricane Betsy made landfall off the coast of Key Largo and killed about 250 animals in the zoo.
Most of them drowned in their cages and others suffered fatal injuries. This led the city to make plans for a bigger and better zoo which finally did open in 1980.
Today, the Crandon Park Zoo location is a botanical garden where visitors can view the tropical vegetation and see some of the remaining enclosures and cages from the former Crandon Park Zoo. Urban explorers have been visiting the zoo for many years and it is widely considered one of the most interesting abandoned places in Florida to explore.
6. Cape Romano Domes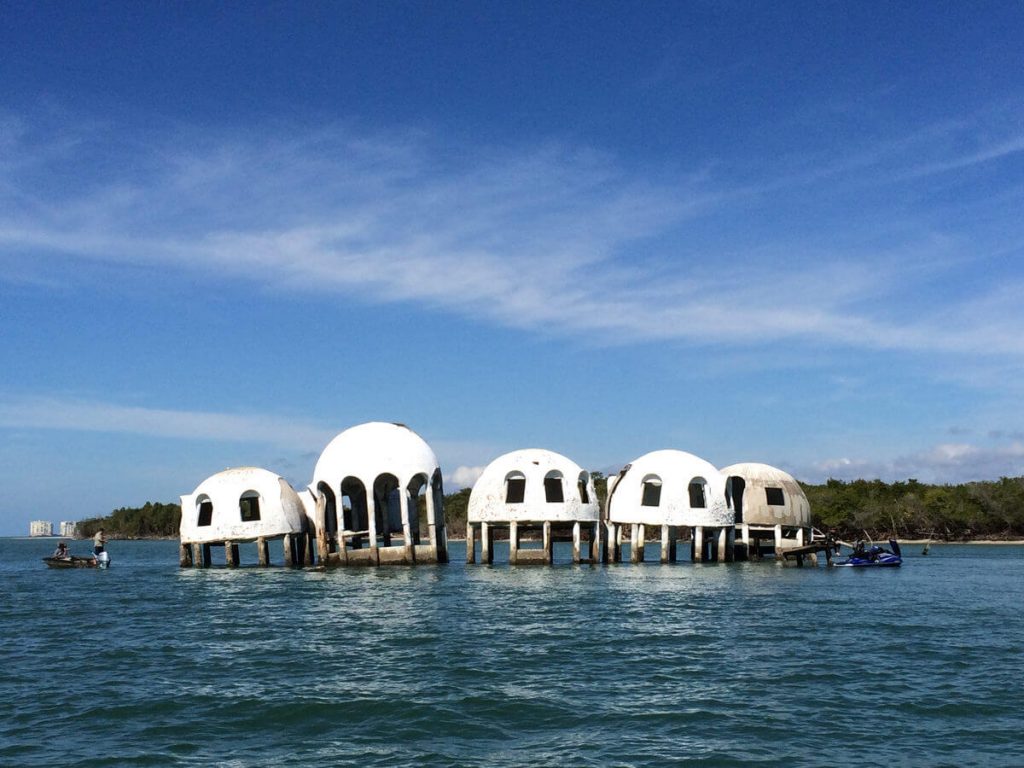 The Cape Romano Domes are some of the strangest abandoned buildings Miami is home to. Although the photo above looks like the remnants of six separate houses, it's actually just one house.
It was constructed on Cape Romano close to Marco Island in Florida. The builder of this property was an intelligent oil magnate named Bob Lee. He built it in 1980 by using reinforced concrete.
Every dome was a different room, and the strange design was meant to withstand harsh weather conditions such as hurricanes and rogue waves. Even though it was built to withstand natural disasters, hurricane Andrew caused it some serious interior damage and this resulted in it being abandoned in the early 90s.
Soon after it was bought by new owners in 2005, Hurricane Wilma struck. Again, leaving the owner with a damaged and unlivable home. Also, the water levels had been rising there for quite some time further damaging the house.
Although the county asked that it should be demolished a long time ago, it has been standing and has become quite the odd attraction in the area. It is one of many unique abandoned houses in Miami that attract explorers and photographers from around the country.
The original architect of the domes also built some strange houses in Tampa that are now abandoned today.
7. Miami Marine Stadium
If you know anything about powerboat racing, then you may enjoy this location due to its history. The Miami Marine Stadium was the very first stadium in the United States exclusively constructed for powerboat racing events.
It was designed and built by Hilario Candela, a 28-year-old Cuban immigrant on a plot of land that was given to Miami by the wealthy Matheson family. In 1992 Hurricane Andrew destroyed most of South Florida and caused damages amounting to billions of dollars.
The stadium was damaged and temporarily left abandoned. Years after restoring the badly destroyed city attempts to revive the stadium were made but never came to fruition. Like many other abandoned places in FL, scrapers looted what little valuables were left behind and vandals completely covered every square inch of the place in graffiti.
In 2008, the stadium was listed as a historic place by Miami's Historic Preservation and Environmental Board. Today it sits alone, empty, and completely forgotten. Locals report that they often see people going in and out all the time. It's considered among some of the coolest abandoned places in South Florida.
8. Old Bahia Honda Rail Bridge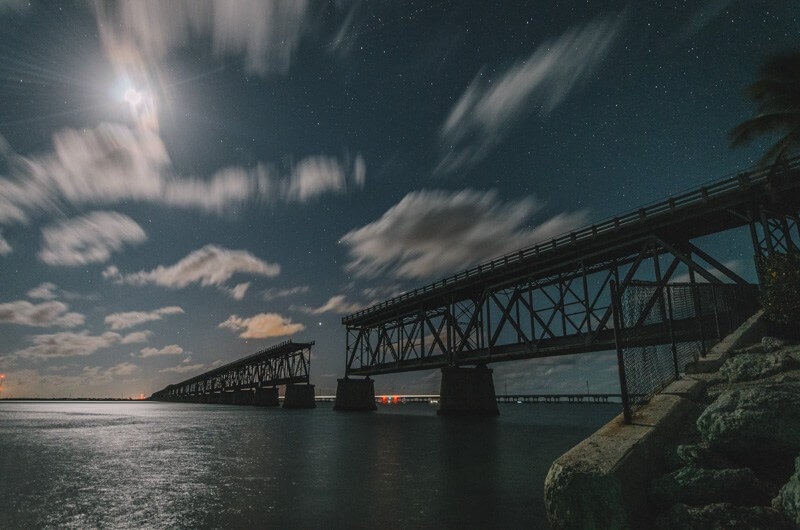 The Old Bahia Honda Rail Bridge is among the many Miami abandoned places that would make a good photoshoot location. This bridge is not fully abandoned but can be considered more of a relic of the past.
It was originally constructed by Henry Flagler between 1905 and 1912 as part of the Overseas Railroad. In 1935, the bridge was destroyed by the Labor Day Hurricane and then later bought by the State of Florida.
Rather than rebuilding it, the existing foundations were repaired and were converted to become part of the Overseas Highway in 1938 by adding a deck on top of the truss.
Today, the original bridge remains, although it has fallen into a bad state of disrepair and signs warning boats of falling debris. It provides a scenic overview of the area that would honestly make for some cool photos.
9. Splendid China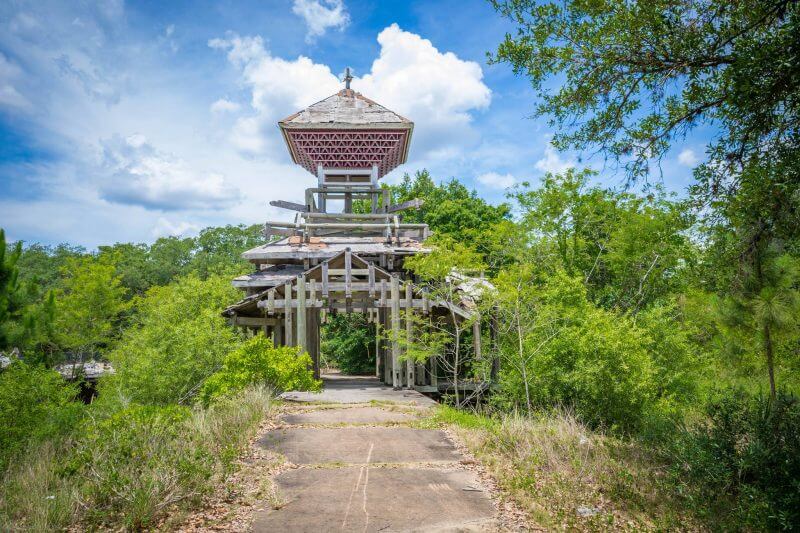 Considered one of the coolest abandoned theme parks in Florida, Splendid China is an urban explorer's wet dream. Opened for ten years between 1993 and 2003, this addition to the Florida theme park scene was a homage to the country of China.
Its estimated building costs a whopping $100,000,000 and it had handmade, tenth-scale models of Chinese landmarks, including the Great Wall and the Leshan Buddha.
For a decade the theme park was a success attracting thousands of tourists from around the world. But after the owners of the park fell into financial problems, Splendid China closed its doors to the public.
Even though its sister park continues to succeed today, this Florida version quickly became a creepy wasteland. Overgrown plants cover the replica attractions and vandals constantly visit the area. It quickly became a favorite spot for people who like exploring abandoned places in FL.
10. Arthur G. Dozier School Dorms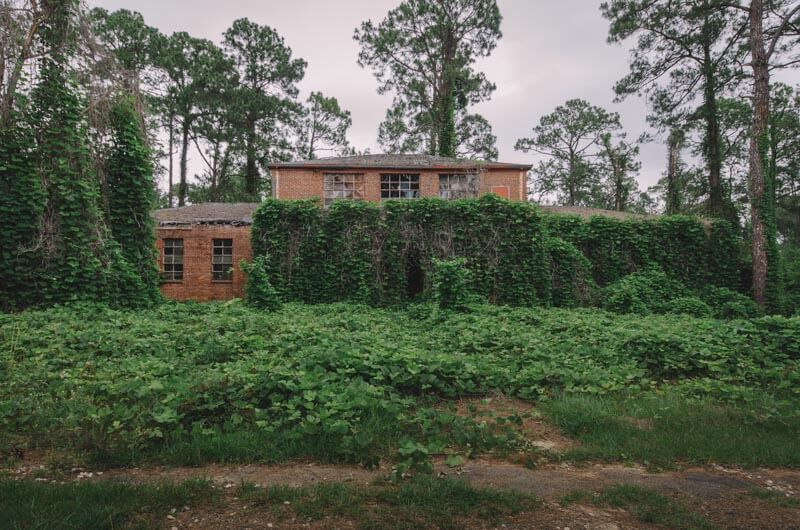 This school is one of the creepiest abandoned places Miami has to offer. This School for Boys, known as the infamous Arthur G. Dozier School for Boys, was a reform school and was the biggest juvenile reform center in the country at the time.
Since its opening in 1900, the school was known for beatings, torture, abuse, and even murder of students by the school staff. It was reported that some boys attending the school were kept in leg irons to keep them from moving around and causing harm to themselves or others.
After years of complaints from parents, the state decided to close the facility in 2011 citing "budgetary limitations." The North Campus was for black students and behind the old campus was the "Boot Hill Cemetery" where some of the boys who died were buried.
Excavations in 2014 yielded 55 bodies, twice the number of official records say were there. Today, it sits empty, forgotten, and with a horrible reputation among the many Miami abandoned places.
11. Parkway West Regional Medical Center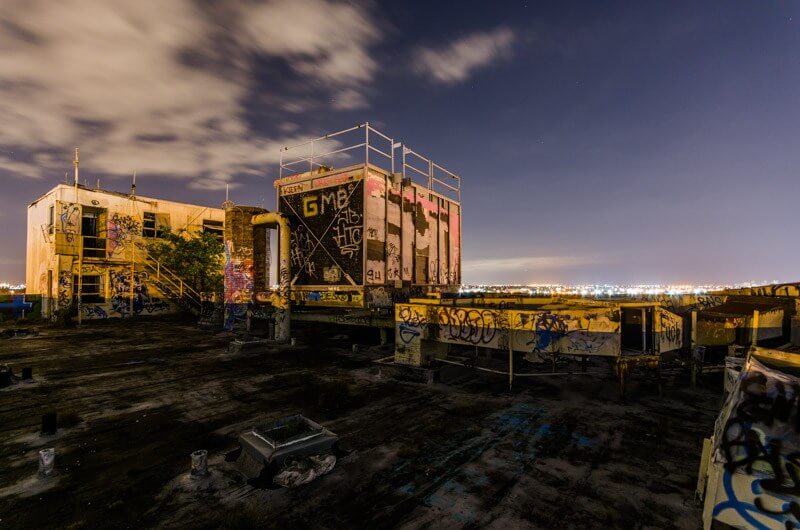 If you're looking for an abandoned hospital in Miami, this one might be for you. The Parkway West Regional Medical Center opened in 1974 after taking two years to build. The hospital was 11 stories high with 127 rooms and more than 300 beds. It was operated until it closed down for unknown reasons in 2002.
Since then, it sits as one of the best abandoned places in Miami. Over the years its deterioration has attracted scrappers, taggers, and urban explorers. Today, the walls are covered in graffiti, mold, and large pieces of metal can be seen hanging from the ceiling. If you decide to visit, use extreme caution.
Final words
Most of the properties I listed above would not be abandoned today if the city of Miami would have been more helpful in its revitalization efforts. So maybe we urban explorers have them to thank for unknowingly giving us these cool abandoned places in Miami to explore.
Visiting any of these locations can give you a glimpse into the history of Florida and allow you to see what life was like 20-50 plus years ago.
Miami truly does have a rich and dark history with so many abandoned properties for you to explore. From hospitals to mansions, theaters, and old zoos, there's plenty for urbex enthusiasts to explore in Miami. I've given you a list of abandoned locations you can check out. Now get out there and start exploring.
If you want to uncover more abandoned buildings in Miami, go read our guide where you can learn how to find abandoned places near you to explore.