Cool Abandoned Places In Los Angeles To Explore
The many abandoned buildings LA has to offer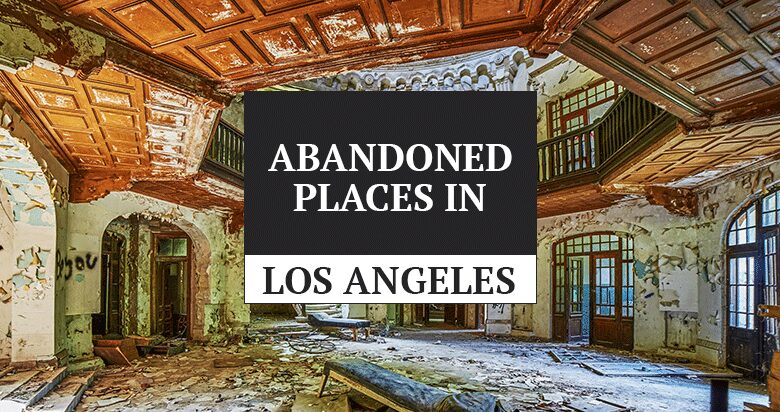 Los Angeles is one of the most popular tourist destinations in the United States. It's estimated that millions of people go there on vacation every single year.
One of the reasons is that it is home to some of the most spectacular scenery and entertainment that you can only experience in this part of the country. However, for those brave and adventurous souls who are looking for something different and more thrilling, the San Francisco Bay area is also home to some pretty unique and mysterious places.
Places on the beaten path that only certain people like us would enjoy. Some of these abandoned buildings in Los Angeles that I'm going to share in this article contain dark histories and fascinating architecture that are no longer occupied.
These abandoned places in Los Angeles will surely entice any true urban explorer to grab their exploring kit and head out the door for an adventure. If you're looking to do some exploring outside of Los Angeles, be sure to check out our article on the best abandoned places in California.
List Of Abandoned Places In Los Angeles, CA
[lwptoc]
1. The Cobb Estate
Okay, we're not sure what to think about this one – some people say that the old property's haunted, while others call it a bunch of tosh. It still makes for a fascinating (and exhausting) hike, or drive, if you prefer.
Built by lumber magnate Charles Cobb, together with his wife Carrie, in 1918, the impressive mansion on the Cobb Estate was once nothing more than a beautiful, luxurious building, located in the midst of nature.
Over the years, it survived various fires as well as who knows how many changes of ownership before settling into the hands of the U.S. Forest Service (who own the house to this day). As time went by without anyone living inside it, the mansion fell into decrepitude and became the subject of ghostly rumors spread by explorers.
Several ghosts are said to haunt the adjacent woods, as well as the ruins of the building itself. But regardless if you believe in such tales or not, Cobb Estate makes for some fascinating viewing, especially in the nighttime.
2. Murphy Ranch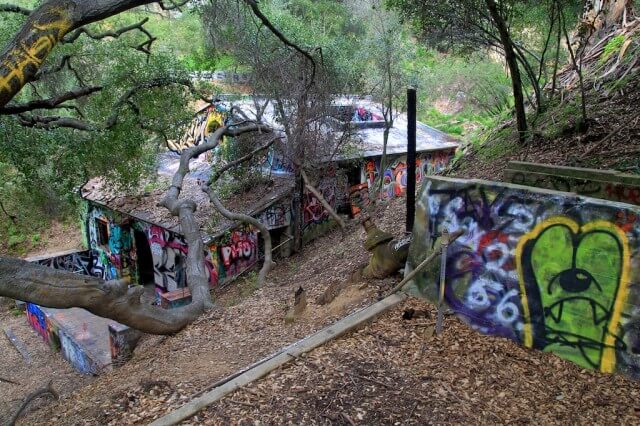 Located on the outskirts of the Rustic Canyon area in L.A, the Murphy Ranch was once the home of anti-Semitic, white supremacist couple Norman and Winona Stephens.
They built the compound as a sort of safe haven and operations center for their hateful friends, the Silver Legion of America. The group operated in secrecy and were often spotted gathering on the ranch late at night.
The two checked in under the fake identity of Jesse M. Murphy, which still gives the property its name today. Here, they built a powerhouse, a bomb shelter, a fuel tank, and a few other buildings.
Raided by the police after Pearl Harbor and largely demolished since, the Murphy Ranch still offers a spooky, post-apocalyptic vibe, as well as a solid workout (you have to climb nearly 500 steps to get there!). Urban explorers on Reddit, vouch for this place as being a must-visit.
3. The Sunken City of San Pedro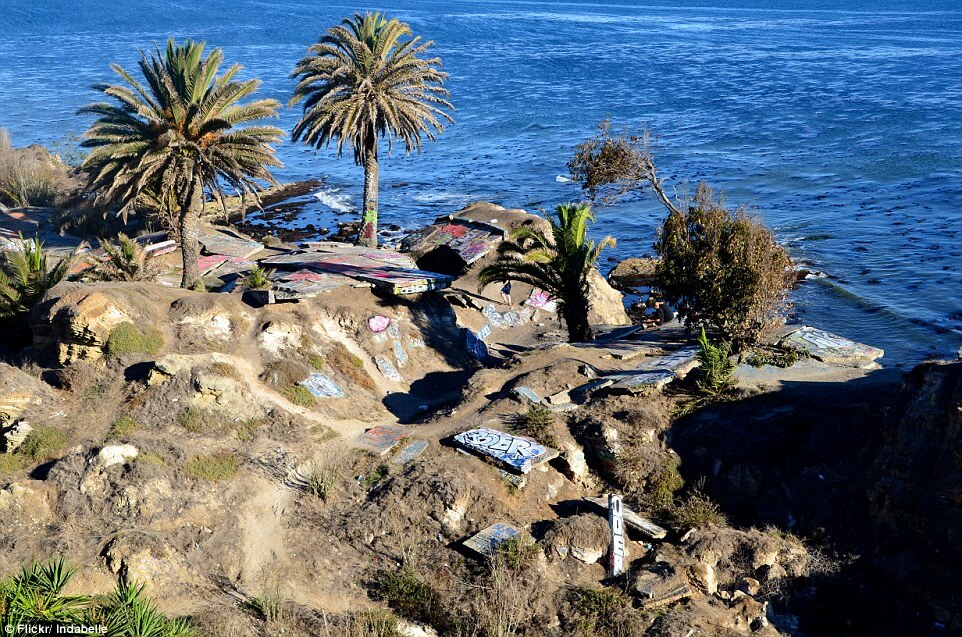 Situated on the steep slide of the Californian coast along Long Beach lies the now-gone residential neighborhood of San Pedro.
Once a bustling neighbor to the Point Fermin Park and Lighthouse, the area was struck by disaster in 1929, when a water main broke under a hotel, followed by a gas line break a few days later.
Ever alert, the residents of the steep neighborhood recognized these warning signs and evacuated just in time, as their homes slid into the Pacific Ocean in what is one of the worst landslides in Los Angeles history.
Today, the area is still considered largely unsafe and has seen similar landslides as recently as 2011. But given that many of the foundations and wrecks of sunken buildings are still visible, it constitutes a favorite among urban explorers. Everyone is free to visit, just be cautious!
4. The Griffith Park Zoo
Fourth on the list is one of the coolest abandoned places Los Angeles has to offer. The Old Zoo of Los Angeles makes for an interesting day trip for lovers of abandoned places.
Having closed down in 1966 after operating for more than fifty years, the Old Zoo's walls and buildings have over the years been covered in moss, dirt, and trash, which only gives the area an added sense of mystery.
You can walk through the old animal cages and explore the now-empty containments, which were once heavily criticized for their odd shape and ugliness. But now they create a unique and somewhat eerie setting, especially for a haunting night out on the town.
If you're near the area, check out the old zoo. It is among the many abandoned places in LA you can explore.
5. The Pico House & Hotel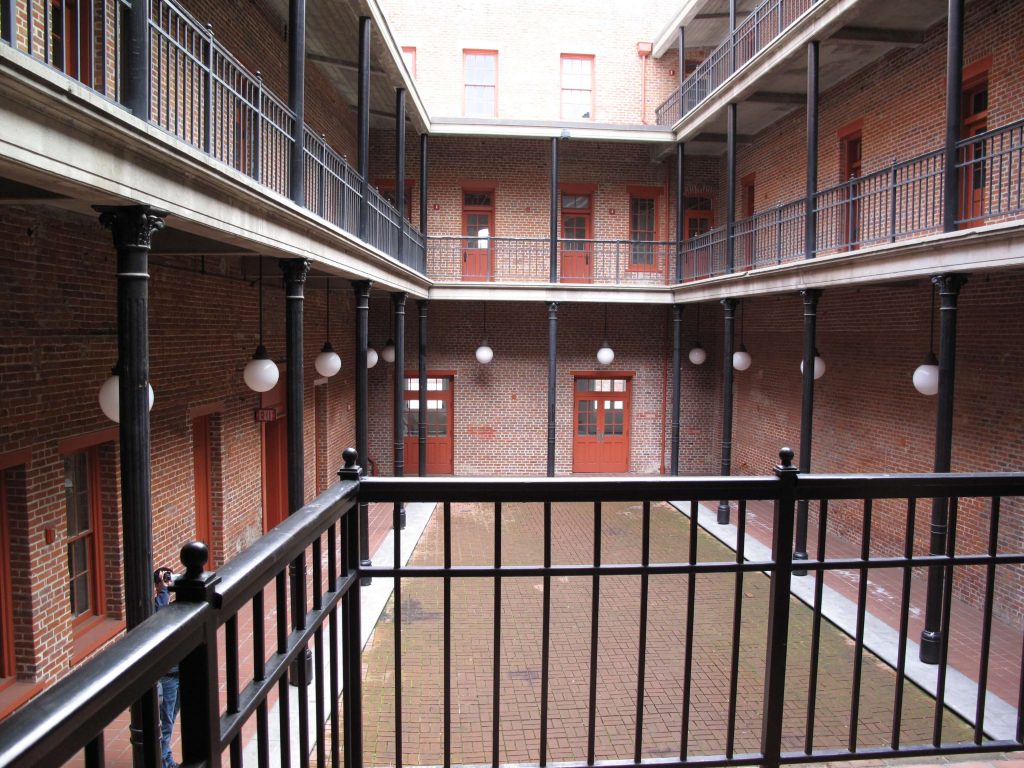 Not all abandoned places in Los Angeles have a dark history. Some just fall out of popularity like this one. Dominating the old Los Angeles Plaza, the three-story Pico House once served as a luxurious hotel for distinguished guests only.
At the turn of the 20th century, the Pico Hotel was one of the most sought-after accommodations in the Alta California region, struggling to meet the overwhelming demand.
Still, as business and "the heart of the city" began its shift toward the south, the Pico House began losing its appeal and business. It was drawing in fewer and fewer people year after year.
The opulent building went the way of many once-great abodes, becoming a poor flophouse until it was finally closed down and acquired by the state of California in 1963.
Since then, it has served as the site for occasional film and photo shoots and sometimes even for business meetings.
But it's mostly abandoned and a favorite with the urban exploration crowd, not least for its (mistaken) reputation as the site of a massacre in the 1870s. A group named Urban Exploration Los Angeles took a private tour of the place not too long ago.
6. The LA-88 Nike Missile Site
This is one of the coolest places near me I've yet not explored. Back during the Cold War, Los Angeles (as well as most of the United States) was dotted by various missile sites, intended to protect the civilian population from a potential Soviet attack.
One such site is the infamous LA-88, which operated from 1957 to 1974. Many of the buildings are still intact. They include the main building, a warehouse, and an operations center. The silo is covered in graffiti and overcome by a creepy and unnerving silence unlike any other abandoned places in Los Angeles.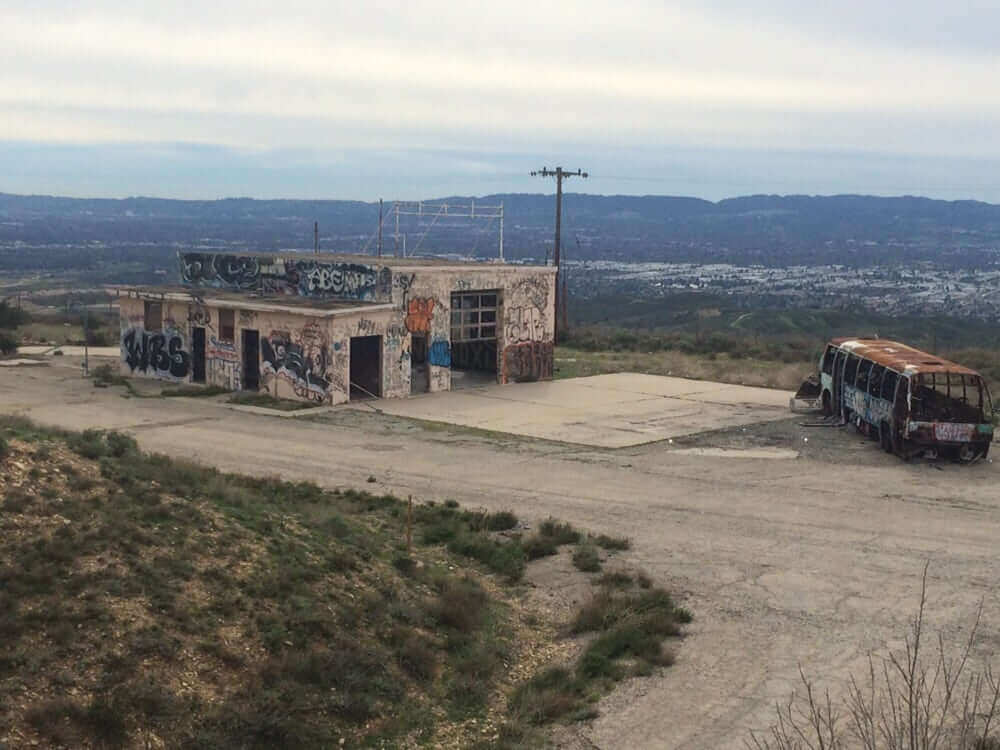 While the property is technically gated off, the LA-88 Nike missile site is a big favorite among urban explorers, especially for war and history buffs.
Climbing the structures on the site gives you a wonderful view of the city of Los Angeles But the trip itself will give you shivers down your spine if you consider what the base stands for.
7. Shipwreck Hiking Trail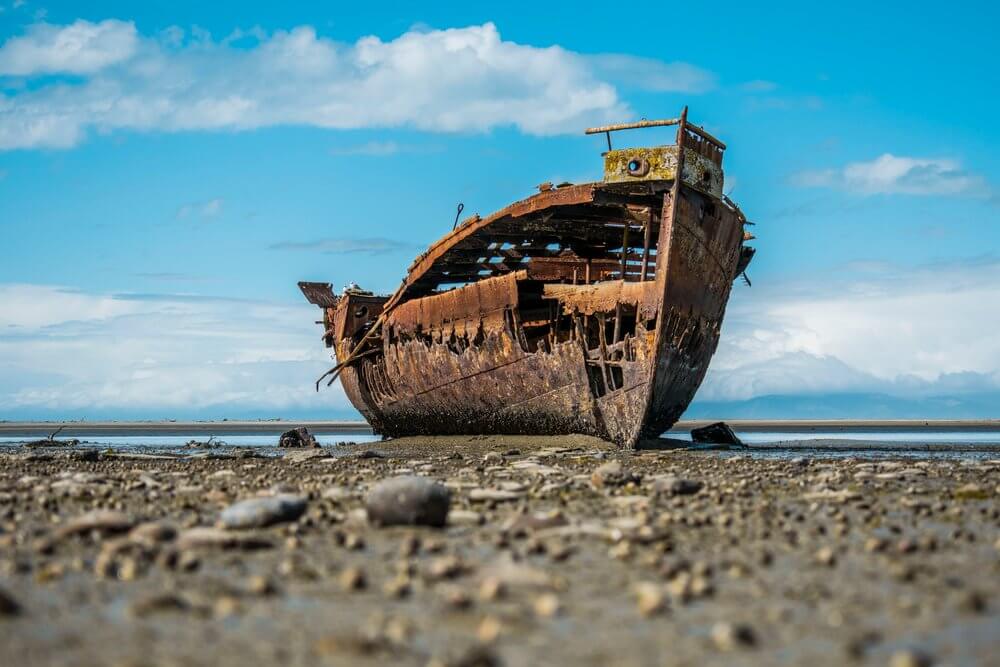 Located near the Palos Verdes Peninsula, the Shipwreck Hiking Trail itself is not entirely abandoned. In fact, it is open year-round to curious visitors and offers some great scenic views for nature and decay lovers.
However, it is also renowned among urban explorers for the many abandoned buildings it passes by, and of course, the shipwreck it is popularly known and named for.
During the hike, you can find, touch and photograph the remains of this old, rusted ship, which is particularly exciting for ship enthusiasts, of course. It is also way bigger than it looks.
This challenging trail makes for a great day outing, as it allows you to take in some fresh California air, as well as some killer shots of the views and wreck. If you're looking to do urbex in Los Angeles, the hiking trail is a good start.
8. Louie's Cabin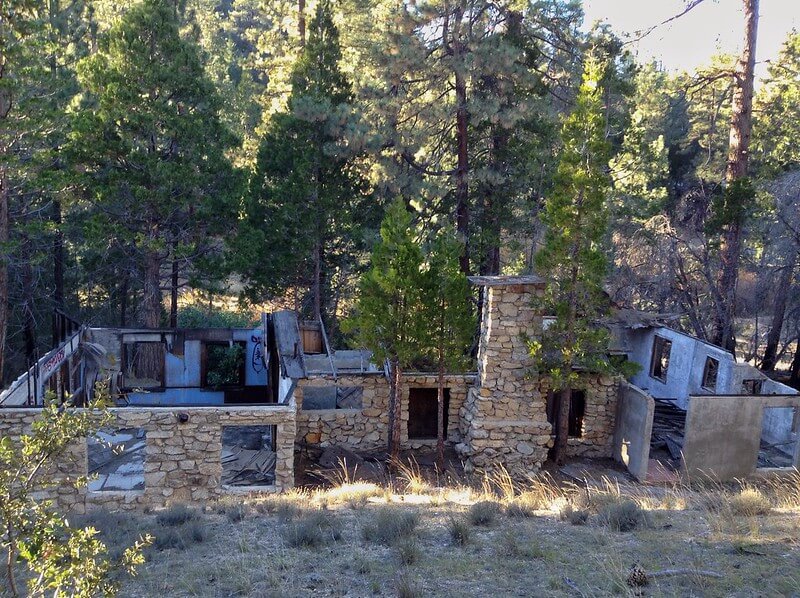 And speaking of mindblowing nature walks, any self-respecting urban explorer can't afford to miss the infamous Louie's Cabin.
A carpenter by trade, Louie Newcomb decided to settle in the heart of the Chillao mountains in the late 19th century and built his cabin with his own two hands.
Here, he lived as a veritable "mountain man" for the next five decades. During this, he witnessed the many changes in the wilderness around him. For food, he hunted deer and wild animals and welcomed the occasional visitor (usually hunters and travelers) with a hot meal.
He also worked as a forest ranger and divided his time between his beloved cabin and his family home. In 1929, he sold his mountain property to his cousin who then developed the Newcomb's Ranch Inn to cater to guests.
The area was much changed (and ruined, according to Newcomb himself) by the arrival of the highway in 1939 and of the modern urban world shortly after.
The cabin still stands today and is a favorite spot for urban explorers and nature lovers alike.
Are There Abandoned Buildings In LA?
Yes, there are many abandoned buildings in Los Angeles. The city is home to an estimated 100,000 abandoned houses alone. This doesn't include businesses, schools, churches, and other buildings.
Whether you want to find places to explore or perhaps photograph, you have an almost endless list of places to choose from. Whatever your reason for wanting to find abandoned places in Los Angeles, you are likely not far from one at this very moment.
Know Any More Abandoned Places In Los Angeles?
Los Angeles is full of fascinating places that are just waiting to be discovered. The abandoned places I featured in this article are great for both experienced and new urban explorers.
But these are not the only places available for explorers in the Los Angeles area. If you're still searching for more spots, see my guide where I show you how to find local abandoned places near you to explore.