These Are Some Of The Weirdest Places Found On Google Maps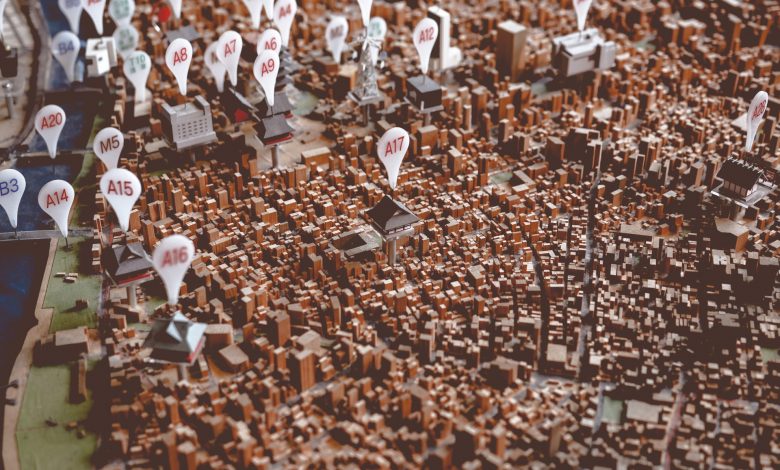 Google Maps is a great, though a bit creepy, way to zone in on different areas of our world. It's great for pre-planning your next urban exploration, finding directions, and even spying on your neighbors (do not do this).
If you spend some time on Google Maps you're bound to come across some odd and unexpected things. Have a look at these weird places on google maps people around the Internet have uncovered.
7 Weird Things & Places Found On Google Maps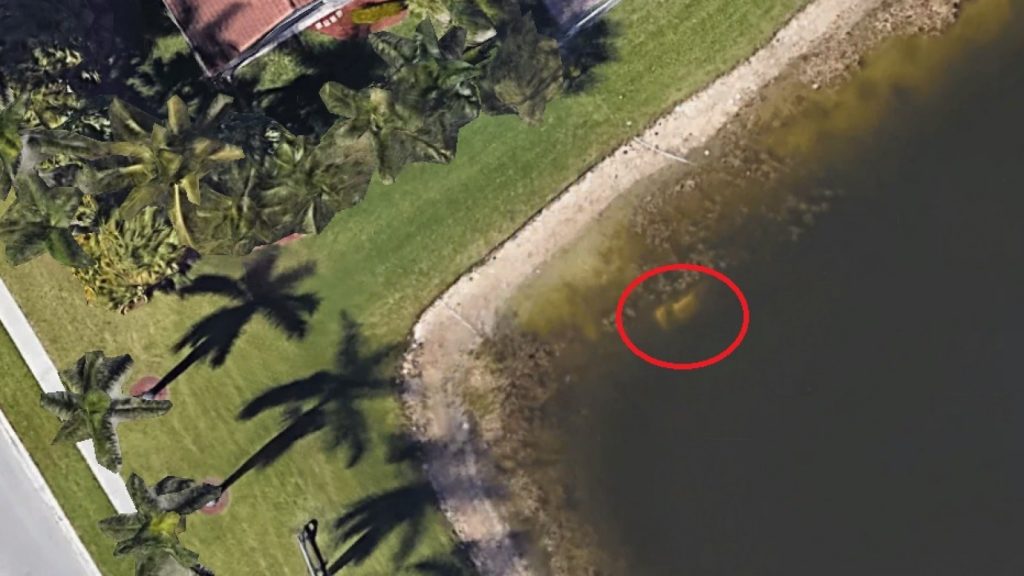 Sunken Car With Body Inside (Florida)
In August 2019, a property surveyor in Florida was looking through his neighborhood on Google Maps when he noticed something very unusual. Lying plainly in sight on the edge of a pond, he spotted what looked like a large sunken object.
He couldn't make out exactly what it was so he flew a drone to the location to get a better look. There in the pond, he noticed a car that was sunken. He quickly notified the local sheriff's office and they towed the car out of the pond. When inspecting the vehicle, they found the body of a man.
The body was sent to the county medical examiner's office for processing. In a few short days, it was discovered that the body was that of a man that went missing in 1997. His name was William Earl Moldt. William had been reported missing since November of 1977.
He was last seen having drinks at a local nightclub. "He mostly kept to himself at the club", said the people who had seen him that night. William left the club and drove home around 11 p.m., but never made it there. He was reported missing but the case eventually went cold and had no good leads.
That was until the 28th of August, 2019, when a resident of the area found the car and then contacted the police. To this day it is still unclear how he made his way to the pond. When he was found, a decades-long mystery was solved. Because of the way he was found, this has been named the top weird places on google maps ever uncovered.
2207 Seymour Avenue (Cleveland, Ohio)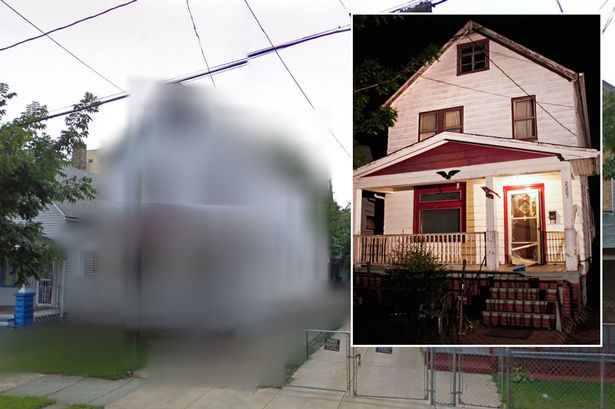 If you visit '2207 Seymour Avenue' on Google Maps, you will see a house fully blurred out. This was done on purpose by Google to help the 3 victims that were kept in that house against their will for nearly a decade.
The house is completely hidden from view for a good reason. The two-story building is where 3 girls, Gina DeJesus, Amanda Berry, and Michelle Knight were held captive and abused for almost a decade.
Their captor, Ariel Castro, forgot to lock the door one night and one of the girls escaped and found help. Castro was caught and sentenced to life in prison.
Redditor Uncovers Possible Murder Scene? (Netherlands)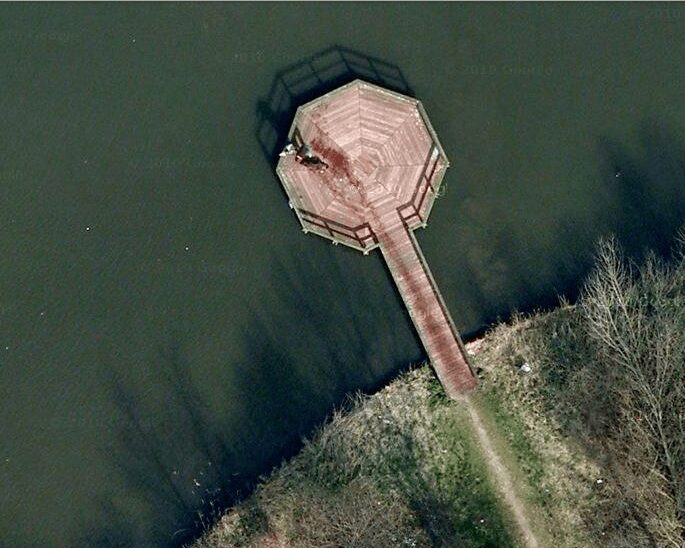 True Crime sleuths on Reddit love to try and solve real-life crimes from the comfort of their homes. One such Redditor thought he was hot on the trail of a recent bloody murder caught on Google Maps.
But that was far from the real truth. Reddit user /u/ncav posted a photo to the r/WTF subreddit titled "A murder near my house on Google Maps". The photo he shared is the one you see above.
He claimed he was looking thru his neighborhood on GM when he came across this "bloody murder scene" with a "trail of blood" on a waterside jetty in the city of Almere, Netherlands.
The over 6 Million subreddit members descended on the post and quickly figured out it wasn't a murder scene.
But what was likely happening in the photo was that a dog had gotten out of the water, shook itself off, and walked down the docks leaving a trail of water. That looks very much like blood in the photo I will admit.
Some Redditors that lived near the area, investigated for themselves and confirmed that no bloody mess was present on the waterside jetty. It was just another of those weird places on google maps that people come across.
Creepy Glitch Of Entire Town (New York)
In 2007, the Google Maps car was driving through the main road of New Baltimore town in Greene County, New York. It was doing its first drive-through of this quiet and peaceful town.
For unknown reasons, the Google Maps car-mounted camera, unbeknownst to the driver, had a major malfunction. The photos that the Google Maps car caught quickly went viral online.
The pictures that it took have a strange purple tint to them and almost all of the scenery looks distorted. Kind of like it's all melting. You couldn't really see a single person or car when viewing the New Baltimore town on Google Maps.
Was this a real 'glitch' on the camera or did Google Maps capture something it wasn't supposed to? This incident went viral on the subreddit where people share urban exploration stories.
Village Full Of Human-Size Dolls (Nagaro, Japan)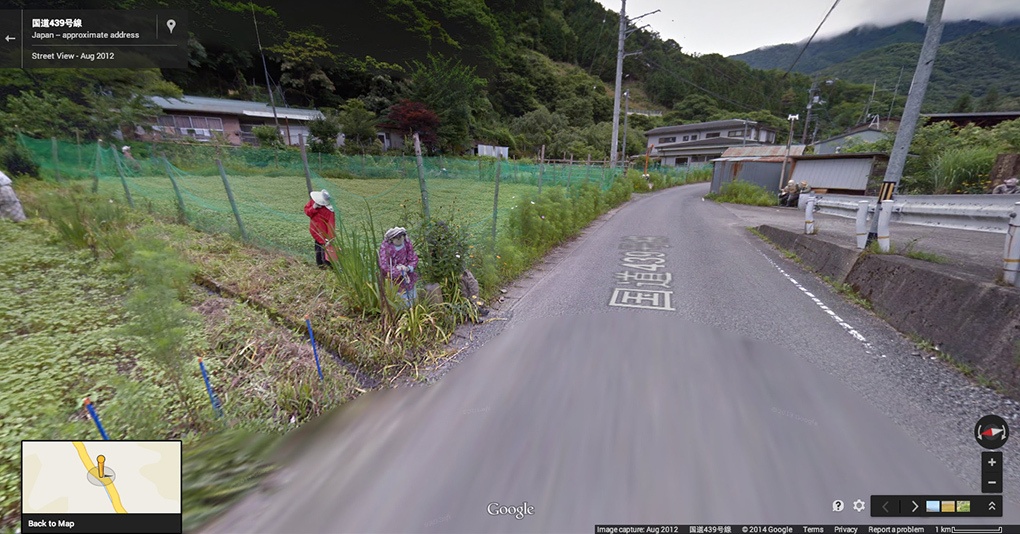 In Japan, there is a small village called Nagaro. It is located way out in one of the least visited parts of Japan. Only a couple dozen or so people live in the village. There is a woman who for many years has been repopulating the almost abandoned village with human-sized dolls.
The woman, Tsukimi Ayano, lived in Nagaro as a child but was forced to move away with her family. When she returned in 1999, she noticed the village had very few people living there. Her father had recently passed and she decided to make a doll that resembled him.
Since then, she's made 100's of human-sized dolls to, in her own words "repopulate the nearly dead village". Many of the dolls, she made look like former residents. These dolls are certainly creepy and have attracted a lot of attention since it was discovered on Google Maps. It's been known for many years as just another one of those weird places on google maps.
Supernatural Being Caught By Google Maps? (Nancy, France)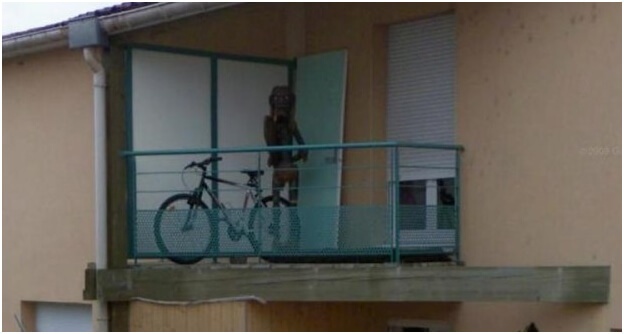 A seemingly 'supernatural' creature was spotted by curious explorers in the city of Nancy, France. In a photo taken by the Google Maps car in a residential area of Nancy, France, a tall and thin brown human-like figure is seen standing on the balcony of an apartment.
The creature had large glowy eyes and what looks like long dirty hair. What's weird is that the figure appears to be staring directly at the camera.
What made the discovery even more bizarre, was that after it went viral, Google decided to cover up the creature by blurring it. This caught the attention of the Internet and people have ranked it high in their lists of weird places on google maps.
Baumettes Penitentiary (Marseille, France)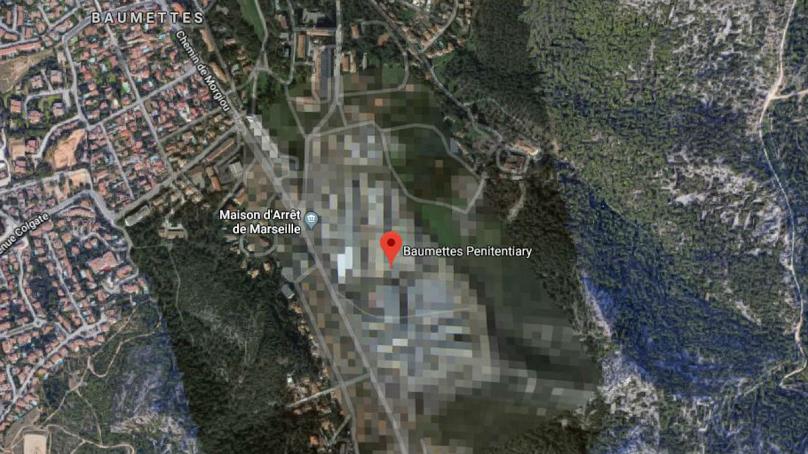 Why is a prison in France completely blurred out? The main reason is privacy. This was done so that criminals don't know the full aerial layout of the prison. This prison wasn't always blurred out on Google Maps though.
In 2018, a notorious thief successfully escaped the Baumettes Penitentiary. He planned a daring escape by helicopter that was ultimately successful. Although he was caught 3 months later.
Following his successful jailbreak from this prison, the Minister of Justice in France, wrote to Google to ask that all French prisons and other secure institutions be blurred out from any aerial imagery.
What Did You Think Of These Weird Places On Google Maps?
From all the weird and unusual ones which one was your favorite? People find just about anything on Google Maps with a little bit of searching. I wonder how many lost treasures or hidden places are still waiting to be uncovered.
Do you know of any weird places on google maps?
Post a comment below.